Are Stone & Garfield Going To The Globes Together?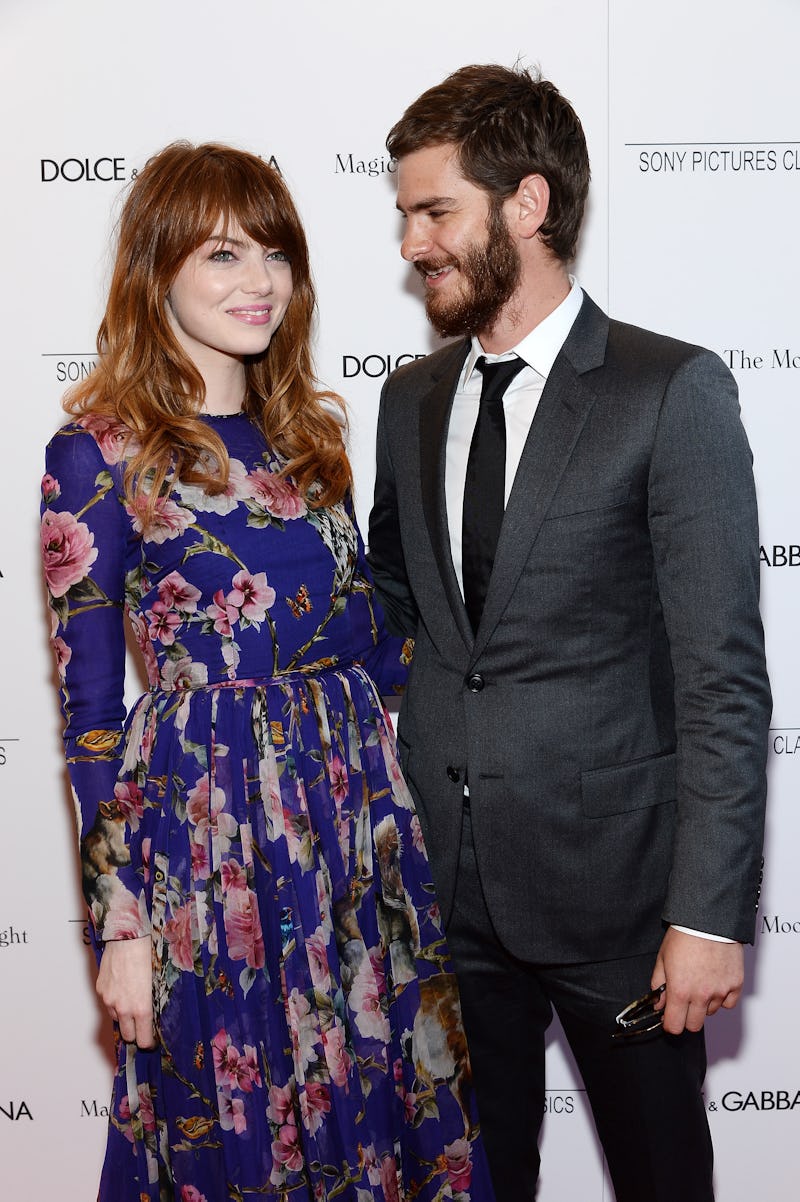 Dimitrios Kambouris/Getty Images Entertainment/Getty Images
Celebrity breakups are hard to get over — especially for the fans — and few breakups have ever been as soul-crushing as the end of Emma Stone and Andrew Garfield's romance in 2015. Luckily, the former Amazing Spider-Man co-stars are still pals, leading some to wonder: Will Stone and Garfield attend the Golden Globes together? While neither actor is in a confirmed relationship, they also have not shared who they'll be bringing to the big event. One thing is for certain, since both Stone and Garfield are nominated for Golden Globes, the adorable duo will likely be on the red carpet at the same time. At the very least, their paths should cross during the night, giving Garfield-Stone shippers something to celebrate.
Stone is nominated for her dazzling performance in La La Land, while Garfield earned a nod for the war drama Hacksaw Ridge. Both actors have been making the rounds to promote their films since their nominations were announced, and fans of the former couple have been treated to plenty of new tidbits about their relationship. For instance, during a The Hollywood Reporter roundtable discussion, Garfield confessed if could choose any actor to be stuck on a desert island with, he would choose Stone. Go ahead and let yourself freak out over the adorableness, I'll wait.
Since Garfield and Stone are still friends, it is not outside the realm of possibilities that they will attend the Golden Globes together. This is just the start of what is sure to be a busy awards season for both stars. These actors are already generating Oscar buzz for their roles, which means there are many red carpets in their future. Walking through the sea of celebs and flashing cameras with a familiar face would surely make the experience more fun.
Garfield and Stone even reportedly hung out in London together in August, according to People, so it is not like they don't still spend time together. Still, Garfield and Stone devotees should not get their hopes up too high before the big night. While both members of the former power couple will be in the audience waiting to see if they take home a trophy at the Jan. 8 ceremony, only time will tell if Garfield and Stone will make a splash on the red carpet together for old time's sake.
There is one thing you can definitely look forward to during the Golden Globes, though — these supportive exes cheering each other on throughout the night. It may not be a walk down the red carpet, but it will warm your heart just the same.