All Eyes Will Be On 5H At The PCAs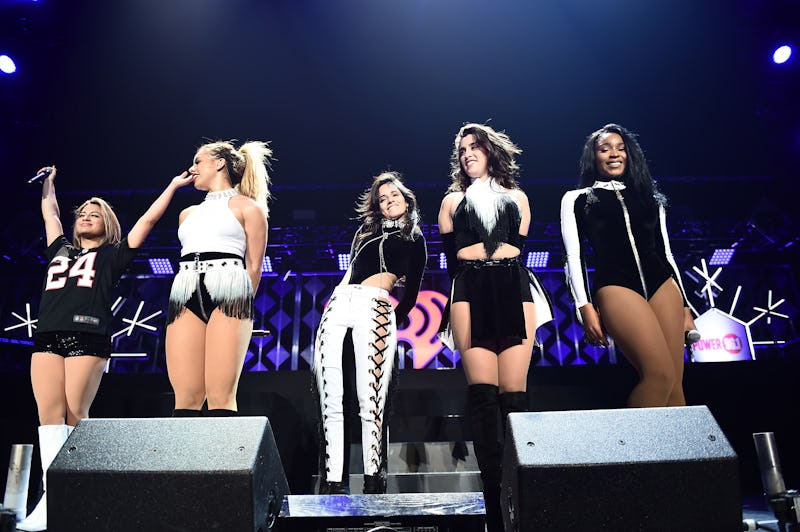 Marcus Ingram/Getty Images Entertainment/Getty Images
One week ago, it was announced that Fifth Harmony will perform at the People's Choice Awards this Wednesday night, where the singing sensation is nominated for the Best Group award, alongside the likes of The Chainsmokers, Coldplay, Panic! At The Disco, and Twenty One Pilots. That's obviously huge news for followers of the "Work From Home" girl group, since the fandom was recently rocked by member Camila Cabello's abrupt departure from Fifth Harmony in mid-December. In the wake of her absence, some fans are likely wondering if the group will live up to its name for its impending performance this week: Will Fifth Harmony replace Camila for the People's Choice Awards? Or is this fivesome now officially a quartet?
Fans may have gotten a jolt of hope after seeing Camila perform with Fifth Harmony for Dick Clark's New Year's Rockin' Eve With Ryan Seacrest, on which the group performed their aforementioned hit single, along with "That's My Girl" and "Worth It." If the girls of 5H could seemingly put aside their differences for one night in order to put on a holiday performance together, isn't there a chance they could do the same for a popular awards show at which they're both nominees and performers?
Sadly, no. Don't let that New Year's Rockin' Eve performance give you false hope; it was actually a pre-taped segment that was filmed before Camila left the group, rather than one last hurrah following her departure.
So Camila won't be rejoining them for a swan song at the People's Choice Awards — but neither will 5H be shoehorning in a surprise fifth member just for the purposes of symmetry. The upcoming performance this Wednesday will actually be Fifth Harmony's first official performance as a quartet, as they advertised on their Instagram with the following photo, captioned "Back on the rehearsal grind. Let's do this."
Those hoping that the awards ceremony would offer a chance for a heartwarming 5H reunion will unfortunately have to keep waiting — and so will the fans hoping to audition for that fifth slot. For now at least, it looks like Fifth Harmony is happily remaining a foursome.
See the group's first Camila-less performance when the People's Choice Awards air on CBS this Wednesday, Jan. 18, at 9:00 p.m. ET.