Hurricane Irma Could Hit Fort Myers Even Sooner Than You Think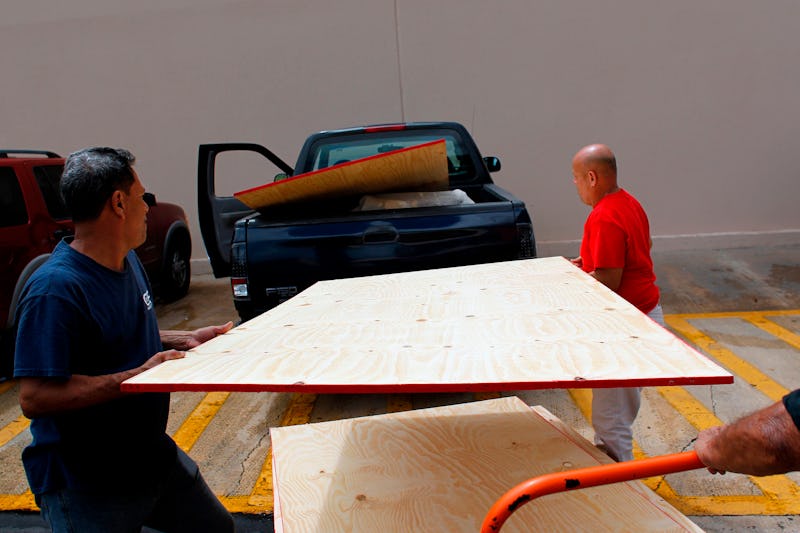 RICARDO ARDUENGO/AFP/Getty Images
The one silver lining of Hurricane Irma coming so closely on the heels of Hurricane Harvey is that no one seems willing to take any chances with this second "storm of the century." Although it's not entirely clear if if Hurricane Irma will hit Fort Myers, this major population center in Southwest Florida is already preparing accordingly.
Fort Myers and its neighboring city Cape Coral declared local states of emergency on Tuesday afternoon, and they're already bracing for what Mayor Randy Henderson is expecting will be "a historic event for our city."
Hurricane Irma, which clocked in as the most powerful storm to ever form over the Atlantic, is now churning its way across the Caribbean. Barbuda and St. Martin on the Leeward Islands have already felt its blistering winds, and current predictions show it making its way north and west towards Florida. While it's still too early to say where and if Irma will make landfall in the continental U.S., it's looking more and more likely that it will strike Florida. In the interest of protecting the inhabitants of his city, the mayor of Fort Myers began encouraging people to start preparing for a major hit as early as Monday.
Many Floridians have evidently taken the warnings seriously, as thousands have already begun evacuating from the areas most likely to be affected by Irma. The hurricane won't make it to Florida until the early part of the weekend, but apparently many people have decided that it's worth it to leave early rather than getting stuck on a crowded freeway or in an airport with too few flights out.
As it stands right now, Irma seems most likely to take a southern path that could put Fort Myers directly into its most damaging winds. There's also a chance that it could turn farther to the north and head towards Florida's East coast, Georgia, and the Carolinas. As it's really too early to say anything definite about where it will be over the weekend, people in all of these areas should be putting together hurricane kits and making plans to evacuate if necessary.
While it can be impossible to predict a hurricane's exact path and what sort of damage it will cause, the good thing is that people will be tracking it the whole time, so it won't come as a surprise. Fort Myers recognized the risk and started preparing early — so even if the worst comes their way, as few people as possible will be directly in harm's way. Best case scenario, they will have prepared for nothing — but when it comes to hurricanes with winds far outstripping even the average Category 5 storm, it's truly better to be safe than sorry.