'The Defenders' Could Jumpstart A New Marvel Romance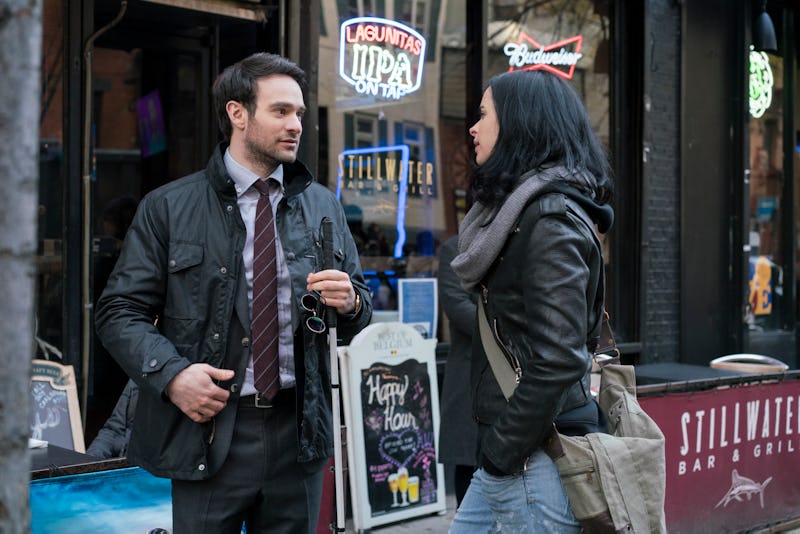 Sarah Shatz/Netflix
The Marvel series Netflix has been building toward since Daredevil premiered in 2015 is finally here. The Defenders premieres on Aug. 18, and all of Netflix's reluctant heroes are back. Daredevil, Jessica Jones, Luke Cage and the Iron Fist are finally joining forces in the new series, and as they do, their worlds will collide and new relationships will develop. But could there be more than friendship and ass-kicking partnership in the air? Will Jessica Jones & Matt Murdock get together on The Defenders? Prepare yourselves, Luke and Jessica shippers.
While Jessica and Luke were pretty steamy in Jessica Jones, Luke Cage introduced a couple of new love interests for the show's title character in Misty Knight and Claire Temple. There's also the little matter of Jessica and Luke's tragic breakup, which happened after Luke learned that Jessica had killed his beloved wife Reva while under the control of Kilgrave. So romantically, it seems Luke is out of the picture for Jessica. Though, Jessica has had other things on her mind than romance, according to Krysten Ritter.
Ritter told Entertainment Weekly back in January that her character is facing something totally foreign to her — popularity. The Defenders finds Jessica Jones experiencing newfound success as a private investigator. Ritter said:
"She's still dealing with the aftermath of Kilgrave, and now she's dealing with 'success' — and not well ... People want her to work for them, she's getting a lot of business, and she's not ready for any of that. She hasn't changed, but her environment has, and there's no handbook for how to exist in a world where you are now popular."
In the midst of all these changes, the loner will be teaming up with one ex and two strangers. According to Ritter, there could be something more than irritation to Jessica's relationship with Matt. Ritter told Entertainment Weekly article that she had thus far filmed more scenes opposite Charlie Cox than any other actor, and she teased that their characters have a "cat-and-mouse" dynamic. When asked who was the cat and who was the mouse, she responded, "It switches back and forth, to be honest ... No one's best friends in all of The Defenders. This is a reluctant team-up."
So, The Defenders have a blind, hyper-aware lawyer who's mourning the love of his life (that would be Elektra) and a private detective with super powers and a penchant for vigilante justice. Sounds 'shippable, right? But, that isn't the only relationship Netflix's Marvel fans need to get on board with. The audience will need to accept all four heroes as one team. Conflicts, demons, and all.