Joe Jonas Might Support Sophie Turner In The Sweetest Way At The Emmys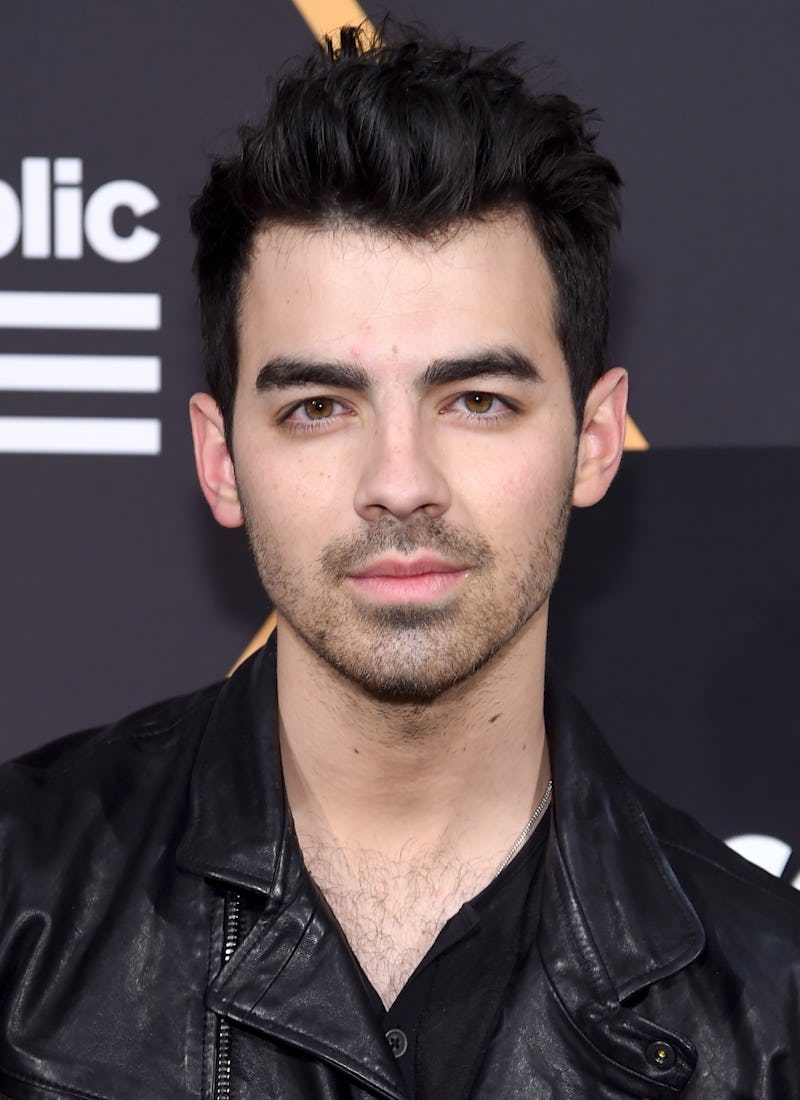 Jamie McCarthy/Getty Images Entertainment/Getty Images
Although Joe Jonas has been a staple at music-themed awards shows like the Grammys and the VMAs for many years, due to his work with the Jonas Brothers and DNCE, he hasn't been a presence at too many other ceremonies — until now. It's highly possible that Jonas will be at the 2018 Emmys because Sophie Turner, his fiancée, will probably be there to support her show Game of Thrones. As fans might already know, GoT is nominated for several Emmy awards including Outstanding Drama Series, so it'd make perfect sense if Turner comes to Monday night's show to cheer on her co-workers — and brings Jonas with her.
At this year's Emmys, GoT is up for seven awards total — Outstanding Drama Series, as mentioned, but also Outstanding Supporting Actor for both Nikolaj Coster-Waldau and Peter Dinklage; Outstanding Supporting Actress for Lena Headey; Outstanding Writing; and Outstanding Directing, for two different episodes. That's an impressive haul of nominations, but since GoT actually already won several Creative Arts Emmys earlier in September for behind-the-scenes things like visual effects, the show is set to go home a winner no matter what happens Monday night.
But seeing as we're talking about GoT, after all, it'd be shocking if the acclaimed HBO series didn't pick up another handful of trophies at the Emmys. And if that happens, you can bet that Turner will be cheering her castmates or filmmakers on from the audience (or perhaps on stage, if GoT wins for Best Drama). And who'll be sitting right beside her? Probably Jonas.
Although Turner and Jonas have been relatively private with their relationship since they began dating in 2016, they've become a bit more open in recent months. In August, Turner posted a sweet Instagram for Jonas' 29th birthday (above), and in September, the duo attended the US Open alongside Jonas' brother Nick and his fiancée, Priyanka Chopra. So it wouldn't be totally shocking if the stars chose to walk the Emmys red carpet together and spend the special night in each other's company.
But it's also possible that Turner might choose not to bring Jonas as her date and instead spend the night hanging out with her GoT co-star and real life BFF, Maisie Williams. The two women have frequently attended public events together, and they even seemingly came as a pair to the wedding of their castmates Kit Harington and Rose Leslie in June. If Turner chooses to do the Emmys without Jonas, it's likely because she simply wants to have Williams by her side while they celebrate their show's many nominations.
After all, as Game of Thrones comes to an end, its cast members are likely taking every moment they can to honor their beloved series and hang out with each other. Filming of Season 8 wrapped in the summer, and so now all that's left are press events and award shows leading up to the new episodes' 2019 premiere. So if Turner wants to soak in every moment with Williams and their co-stars, Jonas probably understands completely — but hey, maybe she'll bring him along to the Emmys too, to get some extra support.