Why Justin Bieber Might Want To Stay Far Away From The VMAs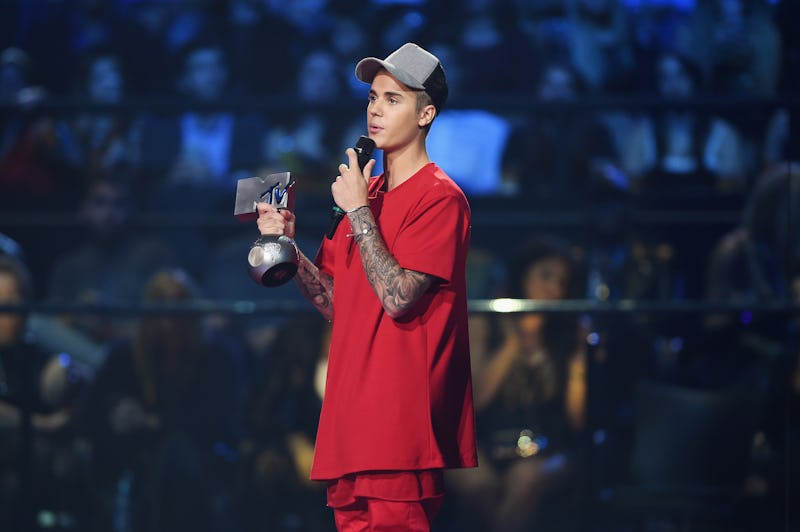 Brian Rasic/Getty Images Entertainment/Getty Images
The 2017 MTV VMAs are happening Sunday, Aug. 27, which means that you should probably prepare for the unexpected. Past VMAs have rarely disappointed in providing insane moments that people remember forever, like that iconic Britney Spears snake dance from 2001, for instance. One thing that fans should probably not expect to see, though, is an appearance from the Biebs, as it's looking likely that Justin Bieber will not be attending the 2017 VMAs.
It might sound odd considering that Bieber is featured on many VMA-nominated songs including "Cold Water," "I'm The One," and "Despacito (Remix)," but the 24 year-old singer has more reason to skip the show than attend. He recently missed out on the Teen Choice Awards despite being nominated for several surfboards, and last year, even though he was nominated for Video of the Year for his own song, Bieber didn't attend the VMAs. Clearly the event isn't a major priority to him
And especially while he's on a restorative break. After canceling the end of his world tour in early August, Bieber seems to be sticking to his word that he's taking time to recuperate so as to ensure a sustainable career. That is, until he released his new single, "Friends," which is believed to be about Selena Gomez.
It might be a good idea for Bieber to attend the VMAs just to drum up some publicity for "Friends" and a potential upcoming album, but if he's really committed to taking time off for his "mind heart and soul," as he said it is on Instagram, then it's probably not a good idea for him to go to the chaotic awards show.
Biebs might also want to skip the show so as to avoid any awkward encounters with Gomez and her current boyfriend, The Weeknd, who are both nominated for VMAs of their own. Bieber might still have a soft spot for Gomez — enough to sing about her mom in his new song, at least — but he certainly doesn't have one for his successor. Last January he told TMZ that he doesn't listen to The Weeknd because "that sh*t is whack."
As interesting as it may sound to witness Bieber interacting with Gomez and The Weeknd as this year's show, it's probably best for all of their "mind heart and souls" if Bieber doesn't show up.