Kim Kardashian's New Show Gives Someone The Chance To LITERALLY Work With Her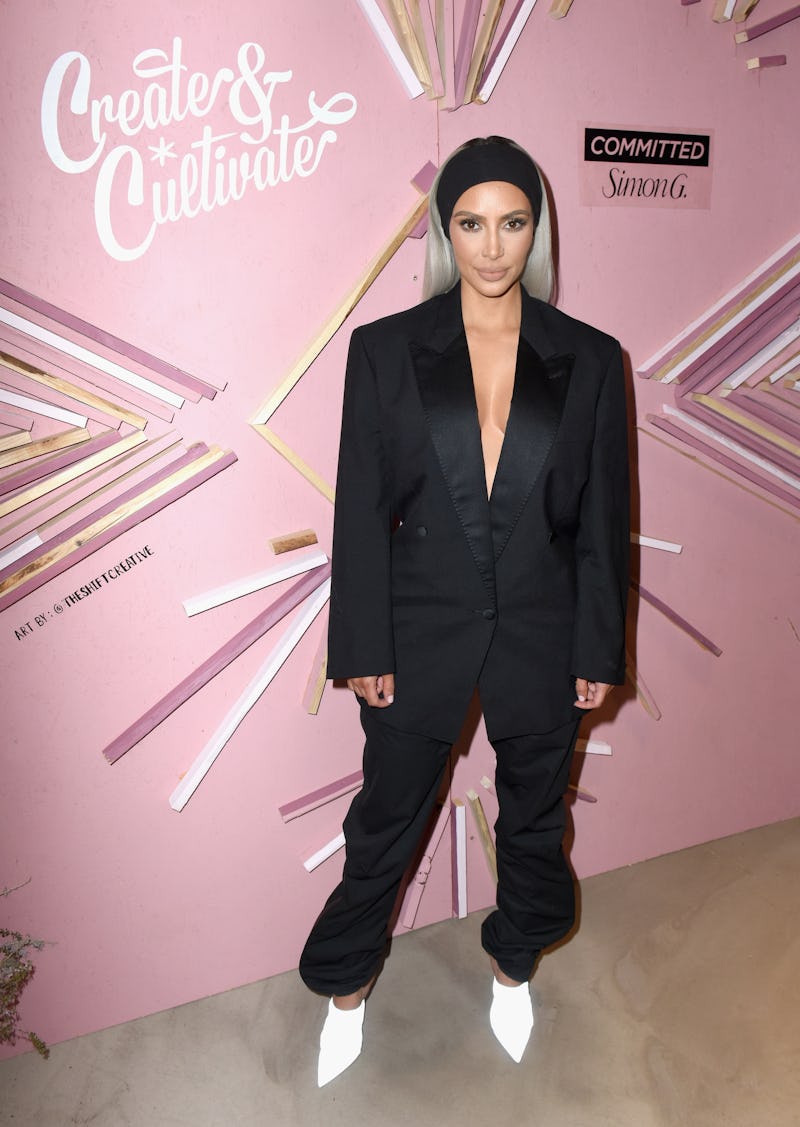 Vivien Killilea/Getty Images Entertainment/Getty Images
When you've got Laverne Cox hosting a reality competition series, do you really need any other celebrities to show up? Well, in the case of Lifetime's Glam Masters, the answer is probably, "The more the merrier" — because there's the potential for another icon to appear. Since she executive produced the series, Kim Kardashian could be on Glam Masters. Or, at least, that's what contestants and viewers alike are hoping for. The show premieres on Lifetime on Feb. 28 and, considering that the winner has been promised the chance to become part of Kardashian's "glam empire," it would make sense for her to be on it.
The application page to be a competitor for Glam Masters says, "Want to be part of Kim Kardashian West's glam empire?" How one would actually be involved in her empire wasn't specified, but Kim wrote on Instagram a few days before the premiere that the winner of Glam Masters will get a contract with her beauty line, KKW Beauty. Host Laverne Cox explained it further in the preview of the first episode when she told the contestants, "The ultimate winner will collaborate with Kim Kardashian West to create your very own limited-edition makeup collection for KKW Beauty."
Each episode of Glam Masters will have four beauty bloggers competing in a series of makeup challenges judged by Cox, Kardashian's makeup artist Mario Dedivanovic, YouTube makeup expert Kandee Johnson, and Marie Claire senior fashion editor and co-founder of Milk Makeup Zanna Roberts Rassi. The winner of the individual episodes will move on to the semifinals where they will have the chance to compete in the Tournament of Masters finale.
While the competitors are nowhere near Kardashian-levels of fame, all of them have an Instagram following of their own. Kardashian's fellow executive producer, Diana Madison, has known the Keeping Up With The Kardashian star for 10 years and PEOPLE reported that Madison came up with the idea for Glam Masters. Madison said she was inspired to incorporate Kardashian in a beauty reality competition show because of the number of beauty bloggers who are inspired by Kim.
"I work with so many makeup artists for my beauty tutorial show 'Style Lab' and makeup talk show 'The Lowdown,'" Madison told PEOPLE. "They would all come in to do my makeup and say the same thing: Their goal is to be discovered by Kim Kardashian on Instagram." Madison continued:
"And they would tell me all the lengths they were going to: All these crazy makeup posts. One guy would literally wear a Kim Kardashian wig and make his face look like her, praying that she would discover him. I was like, 'Oh my God. All these people are having a secret kind of competition on Instagram to be discovered by Kim.'"
Since makeup artists' love of Kardashian on Instagram was one of the catalysts for the show — and because the winner will be representing Kardashian's brand — it seemed promising to think that Kim K. herself could appear on the Glam Masters finale. After all, even though she hasn't appeared in any of the promos, she said in the above video with Dedivanovic that she'll be live tweeting the first episode from Japan.
However, Kardashian herself has stated directly that she won't be on Glam Masters. On Feb. 26, she asked fans to send her Glam Masters questions on Twitter and she answered them on her app and website. In response to whether or not she will show up on the series, Kardashian wrote, "Unfortunately, with my filming schedule (10 months straight, six days a week, per season) for my show, I had to make the choice to not be on. But, I watch every edit and get updates daily, so I am really involved."
So, Kim appearance or no, take solace in the fact that this makeup show is most certainly Kim-approved. And hold out hope that perhaps she'll make a surprise finale appearance — kind of like when she surprised a 12-year-old fan while he was doing a makeup tutorial for The Ellen DeGeneres Show. Because the only thing that would make a person more emotional about winning Glam Masters and landing a KKW makeup line is if Kardashian was there to celebrate with them.