Please Let Lin-Manuel Miranda Sing At The Oscars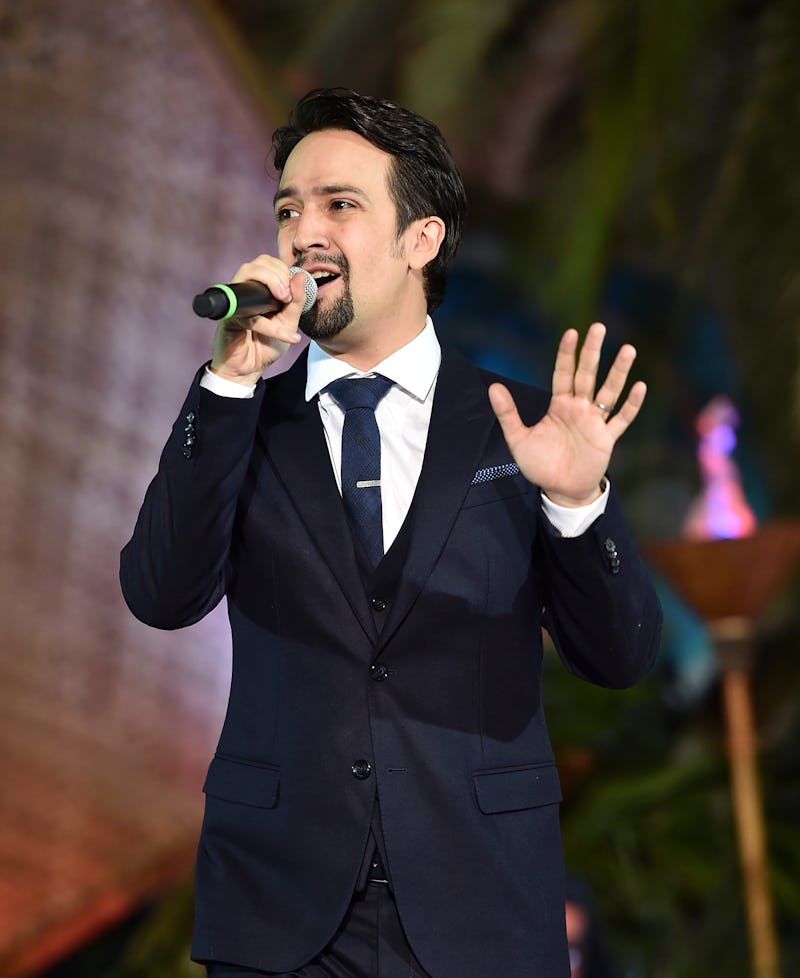 Alberto E. Rodriguez/Getty Images Entertainment/Getty Images
Although they're not the Grammys, the Oscars still typically feature some toe-tapping performances from singers whose songs were featured in the year's films. In 2013, Adele sang the title track from Skyfall; two years ago, Common and John Legend performed "Glory" from Selma; and last year, Lady Gaga gave a powerful performance of "Til It Happens to You" from the documentary, The Hunting Ground. In 2016, Moana featured some of the most outstanding music of the year, penned by the creator of Hamilton. So many fans are wondering if Lin Manuel Miranda will sing at the Oscars this year.
It remains to be seen just who will perform the musical numbers at the Oscars. The nominees for Best Original Song won't be announced until January 24, along with the rest of the show's nominees, so right now it isn't even known if Miranda will earn a nomination for his work on Moana. If the Oscars follow the same path as the Golden Globes did with regard to Best Original Song, then the tune from Moana that will earn a nomination is "How Far I'll Go." Although that song was co-written by Miranda, meaning he will get a nomination if it does, he's not the performer of it. Therefore, if a performance of the song is scheduled for the ceremony, that honor would presumably go to either the film's star, Auliʻi Cravalho, or singer Alessia Cara, who performed the single version.
Moana could potentially also garner a nomination for Best Original Score, which the film could use as an excuse to perform a medley of songs from the soundtrack. If that's the case, and if songs other than "How Far I'll Go" are performed, then Miranda could potentially sing at the Oscars, as his vocals are heard on the track "We Know the Way."
There is also precedent for Miranda performing songs from the film that he didn't sing in the movie. The songwriter joined Dwayne Johnson for a performance of the song "You're Welcome" at Moana's world premiere — even though Johnson performed the song alone in the film.
It will likely be a few weeks before fans learn whether or not Lin-Manuel Miranda performs at the Oscars, but one thing that's almost certain is that at least one song from Moana will be performed — Miranda just may not be the one singing it.