Lisa Vanderpump's 'RHOBH' Season 10 Future May Not Be Quite As Certain As You'd Hoped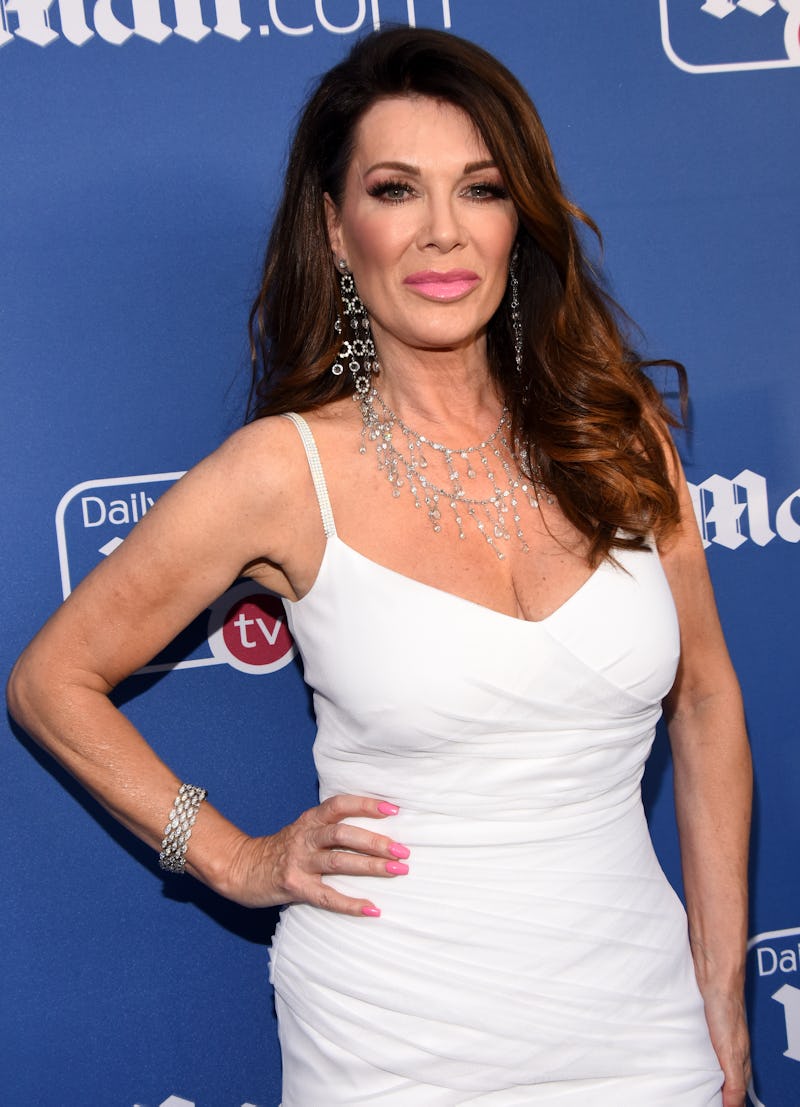 Araya Diaz/Getty Images Entertainment/Getty Images
Will LVP be abdicating her throne after all? Bravo stans have been wondering for months if Lisa Vanderpump is returning for RHOBH Season 10. Well, the reality is: Her guess is as good as yours. "I don't know yet. We're going to see how this season plays out," Vanderpump, who will be on "most of" The Real Housewives of Beverly Hills' Season 9 next year, revealed during a Nov. 27 appearance on CBS' The Talk.
Despite LVP reassuring fans she hadn't quit RHOBH, her kinda non-answer is actually pretty logical, however. Admitting she has "no idea if the show's picked up" for Season 10, the reality star and restaurateur added, "That's like saying, 'Am I invited to your Christmas party next year?'"
LVP's "complicated" experience filming Housewives this year hasn't been all diamonds and rosé, though, and she may be ready for the party to be over. As she explained to the women of The Talk:
"This season was very difficult for me, and I did find that I kind of floundered this season ... I had a very difficult year. After doing Vanderpump Rules and opening a new business, things got very complicated."
Indeed, Vanderpump's brother Mark died suddenly in late April, and the co-owner of hotspots Villa Blanca, SUR, Pump, and Tom Tom is also about to open Vanderpump Cocktail Garden at Caesars Palace in Las Vegas early next year. And then there are the rumors about endless conflict with her fellow 'wives.
For those who haven't been following the behind the scenes drama, speculation that LVP had been majorly clashing with her RHOBH cast mates began back in September and seemed to be confirmed soon after when Lisa Rinna and Erika Girardi (AKA Erika Jayne) appeared in an Instagram Live video complaining that (then-unnamed) LVP "won't come shoot with us," leaving the rest of the women to be "sequestered in a room."
When LVP stopped appearing in her cast mates' Instagram group photos, fans began to read between the lines, with some speculating she had not been filming at all. She was noticeably absent from pal Camille Grammer's October wedding in Hawaii and was nowhere to be seen when Rinna and Girardi rendezvoused with Dorit Kemsley, Teddi Mellencamp, and Kyle Richards for a RHOBH cast trip to France earlier this month.
According to Entertainment Tonight, Rinna aired her LVP grievances on Instagram in October. "Why hasn't Lvp filmed with us for over 6 weeks? I have no beef with her," she reportedly wrote. "Who does that? Who doesn't show up for work?"
An unnamed source shared with ET that LVP had been filming, however — just not with the other women. "She films multiple days a week," noted the LVP insider. "Much of her filming has been focused around her charity and philanthropic work within the LGBT community and her activism for dog rescue."
What exactly went down to cause the rift between the once-tight women? LVP recently told ET earlier this month that fans will "have to watch the show" to find out the full story: "I think that's what's fascinating about the show, because you see the buildup, you see the story, you go on the journey, and for me to say, 'Well, this happened,' it would be kind of cheating you, really. You need to go on the journey."
The thought of leaving the Bravo reality show has crossed her mind in the past. LVP cited struggles with being "under attack a little bit" on RHOBH in the past causing her to wonder, "Am I crazy for going back?"
Regardless of whether or not LVP will appear in future RHOBH seasons, she couldn't help but admit on The Talk that she's had "a bloody good time a lot of the time on The Housewives" over the years and is grateful for the platform her reality fame has afforded her.
The good news is that — while LVP mulls over her RHOBH future — fans still have Season 9 to look forward to either way. The crown remains heavy indeed, darling.