Here's What's Really Going On With Meghan & Harry's Plans To Leave Kensington Palace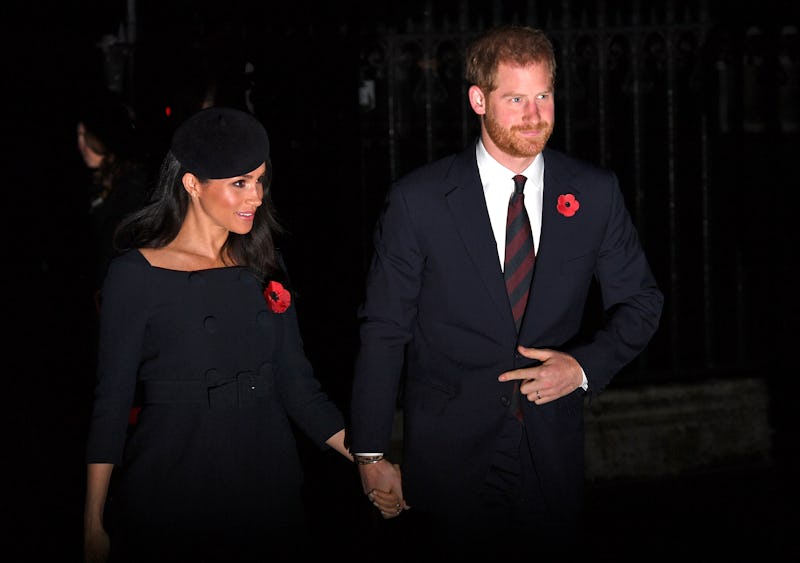 Leon Neal/Getty Images News/Getty Images
It's all been a bit of a whirlwind for the world's favourite royal couple. Engagement, official engagements, wedding, baby announcement, a royal tour on the other side of the world. That train doesn't seem to be stopping anytime soon, either. They're about to spend their first Christmas together as a royal couple, but that doesn't seem to be the only thing on the agenda. With a bubba on the way in spring, it makes sense that the couple might want to uproot. The new arrival could get a change of scenery, as Meghan and Harry might be moving house super soon.
According to Marie Claire, the couple currently reside in Nottingham Cottage, based in Kensington palace. But, as the Daily Mail reported on Nov. 17, it looks as though the couple might be wanting to upgrade from their current two bedroom base to a 21 bedroom property, where the Queen's cousin, the Duke of Gloucester currently lives. (How many kids are they expecting, exactly?!)
"They will soon have separate offices and separate lives, so it would make sense for them to live further afield," the source added. It's likely that the couple who had a rendition of "Stand By Me" at their royal wedding might wish to veer slightly away from the traditional root, too. "There is no reason why their London home has to be at Kensington Palace. There are plenty of other options, including using their own money to buy their own place," the same source said.
That claim's already been contested, however, as a different source has told Harpers Bazaar that Prince Harry and Markle currently have no plans to move out of either their home in the Cotswolds or Nottingham Cottage in Kensington Palace, so really I'm not sure what to believe. I've reached out to Kensington Palace for comment, and will update you as soon as I hear back.
Meghan and Harry, unlike Kate and Wills, have got some doggo(s) to fit in besides the royal bub, don't forget. And I know if I were a royal, there would certainly be a room for each dog — at the very least. They are reported to have a new puppy — royal biographer Sally Bedell Smith told the Daily Mail that the couple has a black lab named Oz, although Markle herself seemed to dispute reports of the dog's name, telling members of the public that "people keep getting her name wrong" during an official visit.
And there's also the rescue pup Meghan brought over, too. During the couple's engagement interview with the BBC, Markle confirmed she had brought one of her dogs over from Canada to live in London. He's a good boy, who might just be the first pup to take home the Man Booker Prize because he's currently working on his first novel, as Bustle repawted (sorry, couldn't resist) back in September.
While it's not yet known whether they'll be cuddling up with the pups in their Kensington Palace home over Christmas, I do know those dogs live a much fancier life than I do. "Like the Sussexes, the dog will divide its time between the palace and their country home in the Cotswolds," a spokesperson for Kensington Palace told the Daily Mail in August. Now I'm jealous of a dog again. Great.