Shocker: Owen Did Something Stupid Again On 'Grey's Anatomy' — Can You Guess What It Was?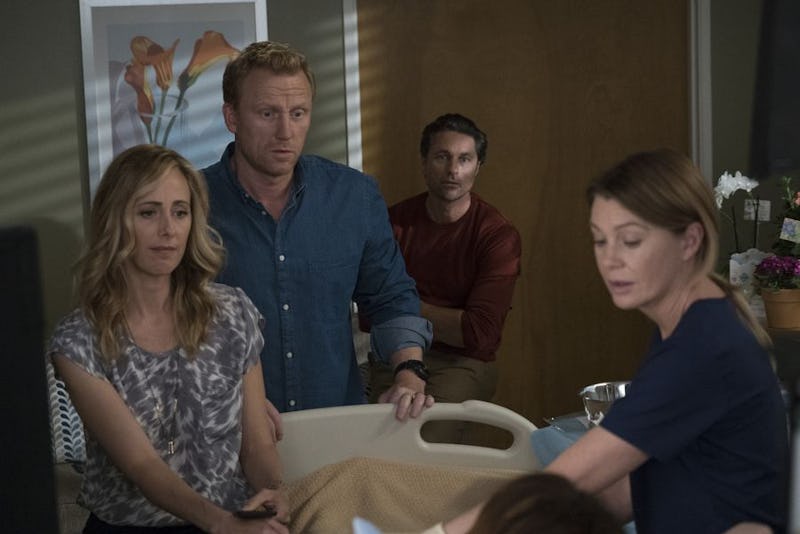 Richard Cartwright/ABC
Teddy is back on Grey's Anatomy, which is all well and good — we always need another cardiothoracic star in the midst — but what's not 100 is the fact that Owen seems to be pursuing her. He's married, so that's a problem. Will Owen and Teddy get together on Grey's Anatomy?
Teddy and Owen have been close for a very long time, so it seems like dating would be a great next step (except for the part that Owen is married, which is complicated). Teddy and Owen met as surgeons in the army, and they were best friends from day one. When Owen got to Seattle, he convinced Teddy to come and work with him, and Teddy became a sort of mentor to Cristina. This was weird, because Cristina and Owen were involved and Teddy and Owen were too close for Cristina's comfort. Teddy confessed that she thought she and Owen would be together, and it wasn't exactly comfortable. Things got awkward, and the two grew distant. Teddy tried to forget. Teddy dated Mark. Teddy ended up marrying a patient, Henry, so he could have health insurance. Then Henry died. Eventually, Owen had to fire Teddy so that she would leave, because she wasn't going to grow on her own. She would have stayed with Owen forever.
Now that Megan is back, Megan and Owen's family have decided that Amelia isn't great for Owen and that he should be with Teddy. That's fine, but it's not a great idea for these two to get together. Firstly, Owen is still married. Grey's Anatomy likes to play it off like Amelia and Teddy and Megan are the damaged ones, but Owen has baggage to spare. He also dealt with PTSD, and he is a smothering type of guy — he really held on too tightly to Cristina when she just wanted to fly free. Owen talked about what he wanted out of a relationship, but not necessarily about what Cristina wanted. Owen married Amelia on a whim, and he has some work to do on himself before anything can happen with Teddy.
Teddy is cognizant of this — she pushes Owen off when he kisses her — and she knows that if they're going to do this, they have to do it right. Kevin McKidd, who plays Owen spoke to Entertainment Weekly about how close Teddy and Owen are, but he didn't' give many details on a romantic involvement. He said:
"You know, [Owen] and Teddy are best friends from years and years ago, so that plays out in a very fun way and a very kind of familiar way. I think it's going to be great for the fans to see her back. I think the fans are going to get a huge kick out of seeing Teddy back in the hospital, and she's still the badass that she always was and there's still that connection between Owen and Teddy. So yeah, that definitely is a cool thing that plays out, and the fact that she makes that effort and comes halfway across the world to be by Owen's side kind of speaks volumes about the depth of the feeling between those two people."
Owen and Teddy have a clear connection, but if anything is going to happen with these two, both of them need to first have easy, seamless paths to an all-in relationship. Now that Amelia has a brain tumor, I don't see Owen leaving her anytime soon, and Teddy will respect that. Owen and Teddy are pals on Grey's Anatomy, and they won't be anything more — at least not now.