Why Prince Louis Will Not Be Stealing The Show At The Royal Wedding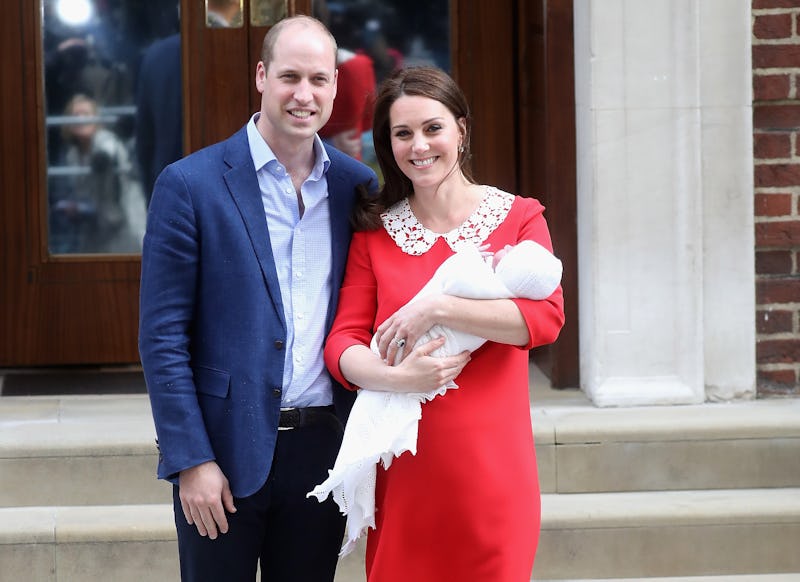 Chris Jackson/Getty Images Entertainment/Getty Images
There's going to be a lot going on when Prince Harry and Meghan Markle's big day rolls around on May 19. And even though his siblings will play a part in the festivities, fans wondering if Prince Louis will be at the royal wedding, too, are probably going to be pretty disappointed.
On May 4, a "Kensington Palace aid" confirmed to Us Weekly that Prince Louis will definitely not be attending Harry and Markle's wedding. While it'd undoubtedly be super-cute to see the lil' guy dressed up in all his wedding finery, he won't even be four weeks old when the festivities begin — and that's way too young for a newborn to be at such a big event.
On May 4, Town & Country spoke to Dr. Robin Jacobson, pediatrician at NYU Langone Pediatric Associates at Irving Place in New York City, and Jacobson told the publication that it'd be kind of risky to take a baby that young to such a massive event.
"In truth a newborn baby could go on a plane or be out in public even the day after they're born," she said. "We prefer though, that they not for the first two months because the worry is they're going to get sick."
The pediatrician went on to explain,
"I tell my new moms and dads, a week after a new baby is born, if you want to go for a walk, if you're not anywhere too crowded, it's fine, but you really don't want to be in big crowds until they're two months old."
Bottom line, according to Dr. Jacobson: "Going to a wedding probably wouldn't be the greatest thing to do when a baby is just born." Yeah, makes sense. Just imagine all the grabby hands that would want to pinch those cute little cheeks! So many hands. So many germs.
While Louis is hanging out at home, though, the rest of his family — Prince William, Duchess Kate Middleton, Prince George, and Princess Charlotte — will all have some very important parts to play in Harry and Markle's royal wedding.
On Apr. 26, Kensington Palace announced that Harry had chosen his brother, Prince William, to be his best man. Duh, of course. Harry was William's best man in his 2011 wedding to Middleton, so it only seems right that Harry would return the favor.
Marlene Koenig, a British and European royalty expert, told Harper's Bazaar that William's duties as best man will include, providing "moral support, [holding] the ring, and being a good big brother, and, of course, hosting the inevitable stag party." So, pretty much all the same things you'd expect a non-royal best man to do.
As for Middleton, her role in the royal wedding is to sit back, relax, and enjoy the show. "Frankly Harry and Meghan are just happy that Kate will be there given she will only just have given birth," a source told Vanity Fair. "They have told her there is no pressure on her to do anything, they just want her to enjoy the day." What a perfect excuse to pop bottles!
And last, but certainly not least, Louis' siblings, Prince George, 4, and Princess Charlotte, 3, will serve as a page boy and a bridesmaid, respectively, for their Uncle Harry's big day, according to an official announcement. George and Charlotte got their first taste of the royal wedding experience when they took part in Aunt Pippa Middleton's 2017 wedding to James Matthews, and if the photos from that day are any indication, they're likely steal the show again on May 19.
Even though little Prince Louis won't be making an appearance at Harry and Markle's wedding, there will be plenty for Royal Family fans to "ooh" and "ahh" over, nonetheless. And besides, with the massive amount of media coverage Harry and Markle's wedding is getting, the tiny royal tot can re-live every moment once he's old enough to know what he missed.