Why 'KUWTK' Season 14 Had To Include Rob & Chyna's Situation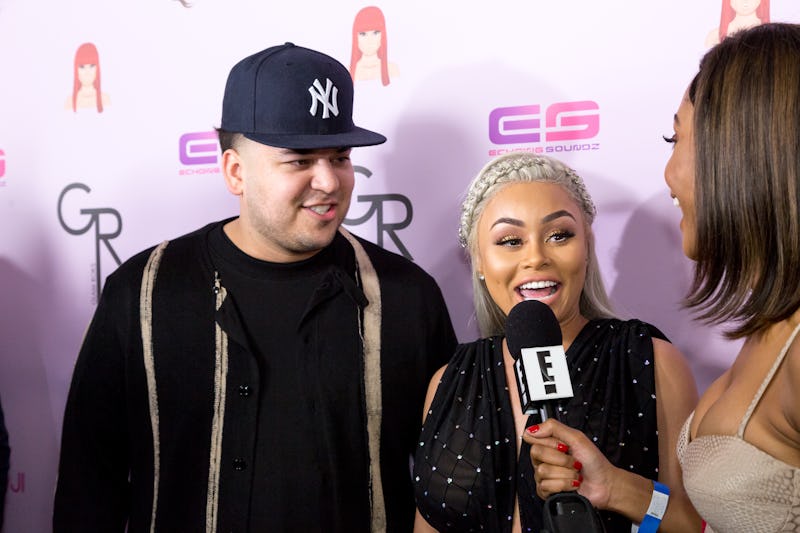 Greg Doherty/Getty Images Entertainment/Getty Images
A new season of Keeping Up With the Kardashians is quickly approaching. Kim Kardashian recently tweeted out a promo for the upcoming season, which revealed that she and husband Kanye West are definitely expecting a baby. But on top of that, the trailer also shows that Rob Kardashian and Blac Chyna are part of KUWTK Season 14 — at least as it relates to their drama that occurred over the summer.
Kim surprised KUWTK fans everywhere with a sneak peak of the season, which premieres on Sunday, Oct. 1, and it's overflowing with silly and uplifting moments. While it doesn't give viewers a confirmation of the reports that Kylie Jenner and Khloé Kardashian are pregnant, it does show Kim calling her sister Khloé to tell her about her own bundle of joy that she will be welcoming via surrogate. It also shows those classic Kardashian moments fans have come to love, like the sisters pranking their mom, Kris Jenner, by attacking her with cake and what looks like powder at another point.
But in one of the trailer's more serious moments, Kris is shown having a serious phone conversation concerning her son, Rob. She can be seen saying, "What would the restraining order have to do with his amount of custody?" while the trailer shows Rob in another scene. There's no doubt that Kris is talking about Rob's serious issues with Chyna, with whom he shares a daughter, Dream.
This past summer, months after it was reported that they had split up, Rob made allegations about Chyna, including that she had cheated on him and posted images showing her nude on his Instagram account (which was later removed altogether). Chyna, meanwhile, claimed that Rob abused in a Snapchat post that was soon deleted. Chyna was soon granted a temporary restraining order against Rob, which Kris is almost certainly referring to in the trailer.
Chyna's lawyer, Lisa Bloom, told Bustle in July of Rob's social media posts, "For now, we are not going to the police about the matter and we are also not suing him over it. We're hoping that he will take these restraining orders seriously and that that will be sufficient." Bloom also told Bustle that the restraining order would not affect Dream. Kardashian's lawyer, Robert Shapiro, told TMZ that Rob's posts were "a spontaneous reaction that [Kardashian] regrets." He also told TMZ, "Rob's only concern is for the well-being of baby Dream."
In September, Chyna and Kardashian reached a custody agreement, according to People. More recently, it was reported that Rob and his sister Kylie Jenner were both suing Chyna for alleged assault and battery, conversion, and declaratory relief for property of Jenner's that was allegedly ruined by Chyna. Bustle reached out to reps for Jenner, Kardashian, and Chyna, and lawyers for Kardashian and Chyna. Chyna's lawyer had no comment at this time; none of the other contacts have responded.
Rob has, in the past, not been shown on KUWTK as frequently as his sisters and mother, especially in the most recent seasons. It wouldn't have been surprising if Rob sat out the upcoming season, but instead, the trailer shows that the show will be taking on the issue at least somewhat head-on.
The Kardashians have never been afraid to air their most personal moments on the show and this is no exception. They could have not shown this part of Rob's life, but it's almost as if they had no choice. If they didn't show it, they would be questioned on why. The family has shown basically everything about their personal lives, including Kim's feelings after her robbery in Paris last year. Rob may not always appear on KUWTK, because of other issues, but his issues with Chyna were a huge deal that undoubtedly had some sort of effect on the entire family.
Because they're planning on mentioning at least some of what was going on with Rob, the family can gain back some control over the narrative. This will also enable the family to show viewers more of what went down between Rob and Chyna, instead of letting viewers make up whatever they want about the situation. The truth about what happened may be bad, but if they didn't get on top of it, they'd be leaving the story to be based only on the reports and rumors that have come out. By showing it months later, the show also might be the last word a lot of people hear. Viewers will get to see how this intense situation played out within the Kardashian family, which is what a lot of fans were curious about from the start.