Chyna Is Not Suing Rob Kardashian Yet, According To Her Lawyer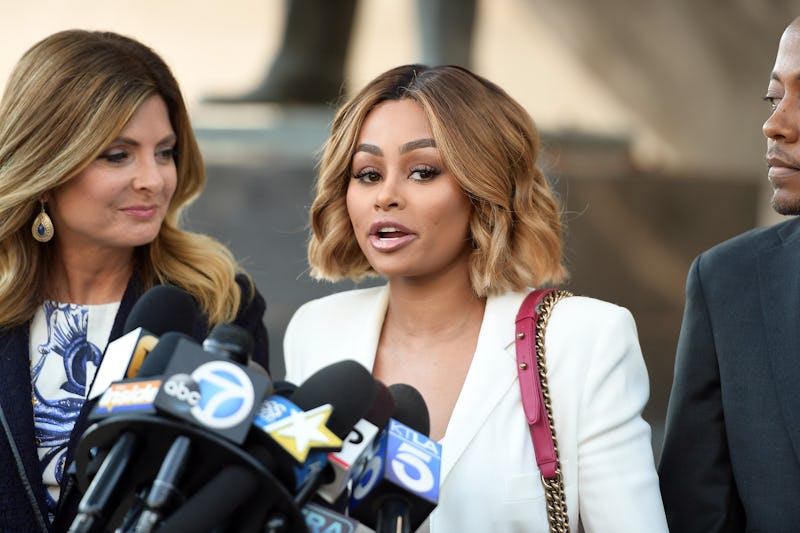 Matt Winkelmeyer/Getty Images Entertainment/Getty Images
Sticking to the plan they announced on Friday, on Monday morning, Blac Chyna and her lawyers, Lisa Bloom and Walter Mosley, appeared in court to request a temporary restraining order against Rob Kardashian. Chyna was granted the order, which requires her ex-fiancé stay at least 100 yards away from Chyna, her vehicles, her home, and her workplace. In addition, he is not allowed to post explicit or private images of Chyna online, post personal information about her including her medical history or address, or cyber-bully her, according to court documents. And, for now, a restraining order may be the only legal action that Chyna takes against Kardashian, as Bloom explains.
"Well, all options are open," Bloom says via phone soon after the restraining order was granted. "So, right now this [the restraining order] is the path that we're pursuing, and we pursued this path because it's fast."
"I was only retained, you know, late last week, and we immediately went into court and gave notice on Friday, and then today we had this matter on the court calendar," she continues. "For now, we are not going to the police about the matter and we are also not suing him over it. We're hoping that he will take these restraining orders seriously and that that will be sufficient."
TMZ reports that Kardashian's lawyer, Robert Shapiro, said that the reality star had no intention of disputing Chyna's request for a restraining order. Shapiro told TMZ that Kardashian's July 5 social media posts in which he made numerous allegations about Chyna and posted nude photos of her were "a spontaneous reaction that [Kardashian] regrets." Shapiro also told TMZ that "Rob's only concern is for the well-being of baby Dream." Kardashian himself did not show up in court on Monday, but Shapiro and another lawyer, Sam Klein, appeared on his behalf. After the order was granted, Shapiro told reporters (via People), "Now we move forward to do one thing and one thing only — whatever is in the best interest of the child."
While a temporary restraining order has been granted, a hearing is set for August 8 for a permanent order. "Today what we got are temporary restraining orders, so you can, if you are a victim of domestic violence, you can go immediately and ask a judge to protect you," Bloom says. "The idea is speed. You don't want to have to wait if you're in danger, right? So we went in for temporary restraining orders, which is how the process begins, and then the judge set the hearing a couple of weeks out, so that both sides can come in and testify and present evidence and have a full hearing on the matter, so that's what's on for August 8."
In the court documents, Chyna alleges that Kardashian abused her. Bustle reached out to reps for Kardashian regarding Chyna's claims, which she first made on the day of Kardashian's rant, but did not receive a response.
As for what's next, Bloom says that the former couple will need to work out a plan when it comes to their child. "Chyna has made it clear she would not seek to prevent him from seeing his baby. He has a right to and he should see his baby," Bloom offers. "So we are going to work out a plan as to that, and you know, work out who's going to pay for what in terms of the child's school and medical and all the rest of it. So, hopefully, in a few days we'll be able to work all those terms out, and then they can go forward as co-parents in a healthy and peaceful relationship."
Bloom also noted that the restraining order does not affect Dream and that Chyna does not currently have any contact with Kardashian. The hearing for the permanent restraining order is set for August 8 at 1:30 p.m. PT.