TNT's 'Will' Couldn't Shake The Dust Off Of Shakespeare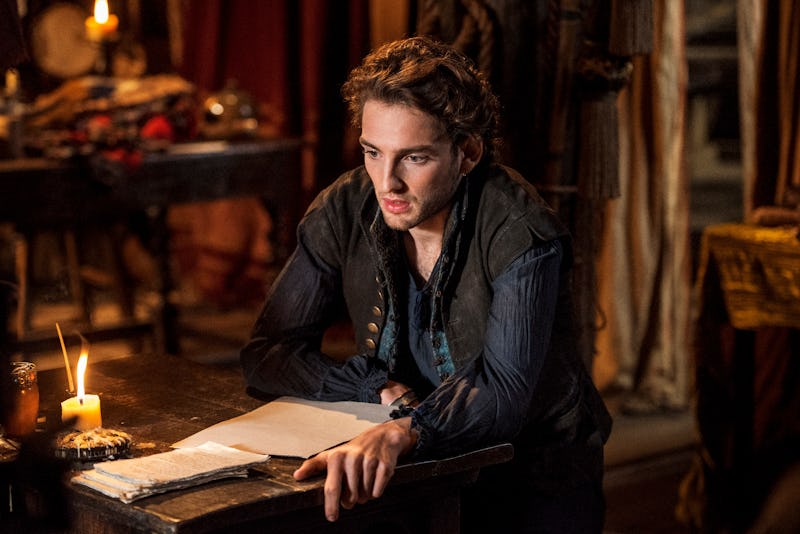 Steffan Hill/TNT
William Shakespeare is the cornerstone of the average high school English class, much to the chagrin of students who curse the poet and dramatist for incorporating so many dense layers into his plays and sonnets. As of 2017, he's also a super-edgy cable TV antihero, thanks to TNT's Will, a drama about the young Shakespeare's early days. As for whether or not Will will return for Season 2 in 2018, well, his impact here might be considerably lesser than it has been on the English language. Shakespeare didn't write any sequels; and theWill series could be a one-off.
Unfortunately, while Shakespeare's works have intrigued audiences and readers for centuries, this dramatic retelling did not capture audience in quite the same way. According to Deadline, the Will premiere ratings only drew 663,000 total viewers for the first episode and 477,000 for the second episode. Per Deadline's data, it was the lowest-rated premiere for the network... ever.
And while ratings aren't quite the only important factor when it comes to renewals, it can be a major source of concern for the network. After the show's disappointing debut, TNT president Kevin Reilly told Deadline at the Television Critics' Association summer press tour that Will "was a reach," but was "performing better than most dramas on television… it's performing at a levels that many networks would call a hit." However, the ratings were disappointing enough that, even with a TV landscape that makes even modest hits like Will arguable successes, its future was not secure. "I don't know where we go from here, whether we're going to complete the [second season] order," Reilly said. But he added, "I'm proud of the show creatively, they've done some great work."
Even with that candid admission, TNT has still yet to announce whether or not Will shall return for an additional season. Without a commitment to additional episodes as of the Sept. 4 Season 1 finale, TNT will certainly need some real time to write and produce Season 2 of Will. So if the show does come back, it will likely premiere in the second half of 2018. As for the story, which, in Season 1, revolves around Shakespeare's dueling romances and his alleged secret Catholicism, Reilly told the faith-based blog Patheos, "It was really backing [series creator Craig Pearce's] vision. He himself had been very, very passionate and studied on [Shakespeare's] life." Reilly also said, "There's a lot that's unknown about his life, maybe more unknown," suggesting that Season 2 could take on more obscure allegations about Shakespeare's life. (Perhaps the allegation that Marlowe cowrote some of Shakespeare's plays will be addressed.)
Given the importance of Shakespeare to the canon of great Western literature, you'd think that more people would be intrigued by a gritty, tongue-in-cheek look at what his life was life. But TNT will have to decide what's more important — blockbuster ratings or reinvesting in their risky, ambitious series.