Everything About 'Seven Seconds' Will Probably Change In Season 2 — Except This One Thing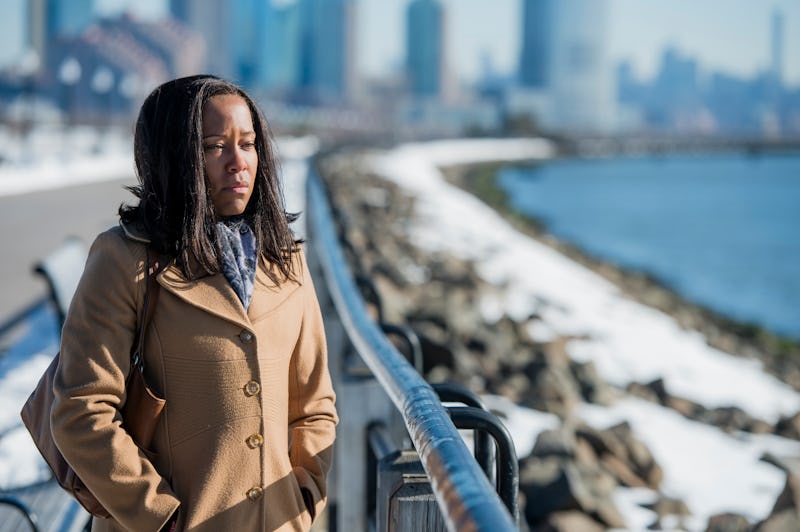 JoJo Whilden / Netflix
Netflix's latest crime show, Seven Seconds (creator: Veena Sud), seems to be one of the most politically-minded offerings on the streaming platform. The new series premieres Feb. 23 and focuses on the hit-and-run of a black teenager in Jersey City, the police officer that struck him, and how that conflict is treated by the police and the courts. The first season of Seven Seconds focuses on the impact of one specific event, but that story will reach a resolution by the end of these episodes. If there is a Season 2 of Seven Seconds, it will be covering a brand new plot. Seven Seconds is designed to be an anthology series.
UPDATE: Entertainment Weekly reported on April 19 that Netflix did not renew Seven Seconds for Season 2.
EARLIER: Like similar crime anthologies True Detective, Fargo, and American Crime, should the Netflix series return for another season, they would likely be telling a fresh story about another tragic circumstance. The show has not yet been ordered for a second season, so it's unclear if the show will keep much of the same cast from season to season like anthology series in the vein of American Horror Story and American Crime do, or if the show will get an entirely new cast while keeping the same creative crew. While not much has been revealed about how the series will exist moving forward, Veena Sud did reveal one detail about the future of Seven Seconds to CNN. Sud said that in the event that Seven Seconds (supervising producer: Shalisha Francis) gets renewed, she "anticipates focusing on another political issue but still using Jersey City as the story's backdrop."
Sud has not revealed why Jersey City, located in northern New Jersey, was chosen as the location for Seven Seconds. The city is connected via the Lincoln Tunnel to Manhattan, and sits on the other side of the Hudson River. While Jersey City may be more notable for its proximity to New York than any of its own merits, Seven Seconds will be using this city as a backdrop for a variety of stories that are related to real-life political discussions. The show's approach is yet another aspect that Seven Seconds has in common with the cancelled American Crime.
Each season of American Crime focused on a different story that related to another social or political issue. Season 1 focused on veterans rights, race relations, and the legal system. Season 2 addressed classism, sexual abuse, and gun violence. Season 3 tackled immigration, sex trafficking, and drug addiction. American Crime was cancelled in 2017, per Deadline, but it seems as though Seven Seconds is picking up where that series left off, even going so far as to cast Regina King, who performed in all three seasons of American Crime.
Sud has not explicitly stated that Seven Seconds is inspired in any way by American Crime, but the shows do share a core interest. Sud shared with CNN that Seven Seconds' first season was directly inspired by the conversation surrounding police violence in America, especially the deaths of black teenagers such as Tamir Rice, Trayvon Martin, and Michael Brown. "It's such an incredibly violent and horrific thing to think of a child lying in the cold," the creator said, "That was such an image that encapsulated that certain lives matter in this country and certain ones don't."
While the first season is taking a hard look at the state of race relations in America, especially as they pertain to institutions, future seasons could cover a plethora of topics. In 2018, there's unfortunately no shortage of tragedies that speak to the state of the country and comment on the unfair quality of life for many American citizens. Whatever subject matter Sud tackles should Season 2 of Seven Seconds be ordered, the show seems primed to serve as an effective representation of trenchant struggles.