Why 'Somebody Feed Phil' & Its Relatable Foodie Adventures Deserve Another Season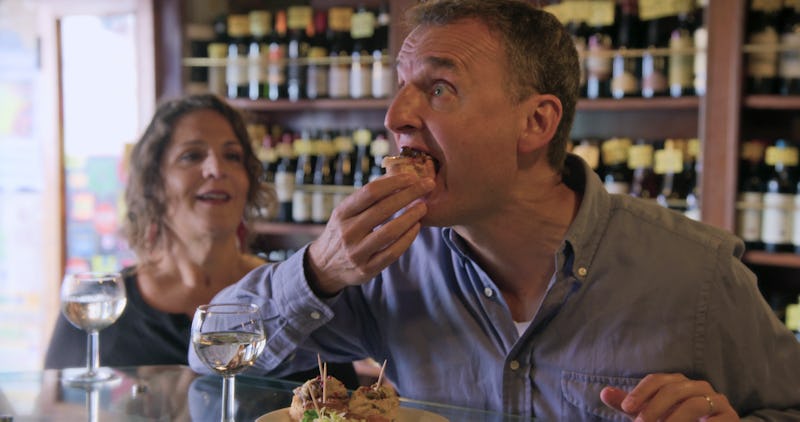 Netflix
Traveling is amazing, but those airline tickets can really add up — that's why it's so wonderful that Netflix subscribers have Phil Rosenthal. The Everybody Loves Raymond creator has his own show on the streaming service called Somebody Feed Phil (it also has a really jazzy theme song), and on it, Rosenthal traipses through the whole world, eating, drinking, and smiling. He smiles a lot — it's like an Anthony Bourdain-style travel show with a lot more smiling and dancing in a chair. With Season 2 just about to drop on July 6, fans that love Rosenthal and his infectious attitude want to know — when is Season 3 of Somebody Feed Phil?
Season 1 of Somebody Feed Phil quietly premiered on Netflix in January 2018, and Rosenthal quickly won audiences over with his personality and sheer happiness at having the good fortune to have this life. Rosenthal loves to eat, and he loves to talk to people, and that really comes through on screen. On the first season of Somebody Feed Phil, he journeyed to Bangkok, Saigon, Tel Aviv, Lisbon, New Orleans, and Mexico City. Season 2 takes Phil to his hometown of New York City, as well as Dublin, Copenhagen, and Cape Town, to name a few. Guest stars, according to the trailer, including Judy Gold, Tracy Morgan, and, as always, Phil's parents, who need their own show. There's been no announcement just yet about Season 3 of Somebody Feed Phil, but since Season 2 is only just premiering on Netflix, Netflix will probably take their time with a renewal.
Somebody Feed Phil isn't Rosenthal's first foray into travel television. His first show, the James Beard Award-winning I'll Have What Phil's Having, aired on PBS in 2015, according to Eater, taking him to places like Tokyo, Italy, Paris, Hong Kong, Barcelona, and his adopted hometown of Los Angeles. While you're waiting for an announcement about Season 3 of Somebody Feed Phil, you can stream I'll Have What Phil's Having on Netflix to hold you over. It's just as good.
While Rosenthal loves to eat and travel, the aim of Somebody Feeds Phil, he told Variety, is to get people outside of their comfort zones. "I understand not everyone can afford to go overseas... I just want to get you to travel," he said. "Not just because I think the world would be nice if we all were exposed to each other's experiences. But selfishly, it's the best gift you give to yourself." As Rosenthal told the Los Angeles Times, "I'm not the bravest guy in the world, but I think that most people are like me. If people see a putz like me out there, they say 'oh if he can go, I can go.'"
According to the Los Angeles Times, Rosenthal's idea for a travel show started when he was still working on Everybody Loves Raymond, because star Ray Romano didn't like to leave his home and had never been overseas. "He was a 40-year-old man at the time and I thought, I've got to bring him to Italy with that attitude and bring him back as someone like me," said Rosenthal, who then wrote an episode of Everybody Loves Raymond that brought the whole clan to Italy. "I saw what happened to the character that I wrote, this transformation of getting woke. I saw that happen to the person," Rosenthal said.
Rosenthal supports travel, and he supports food. According to the Los Angeles Time, he puts his money where his mouth is as an investor in over 25 restaurants all around the country, including Pizzeria Mozza and Osteria Mozza in Los Angeles. "It's my way of supporting the arts like any other," he said.
Rosenthal's travels may take him far away from Los Angeles, but his infectious attitude and desire to see more is something can be universally felt all around the world. While you're watching Season 2 of Somebody Feed Phil, take in the sights and (imagined) smells and maybe plan your next trip. Oh, and get ready for Season 3.