So Many Solo Series Stand Between You & 'The Defenders' Season 2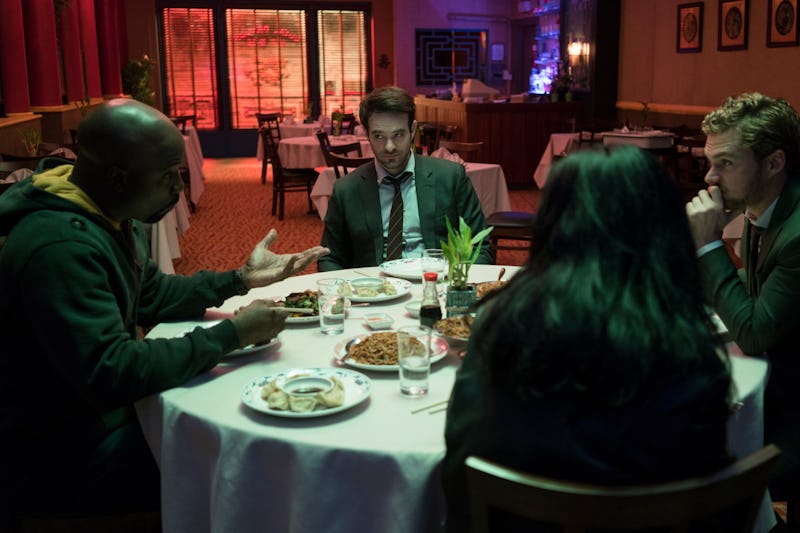 Sarah Shatz/Netflix
After the post-credits scene of 2008's Iron Man teased the formation of the Avengers, moviegoers had to wait four years for the Marvel Cinematic Universe to lay the foundation for that climactic superhero team-up. Netflix subscribers have been waiting just as patiently for the service's Marvel shows to collide in the much-hyped crossover miniseries, which is finally hitting screens on Aug. 18. But something tells me that the eight action-packed episodes are going to leave fans wanting more. So how long will it be until Matt Murdock, Jessica Jones, Luke Cage, and Danny Rand all join forces again? Will The Defenders return for Season 2?
Netflix audiences will actually be getting The Defenders much quicker than moviegoers got The Avengers; it's only been two-and-a-half years since the streaming service launched its mini-Marvel universe with Season 1 of Daredevil back in April of 2015. Since then, fans have been treated to three more standalone series as well as a second helping of Daredevil; Netflix has already announced that additional seasons of all four shows are on their way, as well as brand new spin-off series The Punisher. Surely those additional seasons have to be leading up to a second team-up, right?
Well, not so fast. Netflix is likely thrilled to simply be getting one unprecedented superhero crossover event off the ground; it's probably a bit premature to be looking for news of another go-'round. Netflix has yet to officially renew The Defenders for Season 2 — or even acknowledge that a second crossover is something they're planning on in the long term.
At the Defenders panel at San Diego Comic-Con in July, Marvel Television head Jeph Loeb refused to confirm or deny any plans for a renewal. "I don't know," he told Collider on the red carpet. "We haven't really gotten to that place. I don't know that there will be a Defenders 2."
That being said, it's nearly inconceivable to imagine Netflix not green-lighting a second season of The Defenders, especially if the miniseries attracts viewership numbers to match its advance buzz. But even if it is renewed, fans shouldn't expect another installment of the crossover next year, like a typical television series. It took 28 months for Netflix to build up to the first Defenders; if it takes the same amount of time between the start of the franchise's next "phase" — kicking off in November with The Punisher — to the premiere of Defenders Season 2, then fans would be looking at a release date sometime around March of 2020.
If that seems impossibly far away, there is hope that Season 2 could arrive a bit sooner than that. Once the universe is established, things tend to move at a slightly faster pace; while fans had to wait four years for the first Avengers movie, it only took another three years for Age Of Ultron, and only three years will have elapsed between that film and next May's Infinity War. If Netflix can similarly shave a good chunk of time off of its next "phase," then it's conceivable that Defenders Season 2 could end up with a 2019 release date. But I certainly wouldn't count on it anytime before then.
It's not like there's not a lot to look forward to in the meantime. After The Punisher spins off fan-favorite character Frank Castle from Daredevil Season 2 into his own standalone series, Netflix will also grace fans with the further adventures of Jessica Jones and Luke Cage in 2018, and Daredevil and Iron Fist sometime after that. It's also a safe bet that Netflix will continue adding to its roster of superheroes in much the same way that the M.C.U. adds to its stable between each Avengers film.
That being said, viewers should soak up the awesomeness that is The Defenders as much as possible when it debuts on Aug. 18, because it's going to be a long wait before New York's mightiest heroes band together to fight the forces of evil again.