'Queer Eye' Season 3's Exciting New Additions Will Include A MAJOR Celebrity Cameo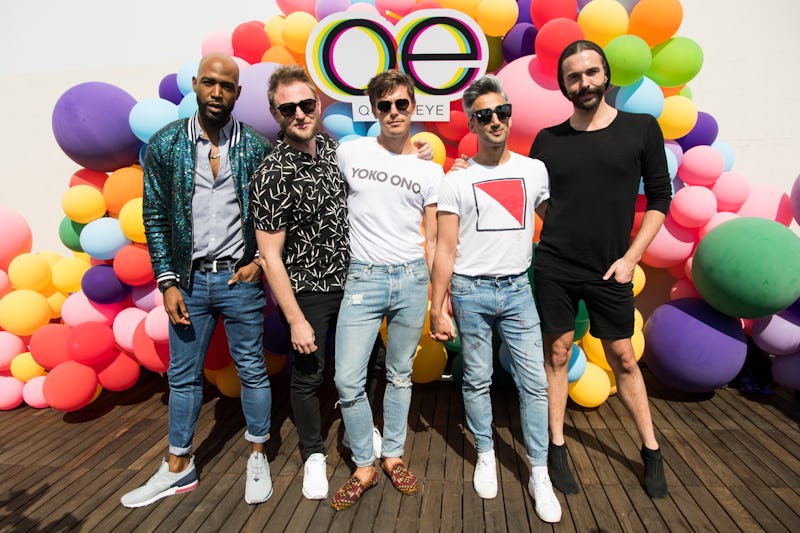 Emma McIntyre/Getty Images Entertainment/Getty Images
If you tuned into Queer Eye Season 2, you know that the Fab Five shook things up with a few surprises for fans throughout. The same goes for its next group of episodes, however, as it's just been revealed, via Entertainment Tonight, that Queer Eye Season 3 will have a celebrity cameo among several other exciting additions to the show.
While speaking with ET about what fans can expect from the upcoming season, hair stylist extraordinaire Jonathon Van Ness dropped the bomb, saying,
"I will say this much: the biggest of the big of the big of the big of the most major earth-moving, earth-shattering cameos could maybe happen. I don't know ... But what I'll say is that it would be earth-shattering and it would be very major and I'm really excited about it."
With so many celebrities obsessed with the show, it's a wonder just who the special, earth-shattering cameo could come from. Could it be Chrissy Teigen who admitted to loving the Fab Five so much so that she followed all of them on social media, or Queer Eye fan and friend Gigi Hadid, or even Saturday Night Live's Pete Davidson? After all the newly engaged comedian did just receive fashion tips from the Fab Five's resident fashion expert Tan France.
Though dropping the major hint that the celebrity guest is going to be beyond belief, Van Ness' response left a lot to the imagination. There's no telling who'll be making the cameo, or even what their role in the episode will be. But one thing's for sure: fans will be tuning in to see what's got Van Ness, as well as the rest of the crew, oh so excited.
Aside from a celebrity cameo, the Fab Five also revealed in the ET interview that Season 3 is going to be filled with some other surprises. According to culture expert Karamo Brown, the upcoming season is going to include a diverse set of subjects. Brown said, "I will say if people enjoyed the diversity of Season 1 and 2, get ready for more. So if people who really felt like, 'well maybe, I wish they would help someone like me,' yeah... get ready."
The Fab Five packed up and set their home base in Kansas City, Missouri for Queer Eye Season 3, too. And the show's food expert Antoni Porowski reassured fans that the city definitely delivered on its wide-range of warm subjects. Porowski added, "It's gonna be such a good season. ... [Kansas City's] welcomed us with open arms, and it's gonna be a good one."
Season 3's new filming location and a diverse group of subjects totally fits the unconventional mold the Fab Five presented in its preceding season. Just before the Season 2 premiere, the stylish crew took their skills to Yass, Australia, where they filmed a special makeover for single father and ex-Rodeo athlete, and even remodeled a neighboring bistro. And during, Season 2 also came with a host of its own surprises in Atlanta — introducing the show's first female and transgender makeover subjects.
If anything, the news of Season 3's celebrity cameo just proves that the sky is the limit for the Fab Five. And fans should be excited for whatever else they have up their sleeves.