Why Fans Of 'The Sinner' Have Good Reason To Expect Another Chilling Season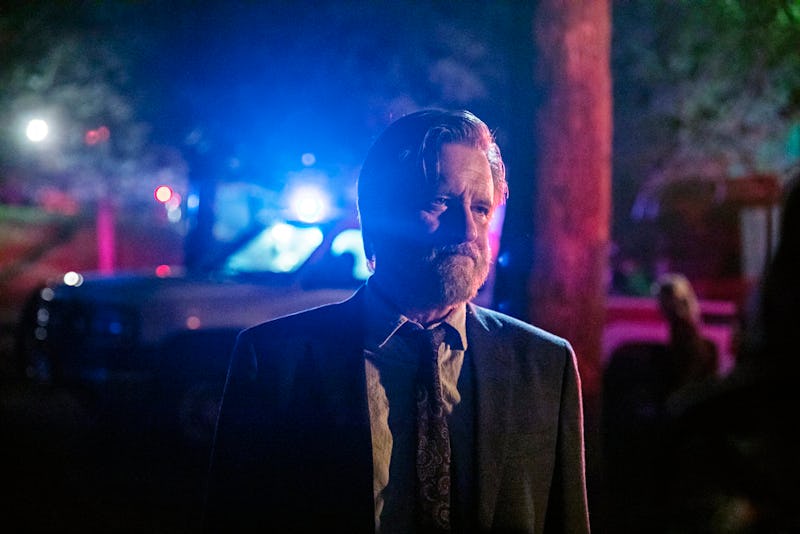 Zach Dilgard/USA Network
With one dead body and one missing child, USA Network's anthology series is heading into its Season 2 finale, which will presumably solve the mystery of Julian, Vera, and Mosswood. But the final episode will also present a new mystery to viewers: will The Sinner return for Season 3? With the current season set to wrap on Sept. 19, the network has yet to make any sort of official announcement about the fate of the series… but it shouldn't be too hard to do some sleuthing and come up with a theory.
Renewing The Sinner for Season 2 was simultaneously a no-brainer for USA and a huge risk. On the one hand, the pulpy, twisty mystery series quickly became the highest-rated new cable program of the season when it debuted in Summer 2017, per a press release. 2.44 million people tuned in live to find out why Cora Tannetti murdered a stranger on the beach when the Season 1 finale aired last September; cable networks don't typically turn their noses up at those kinds of numbers.
On the other hand, trying to get audiences to tune in without the show's biggest draw — 7th Heaven star Jessica Biel in a rare and acclaimed dramatic turn — was something of a gamble. With Cora's case wrapped, Season 2 of the anthology saw Bill Pullman's Detective Harry Ambrose move on to a brand new case in a brand new town with a brand new set of characters. (Even though Biel's Cora didn't appear onscreen in Season 2, Biel still remains involved with The Sinner behind the scenes as an executive producer.)
Not surprisingly, the ratings for The Sinner Season 2 didn't quite match the best-of-the-summer highs of Season 1. In its first seven episodes, Season 2 has averaged 1.1 million viewers, compared to the Season 1 average of 1.8 million viewers, down 39 percent year-to-year, per TVSeriesFinale.com. (Of course, those Season 2 numbers don't yet include the finale, which will likely pull in high numbers and bump the season's average a bit.)
Still, that drop isn't too drastic; live viewership never dropped below one million viewers for any single episode, and Season 2 of The Sinner still far surpassed the ratings of USA's most acclaimed series, Mr. Robot, which only drew an average of 529,000 viewers per episode in its most recent season, according to the same site. Of course, the attention Mr. Robot received from the Emmys likely helped it stay on air as long as it did — winning Best Actor in a Drama Series for star Rami Malek in Season 1 — and The Sinner has that going for it as well. Jessica Biel was nominated for Best Actress in a Limited Series for Season 1, and there's reason to expect similar honors for Season 2 star, Carrie Coon (a previous nominee for Season 3 of Fargo).
With solid ratings, awards potential, and the ability to reinvent itself every year thanks to its anthology format, there's no reason not to expect The Sinner to be renewed yet again. It may be concerning that there's been no official announcement ahead of the Season 2 finale, but the network could very well be waiting until creator Derek Simonds has come up with a compelling new mystery and they've cast a buzzy star to fill Biel's and Coon's shoes in Season 3. (I hear Meryl Streep's doing TV now. Just saying…)