Why Playing A Mysterious Cult Leader On 'The Sinner' Was "A Salve" For Carrie Coon's Soul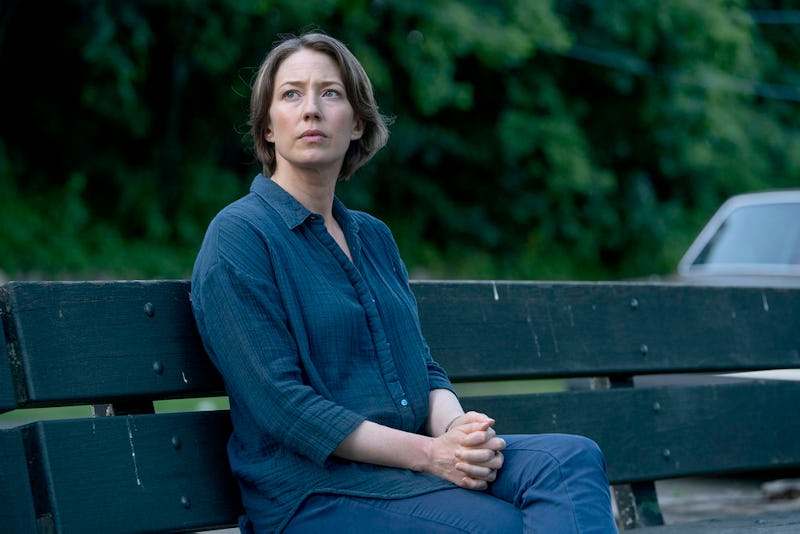 Peter Kramer/USA Network
"I call myself Captain Ambiguity nowadays," actress Carrie Coon says about her choice to purposefully pursue projects that delve into morally murky territory. "I think the word is out that I'm not afraid of it — and that I don't care about being liked." Viewers may not like Vera Walker, the character played by Carrie Coon on The Sinner Season 2, but it's hard not to love the 37-year-old Chicago native and Emmy nominee, who brought one of the decade's most indelible characters to life in The Leftovers' Nora Durst, and played a Coen-worthy crime solver in Fargo Season 3. But USA's crime anthology series sees her taking on a more villainous role as a mysterious cult leader.
"What I loved about The Sinner Season 1, that continued for Season 2, is the fact that it's not an entirely plot-driven mystery, it's quite character-driven," Coon tells Bustle. "Derek [Simonds] is sincerely interested in human motivation, and not in a way that's reductive," she says of the show's creator. "He rejects the narrative that the reasons a human being might do something are black-and-white and straightforward and easily discernible. I think at this time, the political climate in this country right now is so tribal and so divided and everyone speaks of every issue in absolutes, I found that the idea of pursuing a show that was interested in a murkier grey area was really appealing to me, was a salve for my soul. It was a psychological exploration that I could get behind in a time that's feeling really arbitrary and stressful."
So what is it about ambiguity that Coon finds so attractive? "To me, it resembles life," she says frankly. "This is the thing that always surprised me about The Leftovers, you know, people get so frustrated with shows that don't give you a nice, neat, hand-delivered ending. And frankly, whose life works like that? Not mine! I don't have any answers for anything. And so for me, I'm attracted to the art that resembles my life — and that is not a nice, neat package."
But Coon's not a snob: she knows those "nice, neat" stories have their appeal. "It's totally reasonable to have an appetite for something like that; it's entertaining, it's finite, it's like doing the dishes. It has a very clear beginning, middle, and end, and it's very satisfying to finish something like that. I just don't need to spend time making things like that unless there's some other box that it checks for me. Which is what's so great about The Sinner, because it's also sensational, it also has some really fun, twisty storytelling that is surprising and fun. It doesn't take itself too seriously."
When asked how she prepared for the mysterious role of Vera Walker, Coon can't help but laugh. "You know what's funny about that, let me tell you. I've had a process that I could talk about, for years, whether it's The Leftovers or Fargo or a play that I'm working on. But now what I have instead of a process is a five-month-old baby." (Coon gave birth in March to Haskell Letts, her son with husband and playwright/actor Tracy Letts, who also stars in The Sinner Season 2 as Jack Novack.)
"So now I had no time to prepare for this part. I was, some days, frankly, learning my lines in the hair and makeup chair, and I've never had to do that before. And so much of my experience of playing Vera was about the fact that I was recovering from a C-section, recovering from not sleeping through the night, adjusting to a brand new physical body that I didn't feel quite yet at home in, the fact that I was still breast-feeding at work when I started," Coon continues. "So there were so many other things that were more important than preparing this part, that I think the most important thing to me about playing Vera — as opposed to my more typical intellectual way into a part — is the fact that I was playing a mother for the first time while actually being a mother. I've always been pretending until now. And so for me, the only thing I could drop into, in this very feral state that I was in when I started this job, was the fact that there's a little boy [Elisha Henig's Julian] whose fate is in question, and that was sort of the only thing I had to concentrate on."
That process also included not knowing the answer to the show's central mysteries while filming. "I had to uncover the mysteries as our writers room was uncovering the mysteries," Coon says. "We had not read Episode 8 while we were still shooting Episodes 6 and 7. What's funny about that is, you know, I come from the theater, and in the theater, you always know the ending of the play. And so you always have to act like, every night, you don't know how it's going to end. So it's interesting to me when I encounter TV and film actors who are like, 'I don't want to know, don't tell me!' because they don't want it to affect the way they're playing the moment."
One of those central mysteries has to do with Vera's true motivations: is she a monster who drove a small child to murder, or is she a terrified mother doing anything she can to protect her child? Coon was careful to tread that line carefully, acknowledging that her character was not just a perpetrator of abuse, but also a victim. "I think for Vera, she believes what she's doing when she signed on with this guru is helping people. And she believes that the pain is worthwhile because on the other side of it is renewal and rebirth into a more open, integrated self that's not confounded by binaries, by right and wrong, by good and bad, which she finds to be societal constructs that are arbitrary. So because she holds these beliefs, she's willing to take them pretty far."
This isn't a phenomenon that's exclusive to cults, either. "I think we see examples of that all over, in history and in our society right now," Coon insists. "People always talk about hazing in fraternities; one of the reasons hazing is so effective is, you have to justify why you allowed yourself to go through something abusive, and you do that by doubling down on your commitment. So hazing is actually a tool for creating loyalty. And in a cult, a little bit of abuse is functional for these people. You have to justify why you allowed this to happen to you, and you do that by saying, 'No no, this is good. This is good and I'm committed. And if I wasn't committed, I wouldn't be able to go through this. But I'm strong… right?'"
The Sinner won't be fans' only opportunity to see Coon onscreen this year. Although they might not even know it, they already saw her in one of the biggest movies of 2018: Avengers: Infinity War, in which she played Proxima Midnight. And after The Sinner wraps in September, you'll be able to see Coon on the big screen again in November's Widows, director Steve McQueen's highly anticipated follow-up to his Oscar-winning film 12 Years A Slave. The film stars Viola Davis and was co-written by McQueen and Sharp Objects writer Gillian Flynn.
"It's such a thriller that I would hesitate to give anything away," Coon says of her supporting role in that upcoming crime drama. "I can tell [fans] that, if they really want to see me acting on screen, Widows will be a very small taste, and they should hold their breath for The Nest, which will be coming out sometime next year." Coon co-stars in the film with Jude Law, who plays "a businessman who brings his American wife and kids home to Britain to pursue new business opportunities, only to be plunged into despair as their unaffordable new life in an English manor threatens to destroy the family," according to The Hollywood Reporter. "It's a really smart script written by Sean Durkin, who did Martha Marcy May Marlene, and a very personal story," Coon teases. "He's a wonderful filmmaker. So I'm looking forward to starting that in like a week."
There's no rest for the weary, apparently — and thank goodness for that, because there's always room in the world for more Carrie Coon.