I Wouldn't Get Too Excited About The Possibility Of A 'Bridesmaids' 2 Based On This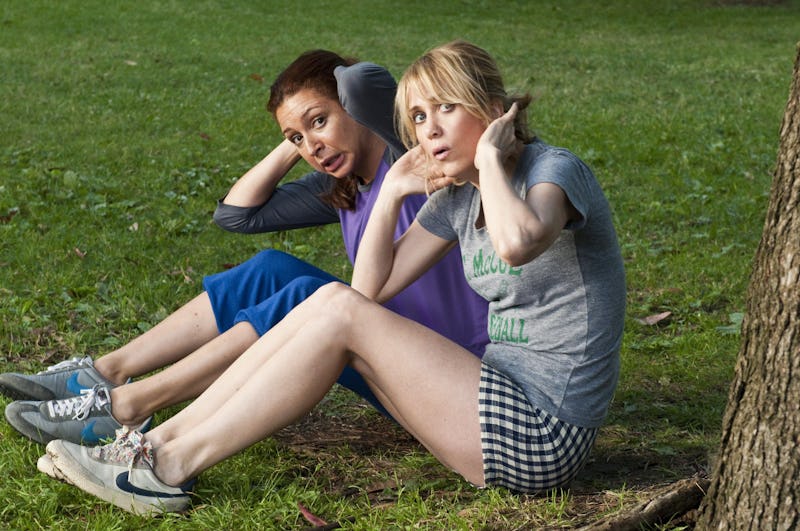 Suzanne Hanover/Shutterstock
Bridesmaids is an all-time favourite film for women everywhere. In my friendship group alone, I know of just one who wouldn't count it as one of their rom-com hero movies (she knows who she is). So it's only natural to wonder if a Bridesmaids 2 will be made in the future. The original Bridesmaids hit cinemas way back in 2011, meaning we've already waited a good while for a sequel. Rumours have been swirling about a second instalment for years now, but will there actually be a Bridesmaids 2?
Well, the truth is, it's perhaps not so likely. First off, the movie's Director Paul Feig certainly seems to be taking a "if it ain't broke, don't fix it" kind of approach when it comes to creating a Bridesmaids sequel. Speaking to Saturday Night Live star Michael Che at Tribeca Film Festival in 2017, EW reported that Feig explained:
"Sequels are dangerous… People always say they want a sequel to Bridesmaids but the whole reason that movie worked was [Kristen Wiig's character] is a mess and she learned how to repair her life, so you can't do a sequel and she's a mess and has to repair her life again."
He continued: "And people tend to think the artifice around all that is what made the movie great, but it was really that emotional journey and so, you almost kind of have to be careful of it."
The director also commented that a sequel would be, "really up to Kristen."
Unfortunately, Wiig appears to have already had her say three years prior to Feig's comments, while appearing on the Ellen DeGeneres Show in 2014. Joking about whether she could have a role in a sequel to the hit movie, Ellen asked: "You really won't do another Bridesmaids?" to which Wiig bluntly replied: "No, I think it's OK to have it just be what it was." Sob.
Rose Byrne, who played Annie's nemesis Helen, also seems to agree that a sequel probably isn't on the cards. Speaking to hosts of the TODAY show in August 2018, Byrne responded, "I don't think so", when asked if Bridesmaids 2 would be happening. "Never say never", she added, "but I doubt it, I haven't had a call." Byrne did however say she would "work with the [Bridesmaids cast] girls in a second" when asked if she would want there to be a second movie. The actor has since worked with Bridesmaids alumni Melissa McCarthy in Spy, as well as Chris O'Dowd in her most recent project, Juliet, Naked.
Despite these responses, it's fun to consider what could happen to our favourite characters if Bridesmaids 2 did ever come to fruition. For example, I could totally see Annie having a kid with Chris O'Dowd's character and freaking out about impending Motherhood. Helen would probably channel her assertiveness into politics, while Megan (Melissa McCarthy's character) would undoubtedly be enjoying life with her pack of Labrador puppies, hopefully not taking any more tumbles into the ocean with the dolphins.
One can dream…