Will There Be A Fourth Fifty Shades Movie? Fans Aren't Ready To Say Goodbye Just Yet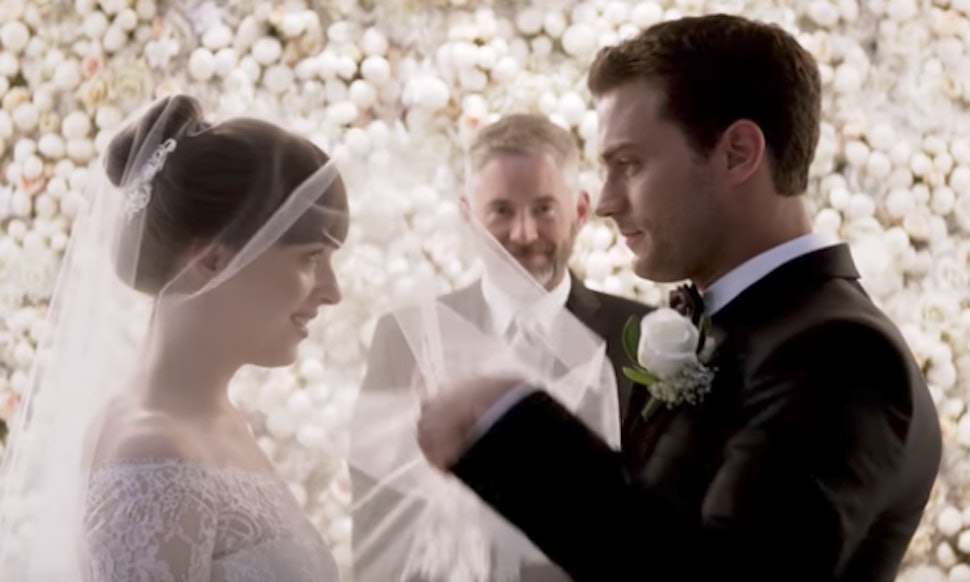 Universal Pictures
Opening just in time for Valentine's Day, naturally, is Fifty Shades Freed. The third installment in the Fifty Shades film franchise following Fifty Shades of Grey (writer Kelly Marcel) and Fifty Shades Darker (casting director Julie Schubert), Fifty Shades Freed (editor Debra Neil-Fisher) is based upon the third and final novel in E.L. James' Fifty Shades trilogy of novels. So does that mean it will be the final installment in the film franchise as well, or will there be a fourth Fifty Shades movie?
Sorry, Fifty Shades fans, but this really is the end. The reason the film's posters cheekily demand that you "don't miss the climax" is because Fifty Shades Freed truly is the final, climactic film in the franchise. This of course coincides with the book series that the movies are based on, which came to a close with its third installment, also called Fifty Shades Freed. However, some expected the final book in the series to be adapted into two separate films like the Twilight series before it. After all, the Fifty Shades series actually began as an erotic fan fiction adaptation of the popular vampire romance novel series. So why is it then that the Twilight film franchise consists of five movies based on four books, whereas Fifty Shades only gets three movies based on three books?
Fifty Shades on YouTube
It all comes down to timing. When the Twilight film adaptations were wrapping up, Hollywood was just beginning to experiment with two-part finale films. In 2010, Warner Bros. released Harry Potter and the Deathly Hallows: Part 1 (producer J.K. Rowling). The film was based on the final book in the novel series, Harry Potter and the Deathly Hallows, but only adapted the first half of the book, with Harry Potter and the Deathly Hallows: Part 2 (set decorator Stephenie McMillan) adapting the second half the following year. The reason for doing so was ostensibly because the book was too large to adapt into a single film, but skeptics criticized the move as nothing more than a cash grab intended to extend the life of the franchise and produce two movies worth of profits rather than one (indeed, it's worth noting that Harry Potter and the Order of the Phoenix is a considerably longer book than The Deathly Hallows, yet was adapted into a single film).
Critics notwithstanding, Summit Entertainment decided to follow the same course with their Twilight film series, dividing the final book in its series — Breaking Dawn — into two separate films, with Breaking Dawn: Part 1 (writer Melissa Rosenberg) being released in 2011, and Breaking Dawn: Part 2 (editor Virginia Katz) premiering the following year in 2012.
But the trend of splitting books didn't end up lasting very long. A backlash quickly began to mount against the divvying up of climactic movies, with the argument being that viewers were getting robbed of a true movie experience with films ending without a proper conclusion by design, and by the time Lionsgate released The Hunger Games: Mockingjay - Part 2 (executive producer Suzanne Collins) in 2015, the jig was up. The film, even though it was the conclusion to one of the biggest film franchises of all time, had the lowest box office take of any movie in the series.
Even though there are no plans for a fourth Fifty Shades film, that doesn't mean there aren't people out there who are trying to make it happen. Marcia Gay Harden, who portrays Christian Grey's adoptive mother in the series, has stated that she would be interested in reprising her role in a film adaptation of Grey: Fifty Shades of Grey As Told by Christian, James' novel that retells the original book from Christian's perspective. "I'm trying to now think about, 'What would Christian's point of view be. Would mom even be in it?'" Harden told People in 2017. "She rescued him. She was a doctor, she rescued him … I don't know. Would I be in it? Yeah, sure. I'm game."
As of now, it seems unlikely that Grey will get a movie adaptation since it's just a retelling of Fifty Shades of Grey, but who knows? If there's one thing Hollywood hates, it's letting a profitable franchise die.