Here's Why An 'Everything Is Love' Movie Could TOTALLY Happen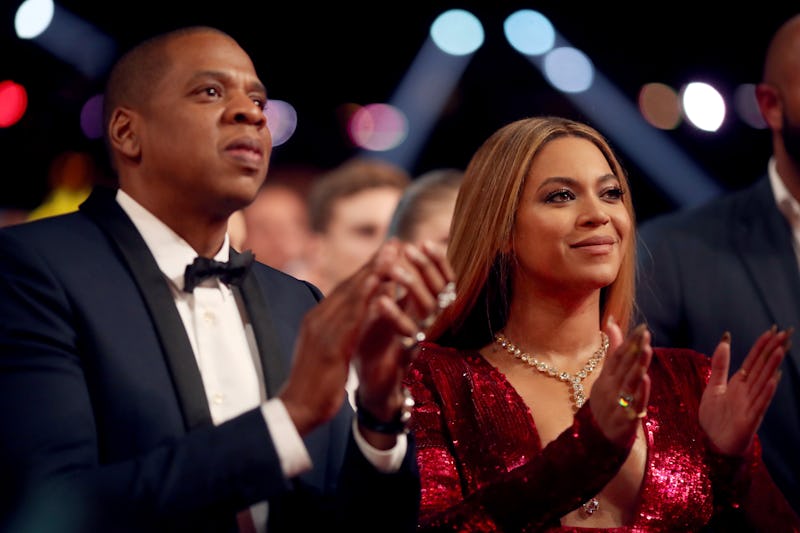 Christopher Polk/Getty Images Entertainment/Getty Images
Beyoncé and JAY-Z fans are still reeling from the surprise release of the couple's joint album Everything Is Love and its accompanying music video, "Apesh*t". Though they've had a moment to recover from the one-two punch delivered by the Carters, true devotees can't help but wonder if anything else unexpected is coming down the pipeline. Given the power couple's recent album history, it's not unreasonable for fans to ask, will there be an Everything Is Love movie?
After Beyoncé's unprecedented 2016 Lemonade release, when the singer dropped an entire secret album with full music videos for every song and a simultaneous HBO movie premiere, all bets are off when it comes to the music industry's reigning couple and their full plans for this latest album.
The first things naysayers will point out is just that when Lemonade dropped, it dropped in full; what was presented was the completed work in its entirely, everything all at once with no follow-up. Now that Everything Is Love is out, wouldn't it be foolish to assume there'd be any additional surprises beyond what's presented? Ah, but this is a joint album. Let's take a look at Mr. Carter's history before determining that what's out is all there is.
When 4:44 was released, it first came out on June 30, 2017, and it was streaming exclusively on TIDAL. Makes sense, that's his platform. But on July 7, the physical release day, the album came out with three additional tracks. Boom. And though JAY-Z's thirteenth album came out without any preceding singles or promotional videos, the first week of release saw the animated, Mark Romanek-directed music video "The Story Of O.J." uploaded to TIDAL, followed by a new video a week for the next six weeks, including (in order of release): "4:44", "Bam", "Kill JAY-Z", "Adnis", "Moonlight", and "MaNyfaCedGod", released in early August.
Fast-forward over two full months later to November 24, and JAY-Z releases three more videos, for "Legacy", "Smile", and "Marcy Me". That's an entire visual album accompanying a full musical one, just like Lemonade, but released over a four month period. For fans holding out hope for a complete vision of Everything Is Love, or at least more visuals to go with it, the odds seem a lot better when you take the rapper's history into consideration. And the album seems like a true collaboration, so there's no reason why a full roll-out wouldn't follow suit, dropping partly in its entirety (the music), and slowly doling out the rest.
What truly shocked people about Lemonade was that, given the enormous scale of the project and number of people involved, nothing leaked. Studio music takes its own small army, but compounded with not one, but seventeen videos, helmed by seven different directors each with their own followings and requiring immense resources for each shoot (including full teams of high school majorettes - you ever tried having high schoolers keep a celebrity secret?), the true miracle of the album was that not one person even hinted at their part in the greater whole. Still, if fans want to look for clues, Jay and Bey's lips are sealed until they're good and ready to share.
The best place to start hunting for hints would be their frequent collaborators. Odds are unlikely; after all who would want to risk incurring the wrath of Beyoncé or getting forever blacklisted by the most powerful A-list couple on earth? But people are humans, and mistakes can happen...
That said, Marni Senofonte was the stylist behind all of Lemonade, and the one who helped arrange Beyoncé's stunning 2017 Peter Dundas Grammy looks, so if fans were hoping for a peek at projects to come, she might be a good place to start. There's also Ricky Saiz, the director behind "Apesh*t" who previously worked with Beyoncé on her video for "Yoncé". The former Supreme designer only just posted some clips from the video, but it can't hurt to keep tabs.
While it's pretty likely fans won't find anything out ahead of whatever schedule Bey and Jay have in mind, it seems far more likely this is just the beginning, not the end, for Everything Is Love's rollout.