Wells Could Be Returning To 'Bachelor In Paradise' Season 5 With These Beloved Fan Favorites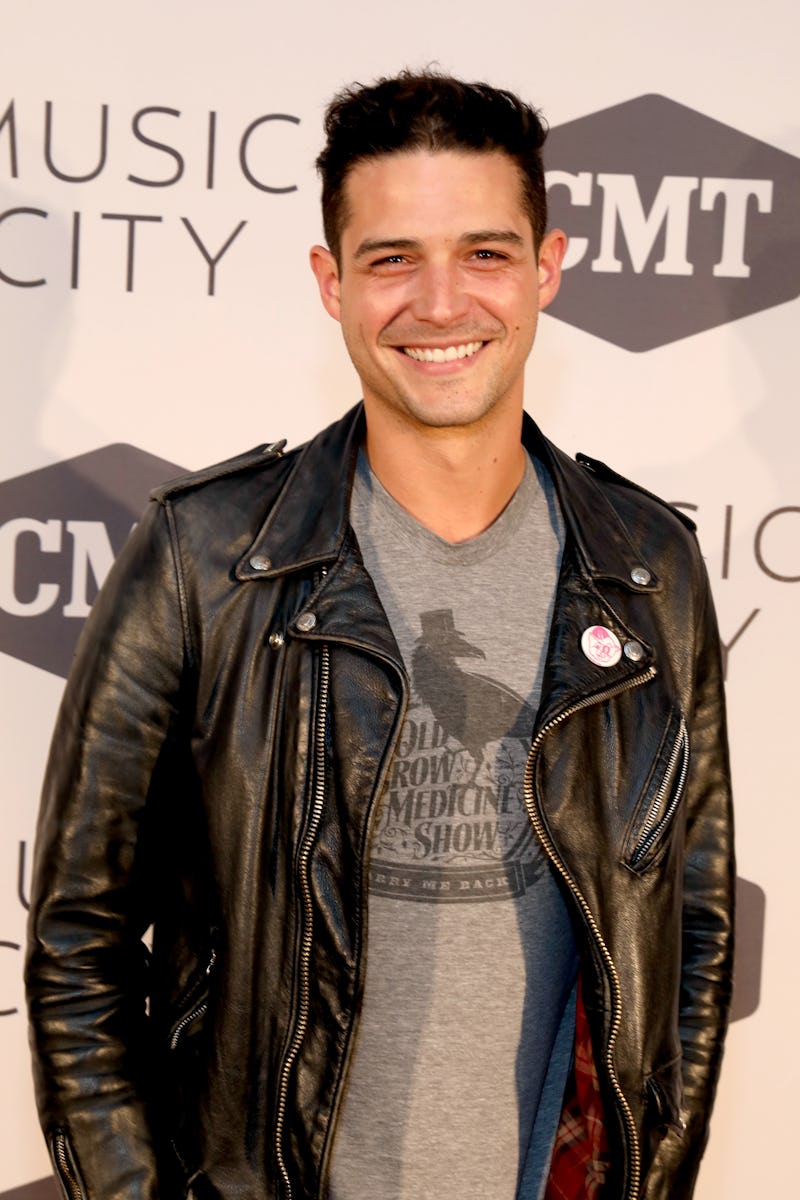 Anna Webber/Getty Images Entertainment/Getty Images
This week, Bachelor in Paradise recently announced a date for its Season 5 debut and fans can't wait to get their hand on all of the details. Along with the news that the show will return on August 7, host Chris Harrison shared a pic that has many fans wondering if Wells Adams will be returning to Bachelor in Paradise for the upcoming season.
Curiosity surrounding Wells' participation was heightened after Harrison the Instagram snapshot which featured the longtime Bachelor Nation emcee alongside former contestants, Wells, Yuki Kimura, and Jorge Moreno under a tiki hut as Jorge held of a card with the show's title. Although Wells' involvement has not been confirmed, the photo seems to indicate that he has, indeed, landed in the Mexico hotspot, once again. It's unclear in what capacity Wells' may return due to the fact that he is no longer single and has been dating Modern Family actor Sarah Hyland for quite some time now. The sweet photos that they often share on social media seem to indicate that their romance is stronger than ever these days.
Wells first confirmed his relationship with Hyland in November of last year while talking to The Morning Breath. Host Claudia Oshry Soffer pointed out, "You've been Instagramming a lot with Sarah Hyland." Initially, Adams played coy and just asked, "What?" He eventually admitted, "To be fair, if you really want to know anything, just look at my social media." So it's safe to say that Wells will most likely not be a part of the reality show's dating pool in Season 5.
During a January 2018 interview with Jimmy Kimmel Live!, Sarah Hyland shared how she and Wells started dating, explaining:
"He slid into my DMs ... we had tweeted each other [before] and I thought he was funny and he was a fan of the show [Modern Family]."
She continued giving play-by-play of their meeting, explaining to Kimmel that Wells was direct in his request for a date. She shares that he wrote, "Next time we're in LA, I'm taking you out ... for drinks and tacos." Hyland went on to say that their love for the same food helped to solidify their bond. "I [coincidentally] love tacos. He loves tacos so that was like his thing, like 'I love tacos, let's see if she likes tacos' ... we both like tacos!" she shared.
That said, it seems that the more likely scenario will see Wells' arrive as the show's resident bartender just as he did on Bachelor In Paradise Season 4. In Harrison's photo, Wells is donning the series' bartender get-up which seems to be further indication that former contestant will be back to serving up drinks, dating advice, and colorful commentary in the show's return. Bach Nation fans may recall that Wells served as the replacement BiP's three-season mixologist Jorge after he decided to part ways with the show to focus on his tour company, according to Us Weekly.
As for the Jorge, he seemed to confirm his return to the show landscape via social media on June 20. Sharing Harrison's identical photo on Instagram, Jorge captioned:
"Having fun in paradise!, thank you @chrisbharrison @theyearofelan for the invitation. If you want to see what happened today premier of BIP5 will be on August 7th"
It's currently unclear what role Yuki will play on the series. However, it's worth pointing out that she participated franchise's Bachelor Winter Games this past February, so Harrison's beach-based photo is definitely not a throwback. The way things are looking, it seems very likely that she could also show up as a bartender in the BiP return to add a much-needed feminist perspective and voice of reason to the show's behind-the-bar dynamic.
Lending more to that theory, ABC's senior vice president of alternative programming, Robert Mills indicated back in March that fans should be prepared for some sort of bartending twist coming in the upcoming season, telling E! News. "I think you're going to see some surprised behind the bar, let's just say that."
It will be interesting to see how things pan out should all three join forces as bartenders for Season 5. Perhaps, they'll have rotating a roster of drink-makers each week. Or maybe, just maybe, they'll pair them up as teams. No matter how you slice it, having them all on the show would be nothing short of amazing.
Although the participants for Bachelor in Paradise Season 5 have not been announced just yet, it's safe to say that things are going to get really good if the prospective bartenders are any indication.