Winona Ryder's Boyfriend Is Basically The Man Of Your Dreams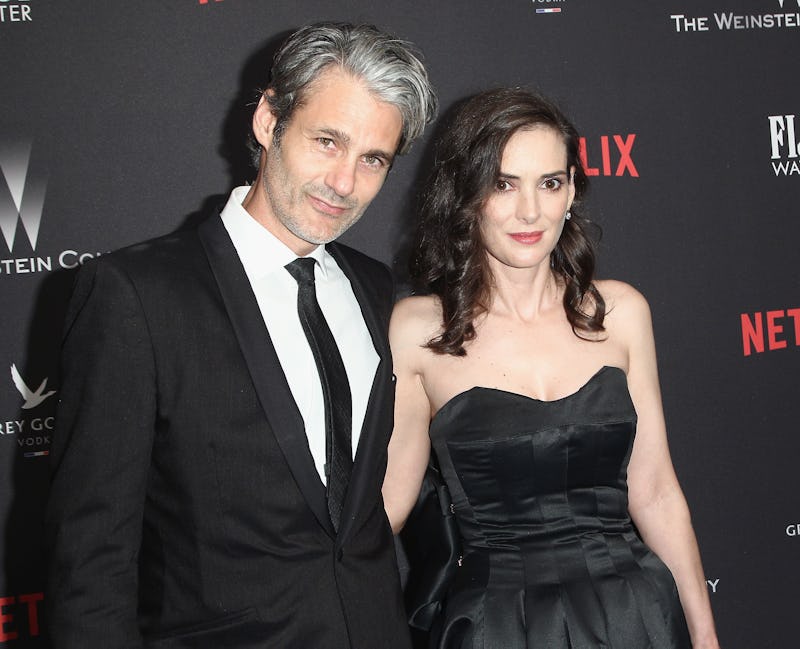 Tommaso Boddi/Getty Images Entertainment/Getty Images
Her offbeat career spans everything from Beetlejuice to Stranger Things, but what about her private life? If you've been wondering who Winona Ryder's boyfriend is, well, he's easy on the eye and successful and has a conscience, and that's a combo we can all get behind. According to The Daily Mail, Ryder and Scott Mackinlay Hahn have been together since 2011.
The 37 year old is clearly an important person in her life. During her interview with Net-a-Porter's The Edit in July 2017, Ryder confirmed she may never marry, but she offered a compelling reason behind her decision. Despite describing herself as a "serial monogamist," the actor stressed, "'I'd rather never have been married than been divorced a few times. Not that there's anything wrong with divorce, but I don't think I could do it if that was a possibility." So where did these feels come from? Apparently, her parents, who have been "madly in love for 45 years" — which mean her "standards are really high."
So who's this guy she's so joyful to be around and who meets those standards? Mackinlay Hahn is a fashion designer, who co-founded Loomstate sustainable apparel, a socially-conscious clothing line. You can see him talking about inspiring people to adopt a more eco-friendly lifestyle with a lot of passion and eyes big enough to swim in here about 20 seconds in.
The fashion designer told Time that his company was founded as "a brand just focused on organic cotton" after he discovered "how destructive conventional cotton farming is" and he was clearly the right man to take it on. He formerly teamed up with his Loomstate co-founder Rogan Gregory to create the brand Rogan. He told Racked that he started Loomstate not just with an eye to helping Mother Earth, but to found an ethical company that could also make a profit:
But it wasn't just about making dollars. It was also about creating "a criteria that raised the bar in supply chain operations," and, as such, making jeans out of certified organic cotton. According to a listicle on which Ryder's beau features, namely, the wonderfully titled "7 Hot CEOS and Their Cool Green Companies," the company uses 100 percent organic materials. The aesthetic isn't just eco-friendly, but eco-inspired, with designs inspired by aspects of nature, like dunes and sun-bleached stones.
Much like his girlfriend, who also revealed in her Net-A-Porter interview that she avoids social media, the CEO's social media presence is almost non-existent, and that's probably because the man is an inspiration for all laptop-addicted millennials. According to Mackinlay Hahn's bio on the Loomstate website, in his free time he doesn't languish in front of Netflix, but instead body-surfs and "enjoys forestry," which is the conservation of forests, FYI. Guy's basically a superhero.
But despite all the outdoorsy sounding hobbies, he's also passionate about urban surroundings. His Racked interview contains an enthusiastic homage to life in Bushwick, how, after an initial culture shock, he became totally absorbed by the neighborhood ("The things I miss about Bushwick, you can only get in Bushwick"). Which can only be a good thing, because, according to The Daily Mail, in September 2016 Ryder and Mackinlay Hahn went househunting together in Beverly Hills. Presumably, this is one fashion designer who'll be staying in a city for a little while longer.
Obviously it's hard to get someone's number purely from an online deep-dive, but Mackinlay Hahn seems like a passionate individual who crafts his own path. As such, he's probably a perfect fit for Hollywood's most charismatic free spirit.