Without This Woman, I Couldn't Have Led The Resistance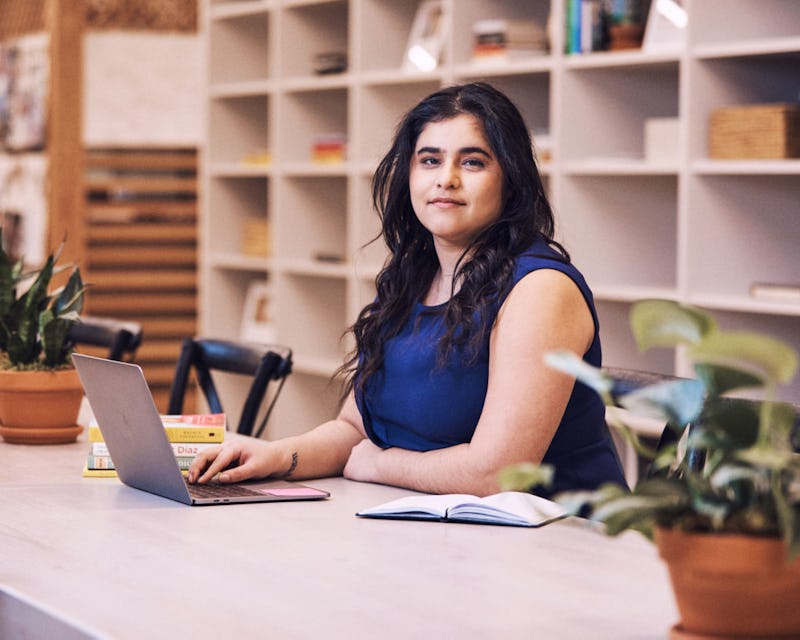 Jeff Allen
Not long after I co-founded the open-source platform Resistance Manual, Trump announced his notorious travel ban. I jumped into action and helped coordinate a rapid-response effort to connect legal help with the people who needed it. It was the first time I had done anything like it. And I was only able to do that, and so much of what I've done since, with the help of Jess Talwar, a 21-year-old activist who lives across the country.
When Trump took office, I was a law student. Now, I'm a nationally recognized lawyer, activist, and writer. Without Jess, there are days when I would not be able to speak at an event, write an article, or lead a movement. She has been my intern, my confidante, my researcher, my therapist, my editor, my podcast producer, and my friend.
I am constantly aware that my successes and failures show Jess what is possible and expected for people like us.
Most accidental founders endure long periods of constant and unrelenting labor as they build their organization. I couldn't do that — I was a law student, and I am a person with epilepsy. What I could do was lean on Jess.
If you saw me speak last year, chances are the slideshow was created by Jess. If you read one of my articles, chances are it was brainstormed with her and edited by her. Jess has given me the single most important thing one person can give to another: The knowledge that they're not alone.
Whenever I have been frustrated, and whenever I doubted whether we could really make a difference, I only had to think of Jess. As another person of Indian American descent and a pre-law student, I saw a lot of my younger self in her. I knew that each data point in the Resistance Manual's analytics represented a person like Jess.
Earlier this year, I decided it was time for a second season of my podcast Self Care Sundays. The person I reached out to for help was Jess. Working with someone like her, a more disciplined and less assertive person, teaches me I need to solicit feedback from the people I'm working with. It has inspired me to become more disciplined so I don't let her down.
As a person whose epilepsy is triggered by sleep deprivation, feeling comfortable accepting her help has been an indispensable gift. Yes, I could do less, or I could have seizures, but the only way I'm able to accomplish as much as I have while staying healthy is by having someone who I can ask for help, without shame. It not only makes me more productive, it also allows me to see my disability as part of my strength instead of a perpetual challenge to overcome.
I am constantly aware that my successes and failures show Jess what is possible and expected for people like us. It reminds me that what I do matters — not only for myself, but for those that seek to do similar work.
When my own drive is not enough, knowing that there is someone is watching inspires me. I know that there will never be enough words to express my gratitude to her for all that she's done for me, so all I can do is try to demonstrate it in small ways: Writing her a letter of recommendation for law school, telling her about a national conference she should attend, and thank-you notes like this one.
Bustle's "Without This Woman" is a series of essays honoring the women who change  — and challenge — us every day.
Without This Woman, I Wouldn't Remember Your Name
Without This Woman, I Wouldn't Know I Can Win
Without This Woman Fleeing The Vietnam War, I Wouldn't Have My Life
Without This Woman From A Novel, I Wouldn't Have Changed My Own Story
Without This Woman, I Wouldn't Believe We Can Start A Revolution
Without This Woman, I Wouldn't Have A Closet Full Of Trophies (Or The Confidence To Win Them)