There's A Secret Back Story About Andy Hidden In This Toy Story Land Restaurant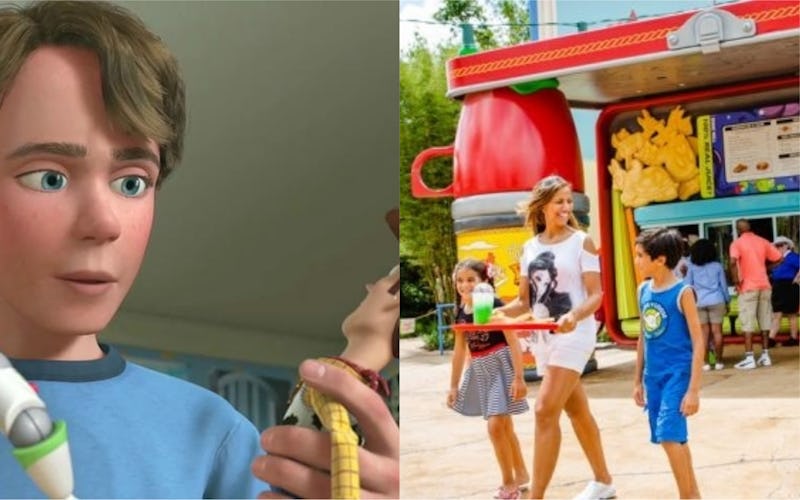 Pixar; Disney Parks Blog
As you may have heard, Toy Story Land opened at Walt Disney World this weekend — and boy, does it look like an experience. From the décor to the actual rides, the theming of the land is immersive and complete, with no detail left unaddressed. That includes the backstory behind Woody's Lunch Box, the main restaurant in Toy Story Land — and, uh, folks? It's adorable. It's so adorable that you may not be able to able to stand it. Consider yourselves warned; you might want to grab a box of tissues before continuing to read.
Toy Story Land, based on Pixar's Toy Story franchise, had its official opening day in Orlando, Fla. on June 30. It's not the first Toy Story Land Disney has ever opened; Walt Disney Studios Park in Paris became the first Disney park ever to host a Toy Story Land in 2010, with Hong Kong Disneyland following suit in 2011. Shanghai Disneyland and Walt Disney World both opened their own versions of the land this year — Shanghai Disneyland in April, and Walt Disney World just a few days ago.
The premise behind all of the Toy Story Lands across all of the different parks in which they appear is that guests have been shrunk down to the size of Andy's toys and set down in the franchise's beloved human's backyard. Andy has then been called away, leaving both the guests and the toys to their own devices. (Given that this premise positions Andy as still young enough to occupy his time playing in the backyard with Woody, Buzz, and the rest of the gang, we can probably assume that, time frame-wise, Toy Story Land exists somewhere around the first two movies. Andy was six in the original Toy Story, which was released in 1995, and just a few years older in Toy Story 2; however, he was getting ready to leave for college in Toy Story 3.)
Accordingly, each and every element of the land's theming creates a piece of lore for that premise: The Slinky Dog Dash roller coaster is meant to have been constructed by Andy with his Mega Coaster Play Kit, after which he decided to use Slinky Dog as the coaster's vehicle; Woody, Jessie, Buzz, and other characters roam the backyard freely; and, of course, the restaurant located in the area — Woody' Lunch Box — has a story, too. And you know what? That story is so cute that when I found about it, it just about destroyed me.
As you might expect, Woody's Lunch box actually is shaped like a lunch box — presumably the one Andy received as a birthday present in the very first Toy Story movie (Sarge reports the appearance of the lunch box at about the 2:45 mark here):
In retrospect, it's hilarious to me that Woody himself would be so unimpressed by the lunch box; if the one Andy is given here is, in fact, the same one out of which Woody's Lunch Box is constructed, then it's a lunch box themed after himself. You'd think Woody would be a little more thrilled that his human is so into both him and his world, wouldn't you?
Anyway, the restaurant is designed to look like a Sheriff Woody/Woody's Roundup lunch box that's been set on its side and propped open with a gigantic thermos and what looks like a green stick from Andy's Tinker Toy set. The result is a walk-up eatery with a cute little awning formed by the lunch box's lid. Even the seating looks like something Andy would have come up with; the tables and chairs are made out of things like notes from Andy's mom and the leftover wax wrappers from Babybel cheeses, while the colorful umbrellas look like really big versions of the little paper umbrellas you put in summertime drinks.
But here's the thing: The design of the restaurant isn't just a visual choice. It's a storytelling one, too. Jerry Mora, food and beverage guest experience manager for Disney World, recently spoke to Delish about the backstory behind Woody's Lunch Box. Here's what he had to say:
"When Andy was ready to play in his backyard, he propped it open with one of his thermoses, and suddenly, he was called [back inside]. So he left his backyard, and we have all the green army men, and the toys, and the guests ready to try the menu out."
Yep: The idea is that Andy had actually set up his lunch box in the backyard while he was playing in order to make a little pretend snack bar for his toys — and while he's away, the guests and toys can actually use it for the purpose the kid had intended.
Actual footage of me right now:
IT'S JUST TOO CUTE.
For what it's worth, the food at Woody's Lunch Box sounds pretty amazing. It serves breakfast, lunch, and dinner, and includes options like a S'mores French Toast Sandwich (!!!), a BBQ Brisket Melt, one incredible-sounding grilled cheese (it features provolone, cheddar, and cheddar cream cheese on garlic buttered artisan French bread), "Totchos" (tater tot nachos) and two varieties of "Lunch Box Tarts" that basically look like the souped-up Pop-Tarts of your dreams. Heck, and yes.
Of course, since Toy Story Land just opened, it's likely that the lines will be long for just about everything in the place — including just getting into it, let alone riding the rides or eating at Woody's Lunch Box — for the foreseeable future; INSIDER published an account of what the lines were like on opening weekend, and… uh… well, let's just say it's not for the faint of heart.
The good news is that Woody's Lunch Box is one of Disney World's quick service restaurants, so you probably won't have to jump through the kind of hoops you do in order to eat at, say, Be Our Guest in the Magic Kingdom; however, unless you plan to eat during the off-hours, you can probably count on there being at least some kind of wait there. The photos in that tweet up there? That's what the lines looked like this past weekend. Yikes.
Give it some time, though; after Toy Story Land has been established, the lines will probably calm down a bit. And hey, by then, the next new thing will be Star Wars: Galaxy's Edge; it's scheduled to open in late fall of 2019 at Disney World (Disneyland gets it a little sooner; in Anaheim, Calif., the opening date is set for spring 2019). In the meantime, stay hydrated and keep reapplying that sunblock!