'Young & Hungry' Is Ending After Next Season, But There's A MAJOR Silver Lining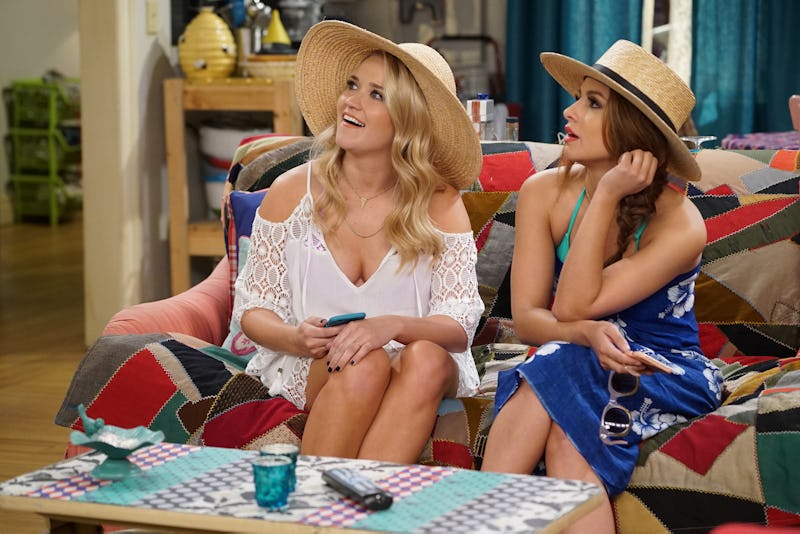 Freeform/Eric McCandless
After five seasons, Freeform's comedy Young & Hungry is coming to a close. But if you're a fan of Emily Osment's TV show, don't be too dismayed about this news. According to Entertaiment Weekly, there will be a Young & Hungry TV movie, so fans can ease into the fact that the show won't be around anymore with a solid sendoff.
The Freeform announcement came Thursday, March 15, and Young & Hungry's last 10 episodes will air this summer, Deadline reported. The fact that Season 5B will be the show's last shouldn't come as much of a shock to fans, though. Last month, Osment tweeted that she didn't know when the "final" episodes of Young & Hungry would air on Freeform. It wasn't much of a surprise, then, to learn that the next 10 episodes will be the last ones. So in a way, the announcement is good news. Fans finally have a premiere date, June 20, for Season 5B.
Back in February, Osment wrote,
"Hey everybody, neither me nor anyone else in the cast knows when Young and Hungry is coming back. Our final ten episodes will air this year sometime, but it is still uncertain when that is. I see all your replies, yes I am annoyed too! We love you, please be patient!"
Five seasons is a respectable run, and every show has to end at some point. Over the course of Young & Hungry's episode, fans have seen Osment's character, Gabi, become a successful personal chef for a tech entrepreneur, weather ups and downs with her best friend, Sofia, and fall in love with her boss, Josh.
Gabi and Josh have been an on-and-off, will they?/won't they? couple for pretty much the show's entire run, too. But it sounds like the end of the show will end on a definitive "they will" note. According to Entertainment Weekly, fans will see Gabi and Josh together again in the last episodes. And apparently, the show will also explore (again) how their pairing affects everyone else in their lives, including Sofia as well as Josh's other employees Yolanda and Elliot.
Based on that information, it sounds like the TV movie, and the rest of Season 5, will have Josh and Gabi already together, and that's a good thing. Fans might even get a sneak peek into what their relationship is like after the dust settles, and that's not always something movies and TV shows like to depict.
There are plenty of stories where couples get together on screen, but that's often where the story ends. It would be interesting to see how Gabi and Josh interact in their final pairing, especially if fans are meant to believe this is the time they'll finally be staying together for good. The two have been through a lot, too. Josh broke up with his fiancée, Caroline, in the first season after sleeping with Gabi. She almost left him for his brother, Jake, who could see that things weren't over between the two of them. And Josh even forgot who Gabi was for a little while after suffering from amnesia. So there's a lot for the two of them to work through if their relationship is going to survive the long haul.
And aside from the Young & Hungry TV movie, there's another bright side for fans of the show's lead, too. Osment will be a recurring character in Netflix's upcoming comedy series The Kominsky Method, so this isn't the last you'll see of the star. Plus, she's already been cast in a new TV pilot, for a CBS comedy series called 25. So yes, the former Hannah Montana actor will probably still grace fans' TV screens long after Young & Hungry is over.