This App Connects To A Sex Toy To Give You Feedback & Offers 24/7 Access To Sex Therapists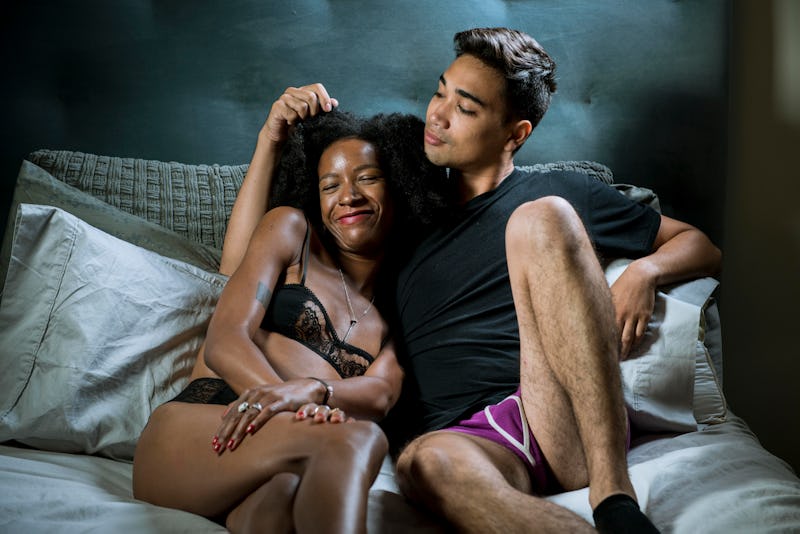 BDG Media, Inc.
If you're committed to making your sex life better, and having a great time with your partner while doing so, there's a new app you may want to check out. Just in time for Valentine's Day, Lovely, a smart, wearable sex toy, is releasing the Your Lovely app. This app will connect to the toy, give you personalized feedback based off your sexual performance, and offer you sex education from videos and therapists.
The Your Lovely app is now available for free on the Apple App Store and on Google Play. One of the most interesting features of the app is that it will give you access to sex educator. It will also provide you with individually tailored techniques — for when you're flying solo or with a partner. And if you're interested in learning, Your Lovely members will also have access to sex education course videos right on the app. If you're looking for something lighter side, The Relationship Periodic Table is a game you can play on the app with your partner to find out just how well you know each other. Basically, the app is like a sexual playground for you to run amok in.
"The advice coming from the sex educator is more hands-on and gives people the ability to express exactly what kind of desire they want to explore, or what they want to improve," Jakub Konik, Founder and CEO of Lovely, Inc., tells Bustle. "Talking to a real person gives people the opportunity to discuss more personal items and, as we know, sex is a very intimate thing. The tips that come directly from the app are simpler, like new positions or stimulation techniques to try, or other sex-related ideas, as well as inspiration on topics such as foreplay, bedroom atmosphere, etc. Both things work, but we think that having your own private sex educator in the palm of your hand is the best thing you can get when you want to explore and enhance your sex life."
Your Lovely is offering subscriptions for $9.99 a month, for anyone who signs up by February 28. Even if you don't think that a wearable sex toy is for you, you can still sign up for the app and gain access to all of the benefits.
The best news? As a Valentine's Day special, 14 Bustle readers will receive the Lovely wearable sex toy for free — a $169 value. Here's how it works: use the promo code BUSTLE when you order for $10 off and free shipping. But the first 14 people who use the code will get a free toy. It ends on the 14th at midnight, so hurry to see if you're one of the lucky ones.
If you're not familiar with the toy the app will connect to, it's a whopper. Meant to be worn by someone with a penis, it not only tracks your sexual performance (including your thrust rate and "top speed") — it may even improve it. "Lovely slows down blood circulation in the erectile tissue, helping penis owners to maintain a fuller erection for longer," Konik says. Sounds like a good time to me.
But it's not just about the stats and figures. Good sex is about performance, but it's also about communication — and that's one thing Lovely is aiming to improve.
"Our number one advice is always to improve your sex-related communication," Konik says. "You need to understand what your partner desires and vice-versa, but not everyone is open enough to communicate that in a proper way." Having access to your sexual performance is a great conversation starter, too. You can look through your stats laugh about it together, all while talking about things that worked and didn't work. It can make an awkward conversation go a lot more smoothly.
Wearable technology can do a lot these days, but tracking your sex life has to be one of the most fun tasks it can handle. So if you're looking for a Valentine's Day present that really goes the extra mile, the Your Lovely app subscription is a little wild, a little frisky, and way more fun than tracking your steps.