5 '90s DIY Trends You'll See Everywhere
From tie dye to baby tees.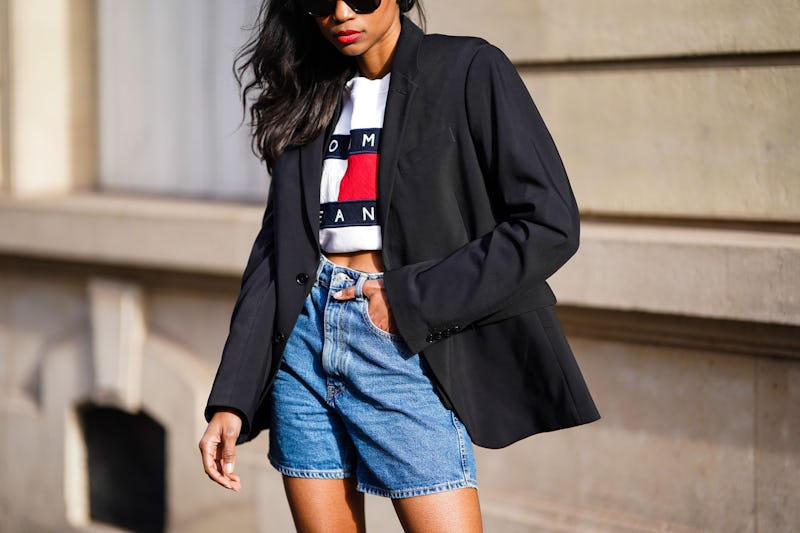 Edward Berthelot/Getty Images Entertainment/Getty Images
Nineties fashion was all about campy trends: Think grunge, tie-dye, ripped jeans, and more. Now, many of those looks are back in style, and the best part? You can DIY a ton of them, meaning it's never been easier to get the exact outfit you want. What's more, the pride you'll feel knowing that you created the look yourself is unmatched.
For most of the below DIY '90s trends, all you need is a pair of scissors. Beyond that, a trip to your local crafts store is in order for paint, or maybe a scroll through Etsy for some cool iron-on patches. With that and a little imagination and creativity, you'll be able to quickly master every single '90s style you remember from your youth.
Take your sweats to the next level with some tie-dye fun reminiscent of your favorite '90s sitcom star. More into grunge? Rip up your favorite denim with abandon for the perfect lived-in, distressed look. Can't find the vintage graphic tee you've always wanted on eBay? Take a plain cotton version and iron on patches that look just like the real thing.
The time is now: '90s trends are back with fervor and not looking to fade into the past anytime soon. From tie-dye tops and cutoff denim shorts to baby tees and ripped jeans, read on for every single DIY trend you'll going to want to try stat.