The 9 Best Beanies For Running
Warmth that won't make you overheat.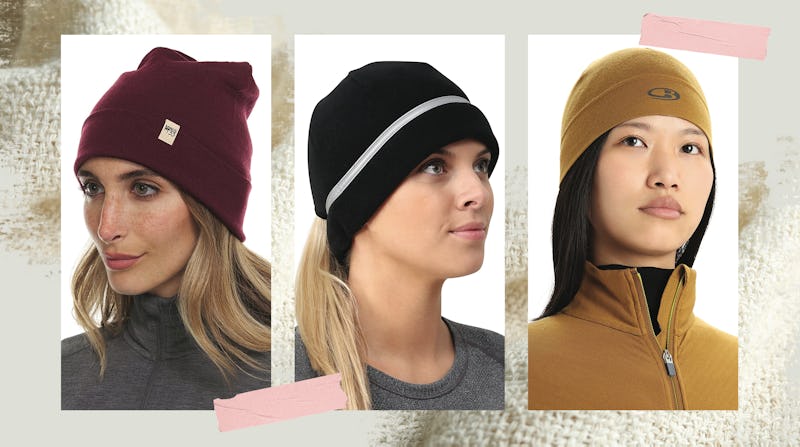 Bustle/Amazon
We may receive a portion of sales if you purchase a product through a link in this article.
Running when it's chilly can be invigorating, refreshing, and well, cold. But with the right running hat, you might be able to get in a few extra miles. This is where a close-fitting beanie comes in, and the best beanies for running will keep you warm while being breathable and moisture-wicking. Also consider features like reflectivity for running when it's dark, a hole for a ponytail, or an optional face mask and neck warmer.
What To Consider When Shopping For Beanies For Running
Materials
You want your running beanie to keep you warm but also dry when you start to sweat, so choosing a breathable, moisture-wicking material is essential. Options include natural fabric like merino wool, which is temperature-regulating and odor-resistant but might come with a high price tag. Synthetic blends like polyester, spandex, and nylon are stretchy and quick-drying, but may retain odors over time. Some beanies might be made of warm and insulating acrylic, just note that it's not as breathable as other materials. For a more breathable option that provides extra warmth, you can go with a fleece beanie — but it may be prone to pilling.
Fit
A beanie that's too big will fall off your head, and one that's too small won't feel comfortable, so you'll want a hat that fits just right. Some winter running hats have more of a snug design, while others have a cuffed band that can give you more coverage over your ears. They might also have a slot for a ponytail. Note that most hats are one size, so look over the brand's measurement information to get a sense of the most comfortable fit.
Whether you're going for a winter personal record or just a jog around the block, here are some of the best beanies for running.