The 12 Best Linen Pajamas & Loungewear
These breezy pieces will effortlessly elevate your wardrobe.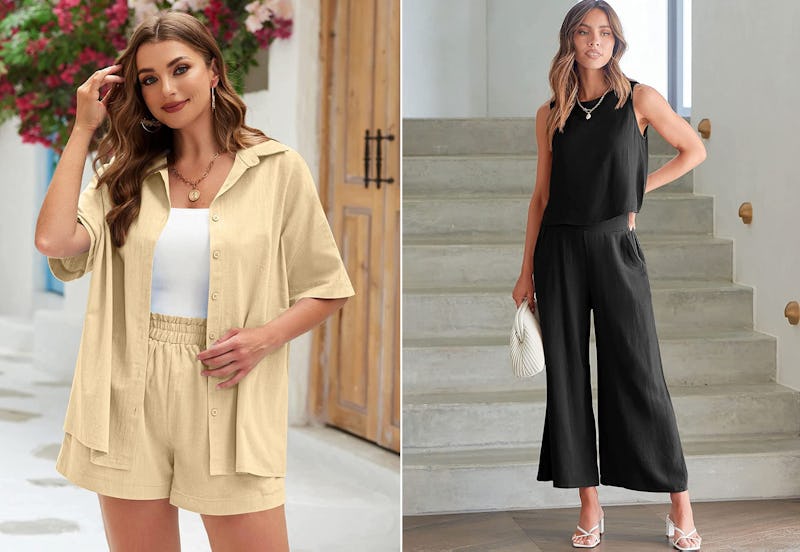 Amazon
We may receive a portion of sales if you purchase a product through a link in this article.
It makes sense that linen is a GOAT fabric, especially when it comes to clothes you want to relax in. Breathable and effortlessly chic, the best linen pajamas and loungewear combine the hero fabric's sophisticated texture with silhouettes that you can sleep in, relax in, or even go out for a casual outing in — or all of the above.
How To Shop For Linen Pajamas & Loungewear
Consider Pure Linen Vs. A Linen Blend
Made from flax, the cellulose fibers in linen are longer, and more tightly woven, than cotton, thus earning linen's reputation for durability. Linen fibers are also hollow, so you'll get the added benefit of breathability — a plus for sweaty sleepers, or for wearing during the warmer months.
If you're unable to find the right piece in 100% linen try a linen blend. It'll offer the luxe look and feel of linen, but will feel a little softer right out of the box; pure linen typically needs a few wears and washes to soften up. Cotton- or rayon-linen blends are also less prone to wrinkling than pure linen, if that's something you're concerned about, and they tend to be more affordable options.
Choose Your Silhouette
When shopping for linen pieces, look for silhouettes that complement the fabric's unique qualities. When rendered in linen, a menswear-inspired pajama set with long sleeves and pants is perfect for those who want the coverage of a classic long pajama set, but with more ventilation. Thanks to its naturally rumpled appearance and soft, easy feel, many linen dresses and separates can be worn as pajamas or loungewear, even if they're not marketed as such. For example, a linen slip dress or shirt dress can work either as a nightgown or a dress, depending on how you style it; a pair of drawstring linen shorts or pants can be worn as boxer shorts, a chic cover-up over your swimsuit, or as a polished alternative to your go-to sweats when you're lounging or working at home.
Ahead, find 12 of the best linen pajamas and loungewear that'll add a hint of luxury to your loungewear collection.