The Best Primers For Acne-Prone Skin, According To Dermatologists
If you're prone to breakouts, this is a step you won't want to skip.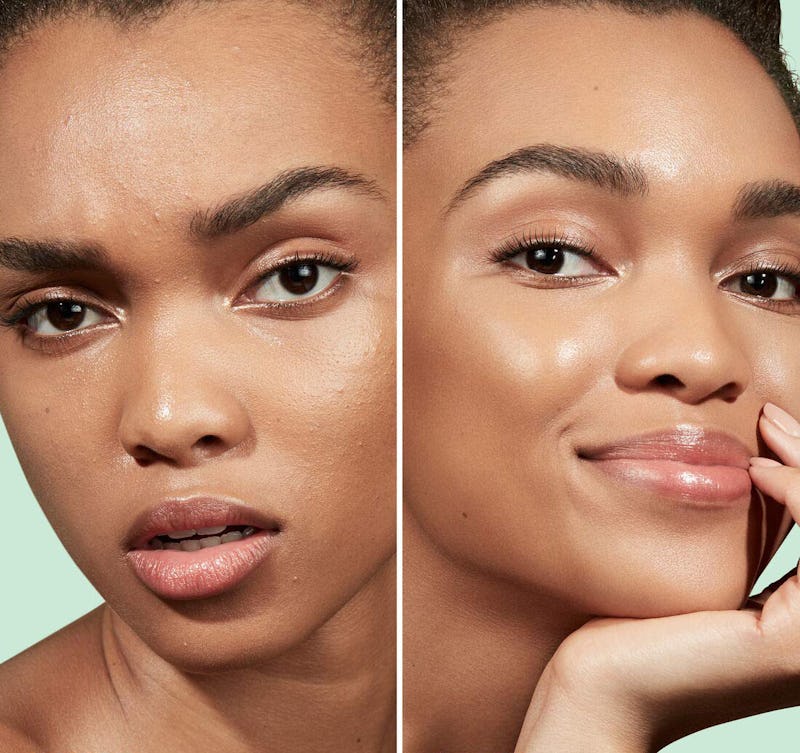 Amazon
We may receive a portion of sales if you purchase a product through a link in this article.
When it comes to my morning makeup routine, applying primer is the step I often tend to overlook. But it's also one of the biggest game changers. The benefits of a makeup primer are hard to ignore — they're like skin care and makeup all in one, and are capable of doing everything from promoting a smoother texture to reducing the appearance of redness. And one of the most important benefits for people with acne-prone skin (like me) is that they can help reduce shine in the T-zone. To get the lowdown on which ingredients to reach for (and which to avoid) when shopping for acne-safe primers, Bustle spoke to two top derms. The consensus seems to be that while the best primers for acne-prone skin will vary based on your specific concerns, the most beneficial ingredients to look for are salicylic acid, aloe, kaolin clay, and antioxidants. Primers made for acneic skin usually target excess oil production, but they also commonly treat things like redness, enlarged pores, and hyperpigmentation. To find out more — and to figure out which primer will be the best for you — keep reading.
The Experts
Dr. Dendy Engleman, M.D., F.A.A.D., is a board-certified dermatologic surgeon at Shafer Clinic Fifth Avenue. She's a fellow of the American Academy of Dermatology, the American Society of Dermatologic Surgery, and the American College of Mohs Surgery, and is the director of Dermatologic Surgery at New York Medical College.
Dr. Blair Murphy-Rose, M.D., F.A.A.D., is a board-certified dermatologist in New York and is a member of the premier dermatology group at the Laser & Skin Surgery Center of NY.
What To Look For In A Primer For Acne-Prone Skin
Since "acneic skin is often synonymous with oiliness," Dr. Engleman tells Bustle, the best primers for acne-prone skin are oil-free and target oil absorption. Dr. Murphy-Rose recommends looking for ingredients like kaolin clay and zinc PCA to help "absorb acne-promoting oils." Another great ingredient for oily skin? Salicylic acid — "it's a fantastic acne-fighting ingredient to exfoliate the skin and slough away dead skin cells," says Dr. Murphy-Rose.
If your acne-prone skin is also prone to redness and inflammation, look for calming ingredients like aloe vera, cica, and green tea, suggests Dr. Murphy-Rose. Dr. Engleman also suggests primers with antioxidants like vitamins C and E "as they can promote skin cell nourishment and neutralize free radicals caused by sun damage," which can be helpful if previous breakouts have left you with unwanted hyperpigmentation, too.
"Avoid pore-clogging ingredients like rich butters or waxes," cautions Dr. Murphy-Rose. Dr. Engleman also notes that you should exercise caution while using primers with silicones as they can trap comedogenic ingredients on your skin and cause acne flare ups.
Shop The Best Primers For Acne-Prone Skin
In a hurry? Here are the best primers for acne-prone skin:
1. Best Primer For Clogged Pores & Acne
E.l.f.'s Blemish Control Face Primer uses one of the best acne-busting ingredients on the market: salicylic acid. The BHA is oil-soluble, so it's great at penetrating deep into the pores and clearing out the acne-causing buildup of dead skin cells and oil to help combat current breakouts and prevent future ones. The primer also contains tea tree oil, which Dr. Murphy-Rose suggests as a great acne-fighting ingredient for its anti-inflammatory and antibacterial properties. The primer leaves behind a smooth, matte finish with the addition of silica to help makeup last all day, even on oily skin types.
Key Ingredients: Salicylic Acid, Tea Tree Extract, Silica | Size: 0.47 oz | Silicone-Free: No
Relevant Review: "Best primer for acne prone skin!! It stays on your skin for a longer period of time. Personally, I have seen improvements in my skin, including fewer acne breakouts, less oiliness at the end of the day and smoother skin."
2. Best Primer For Shiny Skin & Acne
Another great e.l.f. primer for acne-prone skin (they are the drugstore primer experts, after all), this one is formulated especially for oily, acne-prone skin types, and works to soak up shine while simultenously locking makeup in place for hours. It does this via its unique, putty-like texture that contains kaolin clay and white charcoal to absorb excess oil and keep skin looking matte, while glycerin offers lightweight hydration. You can use it as a spot treatment, too — if your skin is combination, apply only in the oiliest areas of your face like your nose, forehead, or eyelids.
Key Ingredients: Kaolin Clay, White Charcoal, Glycerin, Silica | Size: 2.08 oz | Silicone-Free: No
Relevant Review: "Just used this for the first time this weekend. I put this on early morning under my foundation and had a LONG hard day at work. Several times I was sweating and running around like crazy, but my makeup still looked good 12 hours later. It looked a lot better than I felt. I used the matte formula and love it. I never write reviews, but this was worth it!"
3. Best Primer With SPF For Acne-Prone Skin
If you love a product that pulls double duty, La Roche-Posay's Anthelios 50 primer is a lightweight, everyday primer with SPF 50 — its mousse-like texture sinks into skin and leaves behind a matte finish. In here, chemical sun filters protect against both UVA and UVB rays, and antioxidants, which Dr. Engleman suggests, work to nourish skin and protect it from free radicals. The primer also contains talc to mattify skin and reduce the appearance of pores, and candle tree extract for its antimicrobial and anti-inflammatory properties. And, like all of the sunscreens from La Roche-Posay's Anthelios line, this one is oil-free and safe for sensitive skin.
Key Ingredients: Talc, Candle Tree Extract | Size: 1.35 oz | Silicone-Free: No
Relevant Review: "This is a wonderful wonderful product. I have moderate acne [and] rosacea so everything seems to cause inflammation. After researching and spending an obscene amount of money to just stop flare-ups (unsuccessfully), this whole brand has been darn near miraculous. The best part of the primer is that it keeps your moisturizer sealed all day! Seriously, no feeling tightness or flushing, makeup cracking mid-afternoon. To those who have had issues with the thickness or feeling greasy, a little bit goes a very long way. I also use a mineral powder foundation and have had zero issues with caking. Can't say enough good things about this."
4. Best Tinted Primer With SPF For Acne-Prone Skin
Another option with SPF, Glo Skin Beauty's tinted primer has a surprisingly lightweight feel and leaves behind a subtle blurring effect while also working to promote an even skin tone. A derm favorite pick, Dr. Engleman likes it for its oil-free formula and semi-matte finish. Sun protection is especially important for acne-prone folks looking to reduce hyperpigmentation or protect skin that's been sensitized to the sun from retinoids. Since Glo Skin's Tinted Primer gives sheer to medium coverage on its own, it "could even be used alone when you don't want the heaviness of foundation," says Dr. Engleman.
Key Ingredients: Titanium Dioxide, Zinc Oxide, Mica | Size: 1.48 oz | Silicone-Free: No
Relevant Review: "I'd been looking for a primer with spf that didn't have comedogenic ingredients. I saw this one and hoped it would sit nicely under makeup, and it really does. No breakouts or other skin reactions so far. Happy with this purchase."
5. Best Redness-Reducing Primer For Acne-Prone Skin
Hero Cosmetic's Rescue Balm +Red Correct isn't technically a primer, but Bustle editor Jen Fiegel says it plays very nicely with all types of makeup. She says, "I really enjoy this color corrector with tons of skin care benefits. Most primers have silicones, which can break me out, but this one doesn't. It is also very natural-looking on the skin but also noticeably takes down redness around my nose, forehead, and chin. As a primer, it plays well with my concealer and foundation, and it's also sheer enough to wear on its own. In terms of texture, I'd describe it as more cream than balm -— not very occlusive but moisturizing." It works as a moisturizing cream, redness reducer, and primer all in one — perfect for when you want to heal a breakout or fade post-acne hyperpigmentation.
Key Ingredients: Peptides, Vitamin E, Allantoin, Chromium Oxide Greens, Silica | Size: 1.69 oz | Silicone-Free: Yes
Relevant Review: "I have acne-prone combination skin. [This product] actively neutralizes any redness/discoloration from acne and doesn't oxidize! It keeps my skin moisturized all day but doesn't leave me looking greasy. It doesn't crease and is perfect on its own or as a primer under foundation."
6. Best Soothing Primer For Acne-Prone Skin
Dr. Engleman loves the Elizabeth Arden Flawless Start Instant Perfecting Primer for its mattifying and pore-blurring yet hydrating finish. While the primer is designed for all skin types to help makeup stay locked in place all day long, it's especially great for acne-prone folks, providing a silky smooth finish with hollow silica beads that absorb excess oil. The addition of hyaluronic acid still makes it super hydrating, so it's great for acne-prone and combination skin types. "I also love that it contains aloe to alleviate inflammation and irritation," says Dr. Engleman.
Key Ingredients: Hyaluronic Acid, Silica, Aloe | Size: 1.59 oz | Silicone-Free: No