The Best Vegan Leather Wallets
We only recommend products we love and that we think you will, too. We may receive a portion of sales from products purchased from this article, which was written by our Commerce team.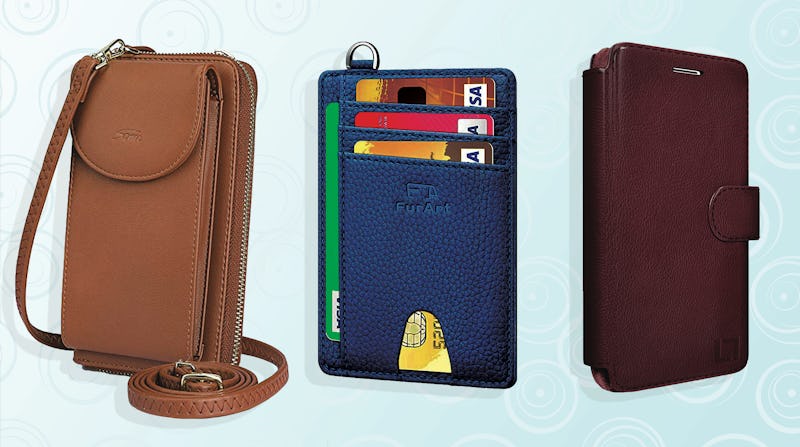 Bustle/Amazon
Whether you need it to hold a little or a lot, the wallet is a basic necessity that you depend on every day. And, while leather has long been the go-to wallet textile, there are now just as many faux leather options that are equally as stylish and durable but without any animal byproducts (or expensive price tags). The best vegan leather wallets will keep your cash and cards organized all while maintaining a cruelty-free construction.
Before you get to shopping, it's important to know that not all options made from PU (short for polyurethane) are actually vegan. While PU itself is a synthetic material, manufacturers can also use it to coat animal products (like leftover hide or scraps), so you'll want to dig a little deeper when shopping for vegan leather accessories.
Narrowing it down to faux-leather wallets that are actually vegan (like all of the picks on this list), the first thing you'll want to consider is your personal aesthetic. There are so many wallet styles out there, and these days it's easy to find a faux-leather take for each, like the long zip-around option, the classic billfold, and the compact cardholder. But you can also find unique options, like a wallet with a crossbody strap that also holds your phone, or one that's big enough to hold your passport when traveling.
Then, think about the amount of storage you need. If you prefer to only carry the bare essentials, then a minimalist design with a couple of pockets will suffice. But, if you like your wallet to double as a purse, you'll want something with plenty of pockets and compartments, like one wallet below that boasts 19 card slots. You'll also want to decide whether you need a wallet with RFID-blocking technology as an added security boost.
Ahead, the seven best faux-leather wallets on Amazon, backed by hundreds (sometimes thousands) of glowing reviews. Best of all? They're all $25 or less.
1. A Zip-Around Wallet That Comes In So Many Gorgeous Colors
The long zip-around wallet is a classic thanks to its chic aesthetic and spacious interior. This one is RFID-blocking and has 19 card slots, an ID window, a pen loop, zippered coin pouch, and three slip compartments (for bills, a passport, or even a phone). Made from artificial leather that, according to the manufacturer, "does not harm animals," it has a lightly pebbled grain, and can also double as a clutch or wristlet thanks to its detachable wrist strap. Amazon reviewers especially love it because it "looks more expensive than it is" and is "durable" whether for travel or daily use. One thing to keep in mind as you browse: The lining is a creamy beige hue regardless of which exterior color or print you choose.
Size: 8.5 x 4.3 x 1.25 inches (length x width x height)
Available colors: 26
2. Or, This Saffiano Faux-Leather Travel Wallet That Can Hold Your Passport
Similar to the last pick in terms of spaciousness, this trifold wallet was designed to help you stay organized while traveling. Where it differs from the zip-around wallet? It has fewer card slots (five in total), a snap closure, and is made of a saffiano-textured polyurethane (with a faux-suede lining). Otherwise, it has a passport pocket, two slip compartments (sized for your phone or travel documents), a zippered coin pocket, pen slot, keyring, and even a tiny SIM card pouch. It's also RFID-blocking, so you can rest assured that your valuables (and identity) are secure.
Available sizes: 7.5 x 5 x 1 inches (length x width x height)
Available colors: 34
3. This Cult-Favorite Slim Wallet With Plenty Of Storage Space
A slightly elongated take on the classic billfold wallet, this vegan leather option has an impressive amount of storage space — 18 card slots, an ID window, and two zip pockets' worth. It securely fastens with a snap tab and also has RFID-blocking technology. With over 20,000 (!) glowing reviews, shoppers have attested to its compact design and function. "This is the first wallet I have ever had that has MORE card slots than I need," one noted. "The two separate zipper pockets are useful and large enough to stash a decent amount of cash, receipts, a hair tie, bobby pins, a tiny glasses cloth, and possibly a small lip gloss. It's also pretty enough to carry as a clutch if the situation dictates."
Size: 8 x 4 x 1 inches (length x width x height)
Available colors: 32
4. A Minimalist Cardholder You Can Slip Into Your Pocket
If you prefer to keep things streamlined, this RFID-blocking cardholder is tiny but surprisingly roomy — and a great buy, having earned over 14,000 glowing reviews. While it has six card slots, an ID window, and a cash pocket, several reviewers have confirmed that it's spacious enough to double up in each slot. Additionally, this cardholder is designed with a finger groove that allows you to push cards out easily, and it has an affixed D-ring so you can attach it to a lanyard, keychain, or bag.
As you shop, keep in mind that there are multiple textures offered, and while this material ("Litchi") is confirmed to be artificial leather, other options on this page (like "Goatskin" or "Fine Cowhide") may not be. If you're shopping for a vegan leather wallet, you may want to avoid those, out of an abundance of caution.
Size: 4.6 x 3.2 inches (length x width)
Available colors: 25
5. A Crossbody Option That Can Hold Your Phone
For those days you don't want to carry a purse or shove everything into your pockets, opt for a wallet with a crossbody strap. This RFID-blocking option is made of a vegan leather material that the manufacturer confirms caused harm to no animals and has an outer phone pouch (that fits phones under 6.2 inches, like any non-Max iPhones) with a snap closure. Inside the zippered wallet section, you'll find six card slots, five pockets, and two ID windows. For extra versatility, you can also remove the adjustable strap and use it as an everyday wallet.
Size: 7.2 x 4.4 x 2 inches (length x width x height)
Available colors: 8
6. A Super Slim Cardholder You Can Wear Around Your Wrist
If you're guilty of misplacing your wallet more often than you'd care to admit, this synthetic leather cardholder has you covered, thanks to its oversized, fabric-wrapped ring that can be hooked onto your keys or worn around your wrist. For the cardholder itself, it's RFID-blocking and has three card slots, an ID window, and a zip pouch for coins or folded bills. You can also remove both the ring and tassel if they're not your thing. Keep in mind that, as you shop this item, you may see some printed options — these are made of cotton, not faux leather.
"I absolutely love this," exclaimed one rave reviewer. "This is so great if you don't want to carry around your whole bag when running errands. The pockets for your cards are deep and mine never slip out. The ring is great to hold onto or just place around your arm. The tassel is a cute accent and I use this every day!"
Size: 4.4 x 3.4 inches (length x width)
Available colors/styles: 13
7. This Chic Foldover Design With A Snap Closure
With a chic foldover tab design, this vegan leather Nautica wallet looks way more expensive than it is — and can hold an impressive amount of stuff inside. It has 14 card slots, an ID window, four slip pockets, a zip compartment (with a zippered pocket and two accordion pockets inside), and an exterior coin pouch. It's also RFID-blocking and has a contrast fabric lining that perfectly complements the exterior faux leather. From the same brand, you can also grab a similar style with a full foldover top.
Size: 7.5 x 4 x 1 inches (length x width x height)
Available colors: 10
Also Nice: This Sleek Phone Case That Doubles As A Wallet
This wallet phone case hybrid is the ideal pick for anyone looking to carry one less thing in their purse or even just a way to ensure they always have their ID on them. Flip open the magnetic screen cover, and you'll find three card slots and a bill compartment. Even better? The faux leather case is water- and scratch-resistant and allows for wireless charging (though you'll still get full access to ports and buttons). It even comes with a complimentary clear adhesive screen cover, to make sure your phone is extra protected. More than 10,000 reviewers have given this accessory a five-star rating because it's so versatile — some fans even mentioned that it can be propped up like a stand while streaming videos. Likewise, one shopper confirmed its vegan construction: "The owner of the company did get back to me about the product not being leather. So as a vegan, I can use it."
One thing to note as you shop is that this brand lists each phone size on a separate page. This case featured here fits iPhone SE/6/6 Plus/7/8, but you can find the same design for iPhone 7 Plus/8 Plus, iPhone XS/XS Max, iPhone XR, iPhone 11/11 Pro Max/12 Pro Max/12/12 Pro, and iPhone 12 Mini.
Size: Varies based on phone model
Available colors: 14
You May Also Like: A Vegan Leather Belt Bag For Going Hands-Free
Whether you call it a fanny pack, a belt bag, or a waist pouch, this ultra-convenient style is as divisive as it is functional. Regardless of your take on the design itself, it's undeniably useful when it comes to freeing up your hands, as its adjustable strap (from 32.7 to 45.3 inches long) fastens around your waist with a buckle. As for the vegan leather pouch itself, it has three exterior zippered pockets and one inside, so there is plenty of storage space, whether you're using it as a fashionable accessory, or simply as a hands-free bag.
"It's perfect for what I need," one reviewer explained. "Functional to use for a walk or hike but looks good enough to use as a regular purse. Fits a surprising amount of essentials. Wallet, mask, hand sanitizer and iPhone plus."
Size: 7.3 x 1.8 x 5.1 inches (length x width x height)
Available colors/styles: 36