Billie Lourd's Star Wars Nail Art Honored Her Late Mother Carrie Fisher
The late Carrie Fisher was honored with a Hollywood star.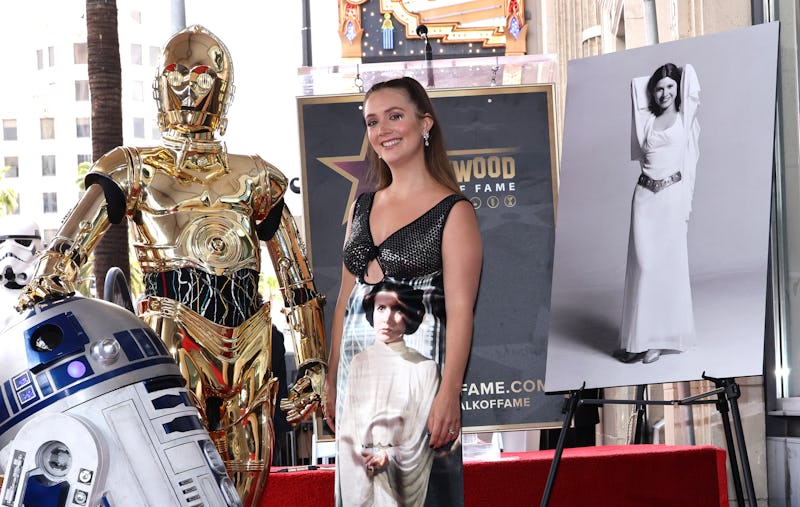 David Livingston/Getty Images Entertainment/Getty Images
For fans of the beloved Star Wars franchise, May 4th — a cheeky pun on the saying "may the force be with you" — is just as much a celebrated holiday as any other. And this year, the late Carrie Fisher who truly defined an era with her iconic portrayal of Princess Leia, was honored with her eternal star on Hollywood's Walk Of Fame.
Fisher's daughter (and Debbie Reynolds' granddaughter) Billie Lourd sweetly honors her mother each May 4th since her passing, and this year, she unveiled the Hollywood star before spreading some of her ashes in its place. What's more, Lourd further celebrated Fisher's life and achievements with a chic Rodarte slip dress adorned with an infamous shot of Princess Leia.
Painted by Diem Truong, the duo furthered the theme with a galaxy-themed black manicure that was decorated with the same Leia portrait, but on a super micro scale.
In a speech delivered at the ceremony, Lourd said: "My mom died six and a half years ago, and ever since, I have fallen deeply in love with Leia and the entire Star Wars universe. I've gone from little girl unwilling to even watch Star Wars, to obsessive Star Wars fan, and I have now passed the torch — or in this case, lightsaber — on to my two children, Kingston and Jackson."
Gilbert Flores/Variety/Getty Images
Lourd continued: "Leia has become like a family heirloom, and not just for my family, I'm not unique. People's love for Leia didn't die with my mom. It continues to get passed on from generation to generation, just like my mom passed it on to me, and I am now passing it on to my children, and hopefully they will pass it on to theirs."
And so I say, may the fourth be with you.