22 Years Ago, Britney Spears Helped Popularize The Exposed Thong Trend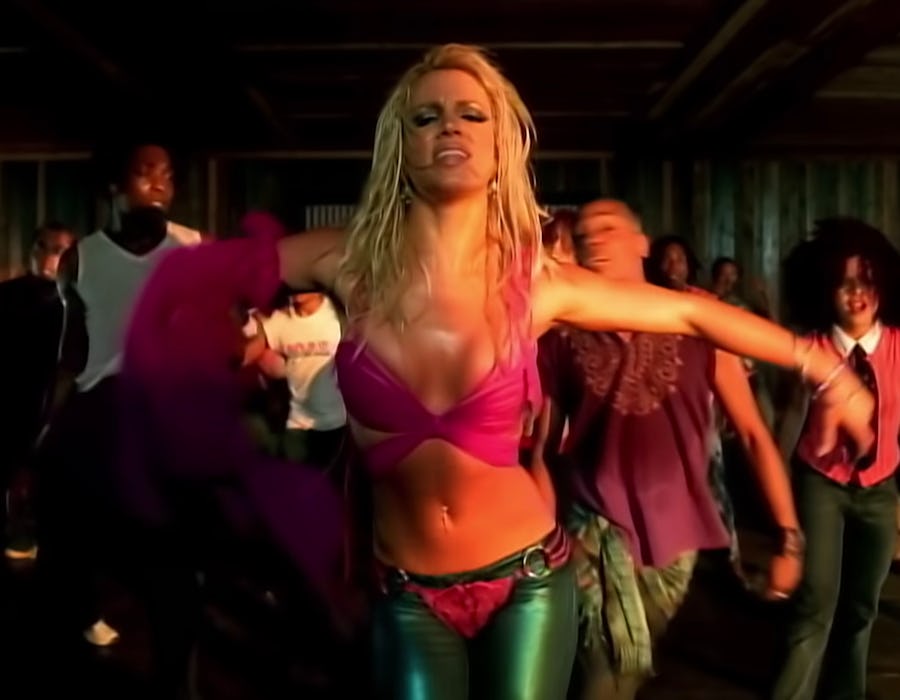 Screenshot via YouTube/BritneySpearsVEVO
Anyone who's anyone in fashion has been spotted wearing a version of the visible thong trend in recent months — that includes, but is not limited to, Bella Hadid, Alexa Demie, Dua Lipa, Hailey Bieber, and Julia Fox. The list goes on. Even recent red carpets (the Oscars, for example) saw many peek-a-boo undies.
Thongs may be all the rage these days, but the lingerie-forward look is far from new. Returning to the mainstream thanks to the Y2K resurgence, the popularity (and notoriety) of the visible thong trend can be traced back to the early aughts — specifically, to legend Britney Spears, one of many who helped popularize the look.
True fans know exactly which pop culture moment I'm talking about (and probably even know the choreography by heart). If not, let me clue you in: sweaty bodies gyrating, rhythmic heavy breathing, and lyrics cooing "get it get it, get it get it (oh)." Yes, I'm talking about "I'm A Slave 4 U."
In the music video, which came out in 2001, Spears wore what might be her most iconic ensemble of all time. She donned a strappy, hot pink bra-style top with a matching single bell sleeve (also in fiery pink) that moved when she did — a cinematic treat.
That said, it was the misplaced item on the bottom half of her look that was the video's real scene-stealer. In a move that will go down in fashion history, Spears wore devastatingly low-rise, metallic turquoise, leather pants — on top of which, sat a contrasting pink thong. In lace. With silver hardware.
Spears first hit mainstream success in 1999 with "…Baby One More Time," where she donned braided pigtails and a schoolgirl uniform. But "I'm A Slave 4 U" was a far cry from her 'good girl' image and marked a spicy new era for the pop princess — one that has continued shaping pop culture to this day.
A year after the video's release, her contemporary Christina Aguilera took to the exposed thong trend in her music video for "Dirrty." But instead of wearing a thong over her pants, she wore leather chaps to fully display her undies.
Decades later, Hollywood A-listers like Jennifer Lopez and Florence Pugh have co-signing the look. And though few have so far recreated Spears' thong-over-pants pairing, the exposed thong trend is now ubiquitous. Statement thongs are especially prevalent on red carpets, where the go-to move is wearing a see-through dress or skirt to play up the contrasting undies. Meanwhile, off-duty ensembles feature peek-a-boo G-strings under low-slung pants or bottoms with built-in thongs.
Theo Wargo/WireImage/Getty Images
Dimitrios Kambouris/Getty Images Entertainment/Getty Images
Jacopo Raule/Getty Images Entertainment/Getty Images
Daniele Venturelli/Getty Images Entertainment/Getty Images
SBCH / BACKGRID
TLDR; Spears' cultural impact is truly unparalleled.