Christian Siriano On Pride & Met Gala Fashion Predictions
Plus, his new, unexpected collab with Burst.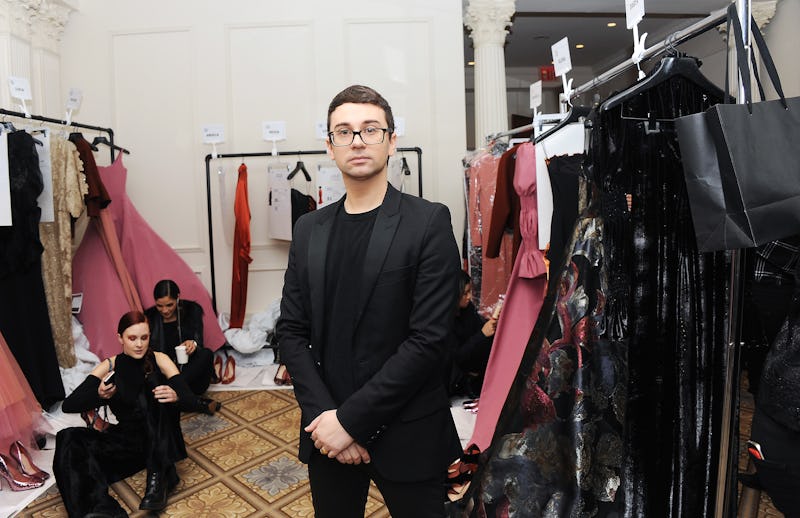 Desiree Navarro/WireImage/Getty Images
Christian Siriano's schedule is more packed than ever.
"I've already been invited to four parties in the next week and a premiere," Siriano tells Bustle. "People are going to be dressed up — things are happening!"
In addition to party-hopping, the designer and Project Runway host plans on celebrating Pride 2021 by producing several special creations for his close friends. "[I'll be] making custom Pride dresses for a few fabulous people, which is going to be so fun," he says. "But I'm just excited to be back with people I haven't seen and friends that I missed all last year."
Siriano is also marking Pride with a fun, albeit unexpected, collaboration with Burst. While oral care may not be synonymous with high fashion, he's on a mission to connect the dots.
"Pride is still about a celebration — it's about having fun with your friends and that will never go away," says Siriano. "But it's about protecting yourself and making sure self-care is still important. Self-care is you. It's everything, it's your mind, your body, internal health, oral health, mask wearing — that is [all] very important. The idea of creating a special mask and floss case — something people can get excited about having in their bag during Pride — is cool."
For the mask, Siriano designed a radial, hombre sunshine shape. "I wanted it to feel very graphic but still powerful," he says. "I didn't want it to be a typical rainbow so I used the idea of the dots and the eyes of the smiley face to continue that. It almost looks like a painting — like pointillism but in a more modern way."
As part of the collaboration, Burst is donating $25,000 of proceeds to The Trevor Project, a nonprofit organization focused on suicide prevention efforts among lesbian, gay, bisexual, transgender, queer, and questioning youth.
We only include products that have been independently selected by Bustle's editorial team. However, we may receive a portion of sales if you purchase a product through a link in this article.
Siriano is a longtime red carpet favorite, especially at the Met Gala. This year, the big event — often called the Super Bowl of fashion — will take place on Sept. 13. He predicts many quirky interpretations of this year's theme, an homage to American style throughout the decades.
"I'm guessing there'll be a lot of haute couture versions of an Americana moment," Siriano says, referencing the retro, patriotic trend. "Maybe a flag. Or red, white, and blue — things people associate with American fashion."
After a rough year, he's looking forward to the fashion community reuniting to pay tribute to the rich history of American style.
"The young American designers and more established American designers need to come together because we're all in this together, and it's a really hard business," he says. "I'm excited for that, and hopefully that's what the night will be."