10 Cute Goth Outfits Perfect For Spooky Season & Beyond
Inspired by Kourtney Kardashian, Demi Lovato, and more.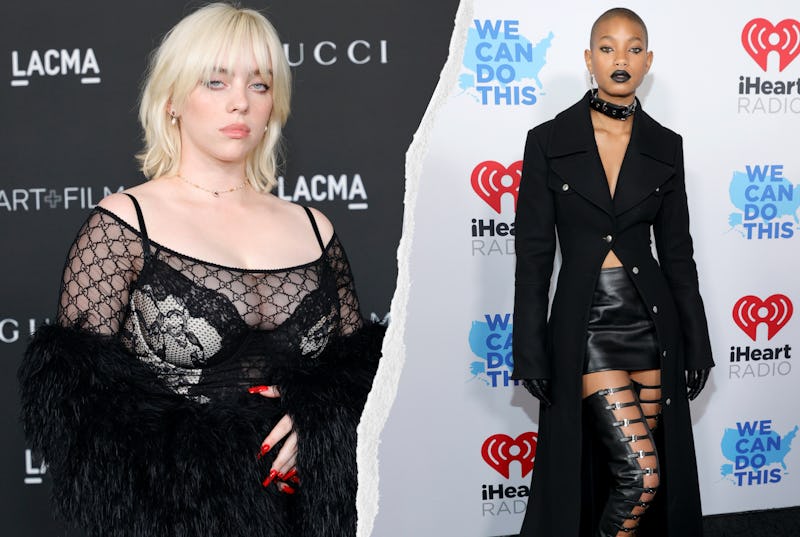 Getty
Spooky season is upon us, which means that your black-only wardrobe and love of all things creepy is not only socially acceptable, but finally fashionable. Fall is a goth's paradise for this exact reason.
Goth, or gothic style, can be traced back to the band Bauhaus in the late 1970s, later to be embodied by other musicians like Siouxsie Sioux and the Banshees, The Cure, and Joy Division.
Because of the overlap of subcultural styles of the '70s and '80s, goth tends to have some stylistic associations with punk. Due to the anarchist attitudes of the youth culture movements in fashion capitals like London and New York, the two subcultures are closely related.
That being said, goth goes beyond head-to-toe black. Even within the goth subculture, there are sub-genres that include unique aesthetics, such as rockabilly, vampire, cyber goth, Lolita, and more. And though it started in the streets, virtually every luxury designer has referenced the subculture in their runway collections, including Vivienne Westwood, Alexander McQueen, Rei Kawakubo, and Rick Owens.
With punk having a resurgence in mainstream pop culture, goth aesthetics are currently being mixed into the wardrobes of your favorite celebrities. Beyond that, many of the most popular trends are staples of goth culture. Corsets, leather, and lace can all be attributed to the OG (original goth).
Now, take a look through ten celeb style inspirations — from icons like Kourtney Kardashian to Willow Smith — for unexpected goth and punk looks you'll love.