The Best Memes & Tweets About Ryan Gosling As Ken in Greta Gerwig's Barbie
"I would let Ryan Gosling as Ken hurt my feelings."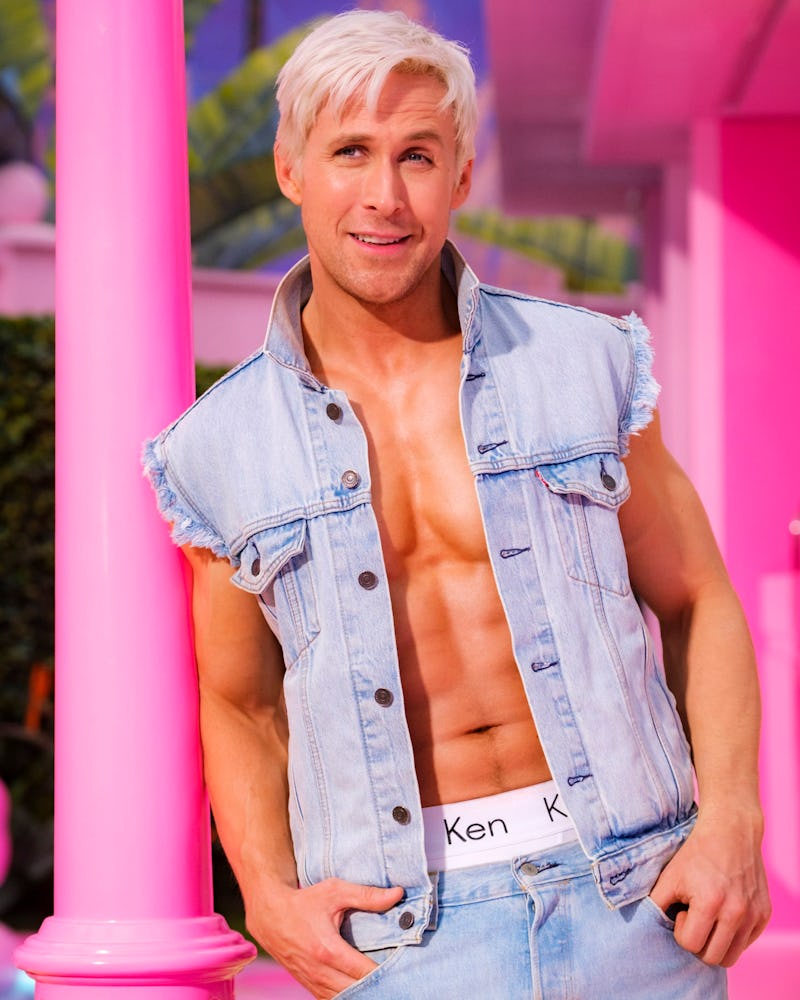 Warner Bros.
Greta Gerwig's Barbie movie is quickly reaching "film of the summer" status — well, film of next summer status. Though audiences won't get to see the plastic masterpiece until July 21, 2023, Warner Bros. has shared several glimpses at the movie so far. First, in April, the studio revealed Margot Robbie in full Barbie glam (and a matching convertible, of course). Then, on June 15, Ryan Gosling made his debut online as Ken, sporting a ripped-sleeve denim shirt (unbuttoned!), abs (tanned!), and a pair of Calvin Klein-esque briefs with his name on them. Oh, and his hair? Platinum blonde.
While Gosling has been quiet about the role, he's apparently been prepping pretty hard. Shang-Chi's Simu Liu, who will reportedly play a fellow Ken in the film, recently told Entertainment Tonight that his co-star is a "gym in the morning, gym after work kinda guy." Liu also said the movie will surprise people — so if Gosling isn't quite the Ken vibe you expected (more on that later), perhaps that's by design. He added that every piece of information that comes out from the movie can "tease people." "Everyone just gets progressively more confused and curious as to what this movie is and I kinda like that."
Robbie (who also serves as producer) hinted at an unexpected take on the Barbie IP, too, telling The Hollywood Reporter that she sought projects "that feel a little left of center" before deciding to pursue Barbie. "People immediately have an idea of, 'Oh, Margot is playing Barbie, I know what that is,' but our goal is to be like, 'Whatever you're thinking, we're going to give you something totally different — the thing you didn't know you wanted,'" she said.
Of course, Twitter isn't waiting until 2023 to share their thoughts on the bold new look. Many users quickly noticed that Gosling's Ken looked like other characters — from Scooby-Doo's Fred to a Love Island contestant.
Many users celebrated the look, defending Gosling from naysayers and predicting a camp spin on the character.
Other users weren't completely sold on Gosling's take on the character, though. Ever since the Golden Globe winner was rumored to be cast in October, some Ken enthusiasts were iffy about the choice — floating other possible names like Zac Efron or Henry Cavill, to name a few.
Whatever side you're on, brace yourself — because this is only the start of the Barbie rollout. The star-studded cast includes several familiar faces, including Issa Rae, Michael Cera, and Kate McKinnon, Variety reports, so expect more reveals (and more Barbie discourse) over the coming year.