Emma D'Arcy Retired The Targaryens' Signature Platinum Blonde Locks
The House Of The Dragon actor went all out for the 2023 Golden Globes.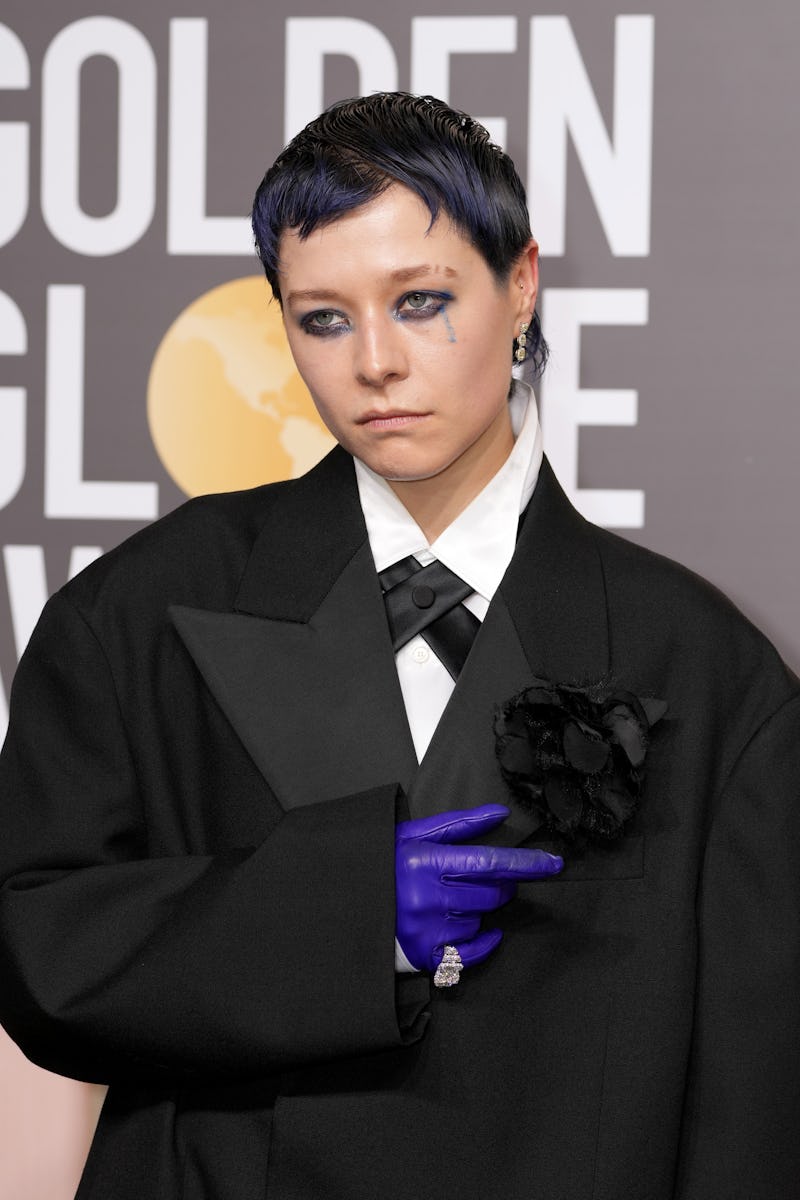 Kevin Mazur/Getty Images Entertainment
There's nothing more identifiable in the Game Of Thrones universe than platinum white hair, particularly in House Of The Dragon. As Princess Rhaenyra Targaryen, Emma D'Arcy channelled the dragon rider's Valyrian blood by wearing countless wigs throughout the first season. Once filming had finished, however, D'Arcy reverted back to their short hairstyle while keeping the colour. But when the actor made their Golden Globes debut on Tuesday (Jan. 10), they'd changed their look completely.
D'Arcy arrived sporting metallic blue hair, matched perfectly with cobalt blue eyeshadow and a tear rolling down their cheek. The red carpet look was very important to the actor, who described it as a way of expressing their gender identity. D'Arcy paired their new hairstyle with an Acne Studios ensemble consisting of a black blazer, straight-leg trousers, and a midi-skirt. "I'm wearing a skirt and trousers, because nothing says 'non-binary' like wearing trousers and a skirt simultaneously," they told Vogue.
As for what inspired the look, D'Arcy and their stylist Rose Forde aimed for a "child prodigy at the big piano recital," which turned out to be a little darker than expected. "We added a single tear to the makeup, so I guess the reticle went really badly."
The House of the Dragon actor was nominated in the Best Actress category, which they describe as "beautifully ironic" to People. "It's kind of a surreal thing because when I was starting out, I really felt that I had to pretend, to present as a woman in order to find success in this industry," they explained.
Amy Sussman/Getty Images Entertainment/Getty Images
Frazer Harrison/WireImage/Getty Images
"It wasn't sustainable, and I stopped pretending, and weirdly, it's at that point that I got nominated for Best Actress at the Golden Globes, which is beautifully ironic," the added. For D'Arcy, being in the spotlight at the Golden Globes "implies that the space for trans people and gender-nonconforming people is getting bigger all the time," and they feel "very privileged" for their role in that.