10 Derm-Approved Facial Tools That'll Work Wonders On Your Skin
Time to upgrade your beauty routine.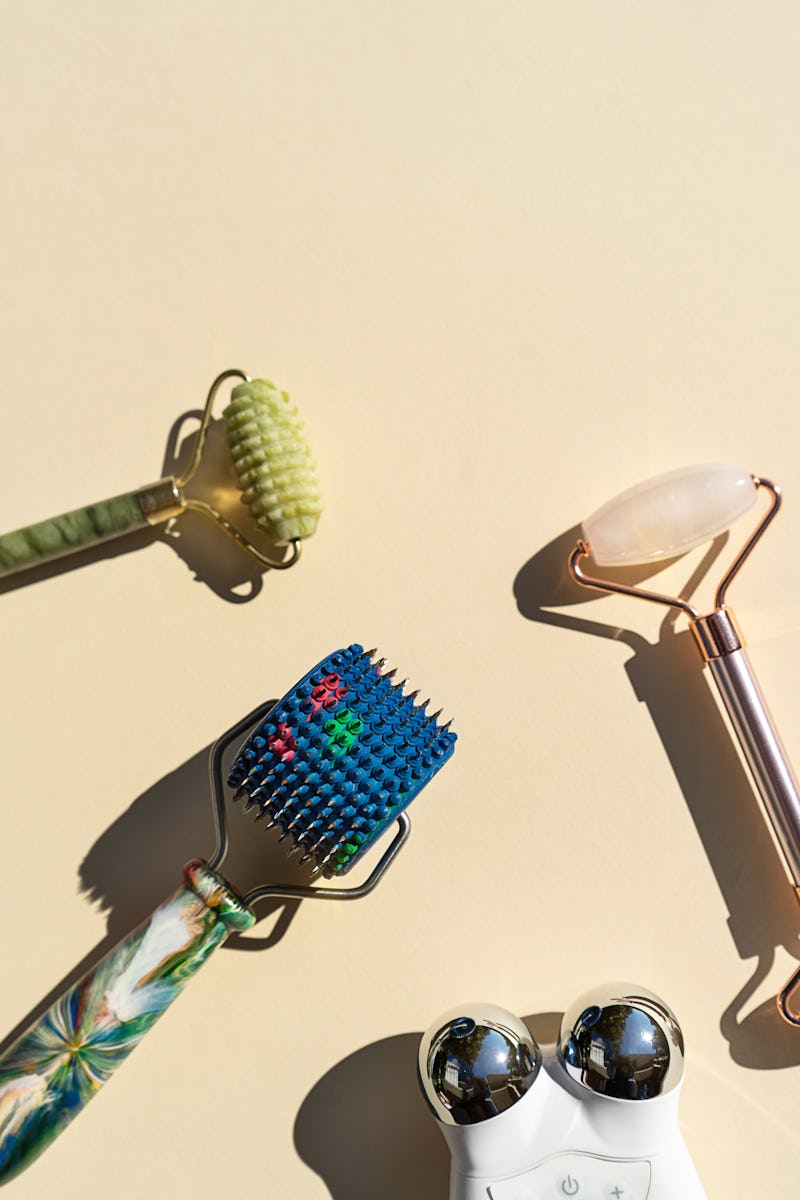 Getty Images/ Iryna Veklich
Sure, serums and creams are great for nourishing and moisturizing your skin. But if you want to take your beauty routine up a notch, it's worth considering one of the many facial tools that exist — aka gizmos that use some sort of technology to improve your complexion.
A lot of these devices resemble the tools facialists or dermatologists use for in-office treatments, and many claim to produce similar results. Dr. Purvisha Patel, M.D., a board-certified dermatologist and founder of Visha Skincare, believes at-home beauty devices are booming. A report done in April by Research and Markets forecasted the beauty device market to grow at a CAGR (compound annual growth rate) of 18.8% between 2019 and 2027, and found that new technological advancements in the product category have led consumers to increasingly turn to at-home treatments. This is especially the case during quarantine, which has separated many people from professional facial treatments.
"People have been looking to more at-home options to give them [skin-boosting] results," says Patel. These devices include microneedling tools (rollers that — yes — use teeny pins to stimulate collagen), facial wands (like jade rollers and other massagers), and handheld microcurrent products (which use electrical stimulation to sculpt), to name just a few examples.
Despite the many complexion-boosting perks these products claim to make, Patel cautions that beauty devices are a "double-edged sword." One key thing to note? "These [tools] will never be as strong or effective as getting a procedure done at your dermatologist's office," she says. "As with skin care marketing, they can be rife with misinformation, and consumers will be disappointed when the wrong tool is used for the wrong skin issue." If you're not sure if a device is right for you, check with your derm before buying it.
Looking to get more out of your beauty routine? Here, experts share what you need to know about the facial tools that can level up your skin care.
We only include products that have been independently selected by Bustle's editorial team. However, we may receive a portion of sales if you purchase a product through a link in this article.
Studies referenced:
Ablon, G. (2018). Phototherapy with Light Emitting Diodes. The Journal of Clinical and Aesthetic Dermatology. https://www.ncbi.nlm.nih.gov/pmc/articles/PMC5843358/
Dhurat, R. (2013). A Randomized Evaluator Blinded Study of Effect of Microneedling in Androgenetic Alopecia: A Pilot Study. International Journal of Trichology. https://www.ncbi.nlm.nih.gov/pmc/articles/PMC3746236/
Khademi, K. (2012). The effect of microcurrents on facial wrinkles. Pars of Jahrom University of Medical Sciences. https://www.researchgate.net/publication/323852520_The_effect_of_microcurrents_on_facial_wrinkles
Saniee, F. (2012). Consider of Micro-Current's effect to variation of Facial Wrinkle trend, Randomized Clinical Trial Study. Life Science Journal. https://www.researchgate.net/publication/230642269_Consider_of_Micro-Current's_effect_to_variation_of_Facial_Wrinkle_trend_Randomized_Clinical_Trial_Study
Shah, M. (2020). Microdermabrasion. StatPearls. https://www.ncbi.nlm.nih.gov/books/NBK535383/
Singh, A. (2016). Microneedling: Advances and widening horizons. Indian Dermatology Online Journal. https://www.ncbi.nlm.nih.gov/pmc/articles/PMC4976400/
Wunsch, A. (2014). A Controlled Trial to Determine the Efficacy of Red and Near-Infrared Light Treatment in Patient Satisfaction, Reduction of Fine Lines, Wrinkles, Skin Roughness, and Intradermal Collagen Density Increase. Photomedicine And Laser Surgery. https://www.ncbi.nlm.nih.gov/pmc/articles/PMC3926176/
Experts:
Dr. Purvisha Patel, M.D., a board-certified dermatologist and founder of Visha Skincare
Dr. Stacy Chimento, M.D., a board-certified dermatologist from Riverchase Dermatology
Dr. Shirley Chi, M.D., a board-certified dermatologist based in Los Angeles