This '90s-Inspired Look Finally Convinced Me To Put On Jeans Again
It requires 70% less water to produce than denim made from cotton.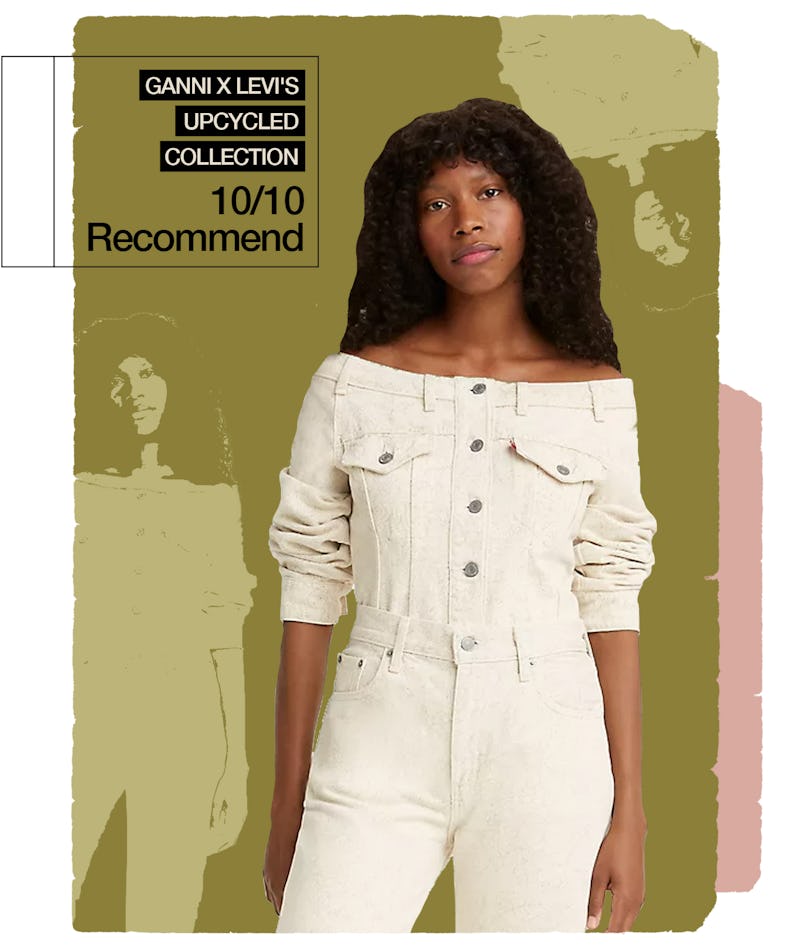 Courtesy of Levi's
I'm probably the most unlikely person to wear denim-on-denim. Although the '90s trend will be forever iconic, I never thought I could pull it off. I rarely wear jeans; I've always found the material constricting and wholly uncomfortable, even in pre-pandemic times. And I have a hard time finding the right fit. Having inherited my mother's frame, I'm short and shapely, rather than model-tall and thin. Perpetual waistband gaps are the bane of my existence.
Beyond the comfort and fit factors, denim's cost to the environment is a huge deterrent from buying it. Talking to my sister, a climate policy specialist, I learned that making denim requires an extraordinary amount of water — a whopping 1,800 gallons to produce enough cotton for just one pair of jeans. That matters because in less than a decade, nearly 700 million people could be displaced by intense water scarcity worldwide. Knowing all this, I'd pretty much sworn off denim completely — but then I was introduced to the new Ganni x Levi's collection.
Ganni is one of my favorite cool-girl brands, and I've been collecting pieces since I first learned about the Danish line: a puff-sleeve leopard-print dress I bought at a semi-annual sale, a plaid gown I found at a closet swap, a green checker-print frock I borrowed, then purchased, from Rent the Runway. Everything is playful, modern, and chic. So, of course, Ganni reimagined denim in a way that feels cool again. And in collaboration with Levi's, it managed to reduce its carbon footprint in the production process, aka less water usage and fewer pesticides in cultivation (yes, literal pesticides are used to make our jeans).
Read on for how this Ganni x Levi's collection turned me into a denim wearer once again.
First Up: The Basics
The Ganni x Levi's collection is denim reimagined with fashion TikTok in mind — think '90s influences and Regencycore flourishes. You'll find a cinched dress with a neckline resembling a classic jean waistband, a chambray shirt with a ruffled, Western-inspired collar, and a trucker dress that fits like an oversize jean jacket. Plus, of course, my 2000s-inspired Canadian tuxedo dream: an off-the-shoulder floral-print denim top and matching jeans.
Each piece is constructed using hemp, an alternative to standard cotton that requires 70% less water to produce. And the hemp used in this collection comes from rain-fed hemp crops, reducing water usage even further.
Why I'm Obsessed
My top — constructed like a trucker jacket but cut like an off-shoulder blouse — is one of those rare finds that feels classic and trendy at the same time. Even the sleeves are modern, with a peasant-style shape that billows at the shoulder, then gathers at the wrist. Imagine a Bridgerton-worthy, Regencycore blouse that's actually a denim jacket. (Mind. Blown.)
The matching jeans have a loose fit (because, ICYMI, skinnies are now over) and a flared, slit hem that feels very '90s. They're a perfect match for all my mules and heeled flip flops.
What's more, the material is super comfortable. Cottonized hemp is soft to the touch, and it molded to my body, eliminating any fit concerns.
Finally, the reduction in water usage and pesticide count makes me feel much better about wearing denim again. And because my outfit is so well-constructed and durable, I anticipate getting good wear out of both pieces over time.
TL;DR
Denim is a staple in most people's closets, but with the amount of water needed to make it, it feels wasteful to collect pair after pair. All the denim in this collection points toward a more sustainable future in which we can create clothing without significant water and pesticide usage.
And it's cute. My outfit — basically the 2021 version of the Canadian tuxedo — feels timeless and super on-trend at the same time. Whether you prefer a denim dress, have an affinity for cowgirl-inspired pieces, or swear by your everyday T-shirt and jeans uniform, there's something for you in this collection. Shop my favorite pieces below.
We only include products that have been independently selected by Bustle's editorial team. However, we may receive a portion of sales if you purchase a product through a link in this article.