16 Of Gigi Hadid's Most Iconic Fashion Week Runway Looks To Date
Camo dresses, braless suits, Canadian tuxedos, and more.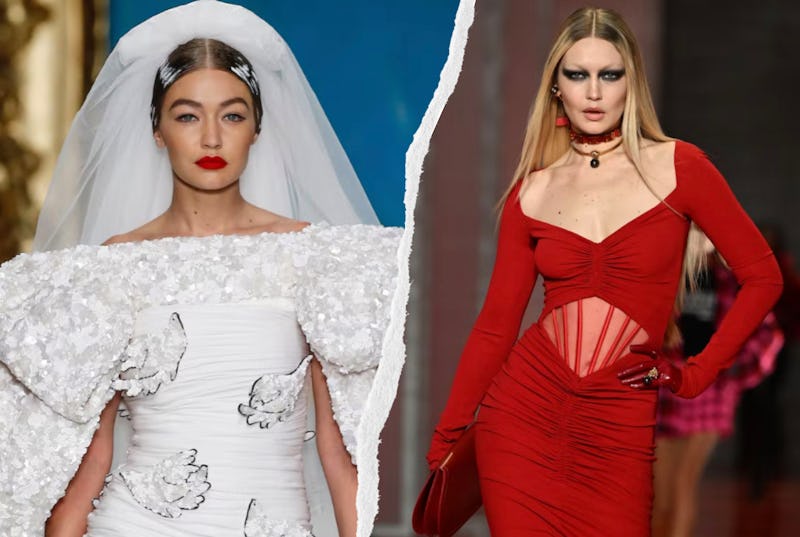 Daniele Venturelli/WireImage/WWD/Penske Media/Getty Images
Gigi Hadid needs no introduction. In fact, "Gigi" could stand alone as a mononym — the way other supermodels like Naomi, Kate, and her sister, Bella, can. With zero exaggeration, Hadid is the supermodel of our generation.
She's a magazine darling, gracing countless covers and editorials; She's an easy favorite of designers like Donatella Versace and Tommy Hilfiger, so much so that Hadid even worked with the latter on a series of collections. She's been the face of some of the most popular luxury (Chanel, Versace, and Moschino) and high street (Reebok and Maybelline) brands. Her range knows no limits.
Just last September, the supermodel launched her own cashmere label, Guest In Residence, cementing her spot in the fashion stratosphere — not just as muse, but designer herself. Hadid most recently added "host" to her resume after joining Netflix's Next In Fashion, a design competition ushering in the next generation of talent. All this to say: she is the moment.
Hadid famously got her first modeling gig at just two years old for Baby Guess. She returned to modeling in 2011 and, just three years later, landed her first Fashion Week stint. The following year, she was made a Victoria's Secret Angel.
Since then, she's been a fixture at fashion month, jet-setting around the world to walk the runways of Givenchy, Fendi, and Prada, among many others. She often opens or closes their shows — runway positions reserved for the most elite.
With fashion month having officially wrapped, let's look back at Hadid's most iconic runway moments to date.
This article was originally published on