40 Times Hailey Bieber Hit The Runway At Fashion Week
In sheer mini dresses, printed shorts, and more.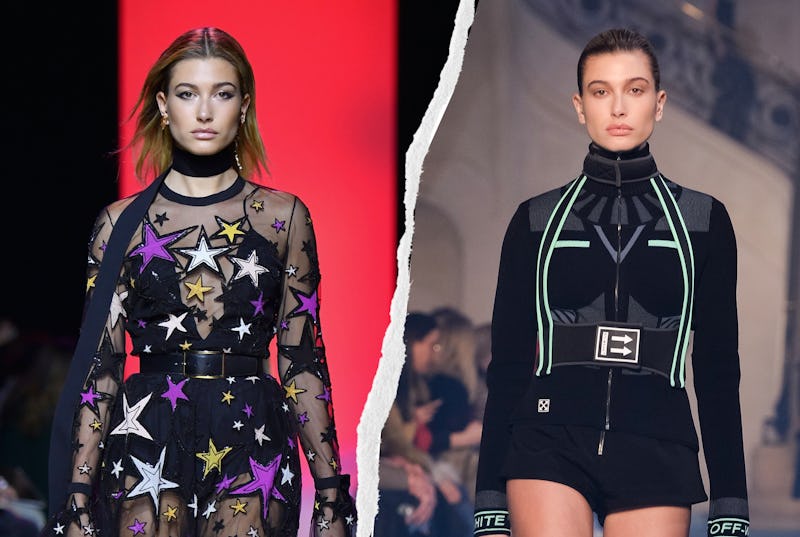 Getty Images
Back in July 2017, Hailey Bieber poked fun at herself on her Instagram story, sharing a photo from the Zadig & Voltaire show. "What I do know is that ur arm truly should never wing this high when ur walking on a runway," she wrote. "Hence why it is not, and will never be my thing again lol." And while she did walk in two more shows that season, she's remained largely true to her word.
Sure Bieber's perceived retirement from the runway could be chocked up to lockdown, but the Spring 2022 season of Fashion Month is full steam ahead and she has yet to be spotted — even at designer shows she's been a mainstay at in the past.
While the model may be sticking to ad campaigns at the moment, settling down perhaps to spend a little more time with husband Justin Bieber, she's still very much a lover of fashion. She's made quite the name for herself on the red carpet, attending events like the Met Gala and the VMAs, dressed in standout looks that get people talking. In the same way, Bieber's street style is lauded and copied by fans all over, from her Laquan Smith dress in Paris to her '90s grunge look in New York.
So, there's no shortage of Hailey Bieber outfits to swoon over, even if they're not making their debut on a catwalk. Still, if you miss her runway appearances, here are 40 appearances to reminisce about, from her early days at Topshop to her most recent walk at Moschino.
Ahead, find every single time Hailey Bieber hit the runway during New York, London, Milan, and Paris Fashion Weeks.