The New Generation Of Hand Creams Is Better Than Ever — Here's Why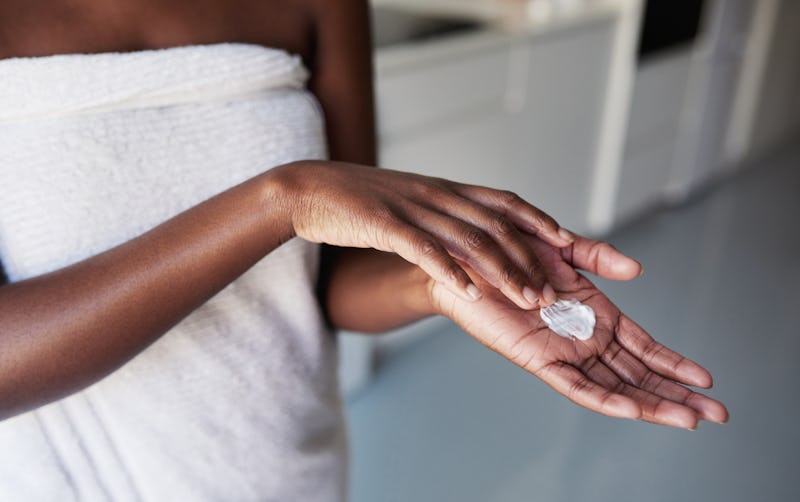 Getty Images/ LaylaBird
Hand-specific skin care products have never been so popular. Once the pandemic hit, about nine out of 10 beauty brands scrambled to launch a cream/sanitizer/treatment for everyone's newly extra-parched digits. Now, the product category is the hottest thing on the shelves — and the new era of hand creams have even dreamier skin-nourishing formulas.
According to a newly-released trend report conducted by beauty retail site SkinStore, hand creams are the most-wanted skin care product right now. Interest in them (which was measured through search data) grew 141% in the U.S. over the past year. Of course, as you may have noticed, COVID hasn't exactly been nice to the skin on your hands — hence the product category boom.
"The constant hand washing and using of hand sanitizers is extremely damaging to the skin," says Dr. Whitney Bowe, MD, a board-certified dermatologist based in New York City. Dr. Adarsh Vijay Mudgil, MD, founder of Mudgil Dermatology in NYC, adds that this excessive washing leaves hands "chaffed and chapped." You can even get eczema on your hands from this all-too-common dryness, adds Dr. Shirley Chi, MD, a board-certified dermatologist based in Los Angeles, California.
Of course, that's not to say you should stop the hygiene habit — it's just important to balance the drying effects of hand washing with moisturizing, barrier-boosting ingredients, which are easier to find than ever. "I've noticed that hand moisturizers have gotten a lot more effective in the past year," says Chi. Keep reading for intel on the new generation of hand treatments on the shelves along with the best products to buy for healthy, happy, dry crack-free skin.
How To Treat Dry Skin On Hands
The remedy to hand dryness is diligent hydration. "The key is moisturizing your hands immediately after washing or sanitizing, otherwise you're guaranteed to dry out and irritate the skin," says Mudgil. And time is of the essence here: "There's a very small window of time where, right after you wash your hands or when your sanitizer dries, you want to moisturize as quickly as possible," says Bowe, who adds you should think about washing and hydrating as a packaged skin care deal. "You really want to be carrying around a hand cream wherever you go," she says.
When shopping for a hand treatment, look for the moisturizing MVPs you know and love for your face regimen. "Hyaluronic acid, ceramides, and squalene are great ingredients to look for," says Mudgil. Chi also suggests formulas that contain shea butter, a nutrient-dense ingredient that offers creamy hydration. "I also recommend glycerin because it's a great humectant, which means it traps in moisture," she tells Bustle. Dimethicone can be really helpful too, she adds, because it's a silicone-based ingredient that forms a barrier to keep your skin protected against transepidermal water loss (aka: it'll keep hydration in).
Since the new era of hand creams is more soothing and nourishing than ever, there's a high chance they won't contain highly irritating or drying ingredients within them — but make sure to avoid certain not-so-gentle fillers lurking in the formula. "Sometimes fragrance can do more harm than good," says Bowe, who also recommends staying away from phthalates. If your skin is sensitive, she suggests opting for a fragrance-free option... which includes essential oils. "A lot of essential oils are known irritants and allergens, and can make your hands drier over time," she tells Bustle.
To help you parse the shelves, here are some of the best dry hand creams out there.
We only include products that have been independently selected by Bustle's editorial team. However, we may receive a portion of sales if you purchase a product through a link in this article.
6 Expert-Backed Hand Moisturizers
The Sensitive Skin-Friendly
Cult-fave brand Nécessaire has a range of fragrance-free body care essentials within its line, hand cream included. This contains glycerin and marula oil for the moisture you need, plus peptides and ceramides to restore your skin barrier.
The Super-Soother
The duo of acacia honey and rose water in this cream delivers soothing TLC to dry, cracked hands. Though it contains rich shea butter for hydration, it absorbs in a flash and doesn't feel sticky after applying.
The Floral-Scented
If you're a sucker for a floral scent, this hand cream has a divine, rose-y fragrance to it — that's thanks to the sacred petals plucked from India within the formula. Besides the calming rose extract, there's aloe vera, glycerin, and sweet almond oil to nourish your skin.
The SPF Option
Every square centimeter of your skin needs sun protection, which is why this Sun Bum Hand Cream is a wise purchase. It gives you broad-spectrum SPF plus dimethicone and glycerin to keep hydration in your skin.
The Multitasking Option
Are your feet in need of some moisture, too? This creamy, non-greasy formula restores hydration to both your hands and heels via its star ingredient kokum butter, a lighter alternative to shea.
The Drugstore Option
Chi is a fan of this drugstore buy, as it contains all the must-have hydrating superstars for dry hands: glycerin, cicaplast — an anti-inflammatory — dimethicone, and niacinamide. Slather it on and you'll... well, your hands will be in good hands.
Studies referenced:
Pellicoro, C. (2013). Pilot Study to Evaluate the Effect of Topical Dimethicone on Clinical Signs and Skin Barrier Function. Vet Med Intl. https://www.ncbi.nlm.nih.gov/pmc/articles/PMC3654275/
Experts:
Dr. Whitney Bowe, MD, a board-certified dermatologist based in New York City
Dr. Shirley Chi, MD, a board-certified dermatologist based in Los Angeles, California
Dr. Adarsh Vijay Mudgil, MD, founder of Mudgil Dermatology in NYC