How The New Keys Soulcare Body Collection Made Me A Body Oil Convert
My skin has never felt better.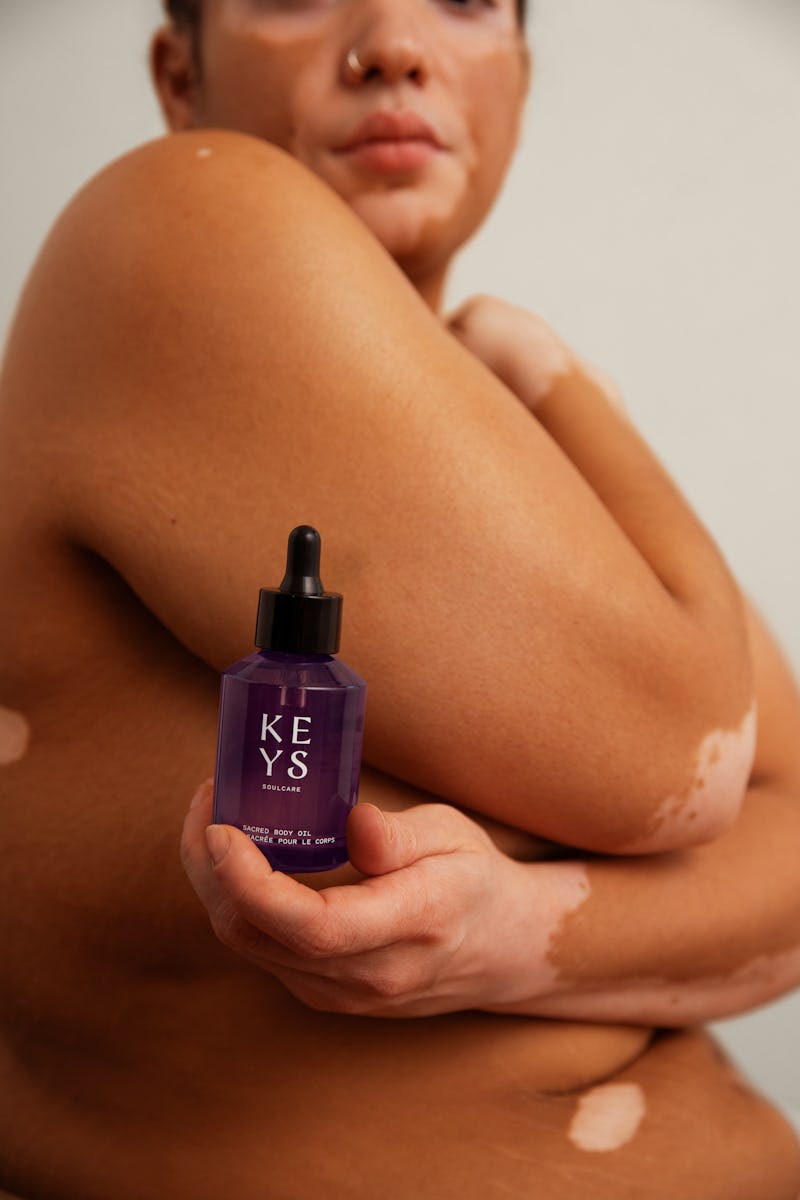 Courtesy of Keys Soulcare
In theory, body oil is supposed to offer extra hydration to the skin, especially to particularly dry areas. My experience with most formulas, however, has historically been that they make your skin glisten at the cost of being greasy, not absorbing, and staining clothes. So when I finally tried the new body oil from the Keys Soulcare body collection, it was quite the refreshing game changer.
To back up a little: Dry patches have been making an appearance on my neck, chest, arms, and feet lately. Truthfully, they're likely self-induced, because taking the time to properly moisturize my body is the last thing on my to-do list. I know, I know — hydration is critical for healthy skin — but sometimes I just can't find the energy to adhere to a body regimen the same way I do for my face.
Enter Keys Soulcare, a clean, cruelty-free, dermatologist-developed line of skin care from multi-hyphenate Alicia Keys, who is on a mission to help us better tend to our minds, bodies, and spirits. The brand's mission and dedication to formulating thoughtful products piqued my curiosity, but the body care launch in particular made me hit the buy button. When my package arrived, the Sacred Body Oil was a surprise in a good way. The purple glass bottle designed with a dropper was a welcome variation from usual body oil packaging. I thought, "Body care with a skin-care feel."
After my nightly shower, I dispensed a few drops into my hands and applied the non-greasy formula to my neck, décolletage, and shoulders. Unlike body oils I had used before, this one (packed with marula, baobab, and jojoba oils) melted right into my damp skin without any product residue that would typically stain my sheets. So I continued coating each part of my skin until I reached my feet.
Using the dropper not only ensured I didn't go overboard with the oil, but it also made me stop and really enjoy the ritual of hydrating my body — a practice that I honestly don't take the time to do as often as I should (hence the aforementioned dry patches.) Another thing that struck me was the fragrance, which I'm usually very sensitive to. The tiny hint of sage and oat milk was pleasant and not overpowering.
I rarely use body oils, but this one definitely changed my mind. I woke up to soft, hydrated skin without feeling like an oil slick. Plus, the small bottle looks great on a nightstand or vanity; and I love that it isn't plastic. I plan to continue to take the time for this body-care ritual each night before bed, even on my busiest days — those five minutes of me time give my skin and mind the care it rightfully deserves.
We only include products that have been independently selected by Bustle's editorial team. However, we may receive a portion of sales if you purchase a product through a link in this article.