An Ode To Isamaya Ffrench's Fantastical NYFW Beauty Creations
The makeup artist just won fashion week. Again.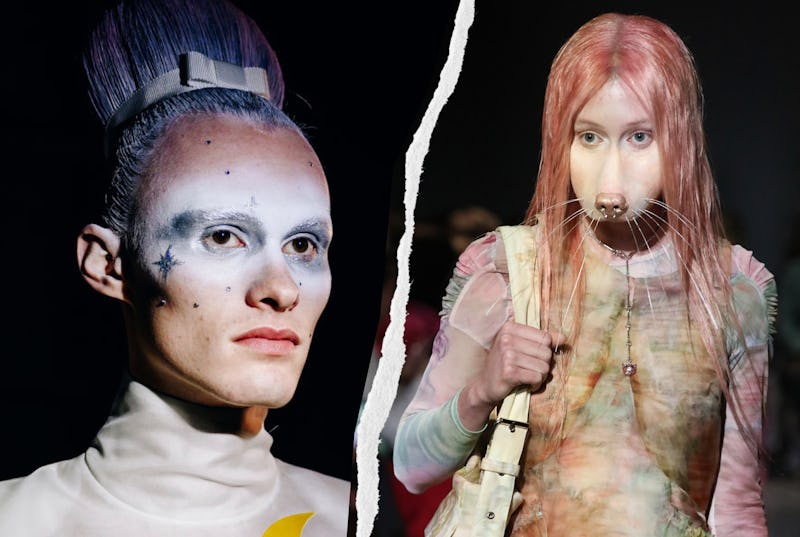 Getty Images/Nina Westervelt / Contributor; Getty Images/Albert Urso / Stringer
At Collina Strada, the very first fall/winter 2023 New York Fashion Week show I attended, I witnessed all sorts of animals strutting down the runway. I saw a mouse, a dog, multiple reptiles, a toucan, a dolphin, and other horned or long-eared creatures. These animals were actually human models — but the intricate prosthetics that transformed them into the middle stages of an Animorphs book cover made me feel like I was tripping on psychedelics. The mastermind behind these fantastical creations? Isamaya Ffrench.
If you're not familiar, Ffrench is a true artist in every sense of the word. She's worked with celebrities like Rihanna and Rosalía, consulted for brands like Byredo Makeup and Tom Ford Beauty, and launched her own line of makeup essentials with the most innovative packaging I've ever seen. (Seriously, take a peek at her new phallic lip balms.) She's also been single-handedly turning fashion week on its head.
Collina Strada's fall/winter '23 show was far from Ffrench's first fashion week rodeo. The British-born makeup artist has been creating artful — and always unconventional — beauty looks for the runway for years now. There were the silver flowers that covered models' entire faces at Thom Browne's NYFW spring/summer 2022 show and the airbrushed, nature-inspired patterns at Dion Lee's spring/summer '23 presentation, to name a couple of examples. But, if this NYFW season is any indication, Ffrench's experimental beauty skills and penchant for the avant-garde have only continued to expand. And, in my opinion, she's been making fashion week a million times more entertaining.
Backstage at Collina Strada.Getty Images/KENA BETANCUR / Contributor
A green creature of some sort at Collina Strada.Getty Images/George Chinsee / Contributor
A cat of some sort at Collina Strada.Getty Images/George Chinsee / Contributor
Besides the creatures spotted at Collina Strada's show last week, Ffrench also sent models down the runway looking like IRL mermaids at Dion Lee with an iridescent reptile print she painted across models' foreheads. Over at Thom Browne's F/W presentation, which was inspired by the children's classic The Little Prince, Ffrench outdid herself again: There was gold and rhinestone-studded lip liner, metallic under-eye makeup in the shape of sun rays, twinkling stars bedazzling foreheads and cheeks, and diamond-covered pouts. Nothing she does is expected, or boring.
Iridescent reptile skin at Dion Lee.Courtesy of Dion Lee
A truly bedazzling lip at Thom Browne.Getty Images/Arturo Holmes / Staff
Otherworldly makeup at Thom Browne.Getty Images/Nina Westervelt / Contributor
More The Little Prince-inspired makeup at Thom Browne.Getty Images/Arturo Holmes / Staff
Maybe you're thinking, "Honey, it's fashion week... the focus is supposed to be on the clothes." I hear you, but I'm a beauty editor. I've been covering fashion week for years, and the makeup looks are nearly always one of three things: a bold lip, a smoky eye, or a bare-faced dewy complexion (read: the no-makeup makeup look). They're classics, sure — but Ffrench's wondrous and extraordinary creations are masterful works of art that exceed what anyone could've imagined fashion week beauty to look like. And though her makeup looks are statement-making, they don't detract from the clothes; instead, they feel like a natural extension of the designer's vision.
Fashion week madness may be something that only a sliver of the population actually pays attention to, but, regardless of your level of interest in it, I'd be willing to bet that you won't be able to stop thinking about the makeup looks above. I sure haven't. Consider this my campaign to have Ffrench key the makeup looks for more fashion shows... and whatever the hell else she wants, because she's fully the most interesting person at fashion week.
A rhinosaurus (or perhaps a dinosaur?) at Collina Strada.Getty Images/Albert Urso / Stringer
More animals at Collina Strada.Courtesy of Collina Strada
Iridescent glam at Dion Lee.@orograph for ISAMAYA