10 Times J. Lo Shut Down The Met Gala Red Carpet
Naked dresses, cape gowns, and more.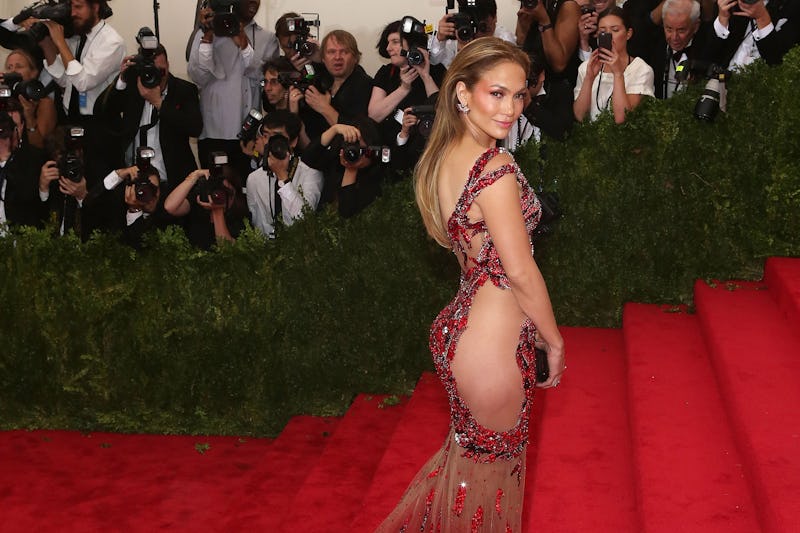 Taylor Hill/FilmMagic/Getty Images
After postponement, cancelation, and a myriad of questions, the 2022 Met Gala is officially right around the corner. And as the industry's top designers, stars, and icons prepare to celebrate fashion's biggest night in style this upcoming Monday, we're taking a look back through the archives at one of our favorite attendees: Jennifer Lopez.
J. Lo has been attending the Met Gala since 2004, and each red carpet look is more memorable than the last. From dramatic gowns to crystal embellishments to vibrant reds and unique prints, there's a reason Lopez is invited back by Anna Wintour season after season: she always understands the assignment.
This year's Met Gala — which will take place on Monday, May 2 — is centered around the theme "Gilded Glamour." Raising funds for the Metropolitan Museum's annual exhibit, the night will serve as a means to celebrate modern American fashion and the designers who have brought it to life over the decades, from Oscar de la Renta to Christopher John Rogers.
As fans wait in anticipation to see if J. Lo will be in attendance — and, more importantly, which designer she'll wear if so — let's take a look back at her 10 best outfits through the years.
This article was originally published on