7 Times J.Lo's Met Gala Hairstyle Stole The Show
Get excited for September 13th.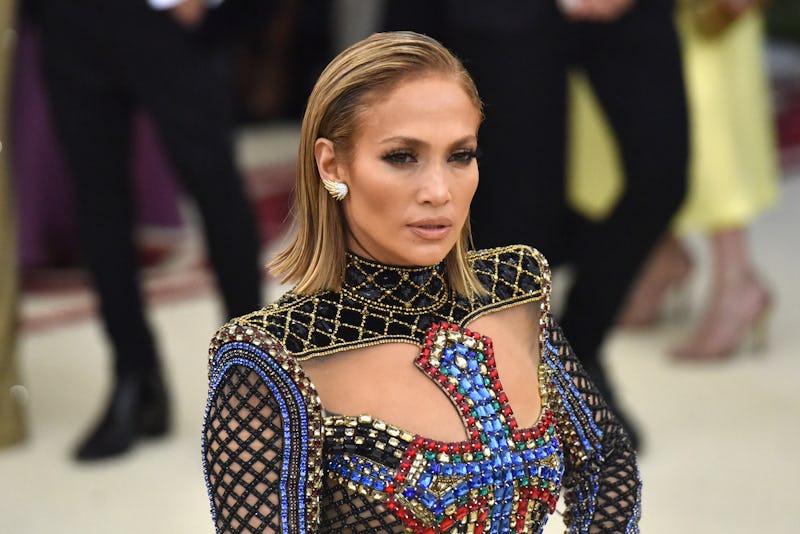 Sean Zanni/Patrick McMullan/Getty Images
The first Monday in May might seem like an innocuous date, but for celebrities and the fashion-obsessed, it's basically the Super Bowl. Though the Met Gala theme changes every year, the level of glamour and avant-garde fashion you see on the red carpet fashion stays the same. Among the many heavy hitters on your perennial must-watch list is Jennifer Lopez, whose hairstyles always turn heads about as often as her jaw-dropping dresses do.
The Met Gala is truly the perfect platform for J.Lo fans. While the singer-actor-entrepreneur rocks bold outfits on the regular, she's also a seasoned beauty chameleon. You've seen her effortlessly wearing everything from body shimmer to curtain bangs and voluminous '90s-style ringlets — so her looks on the Met Gala red carpet are when she really turns up.
Reminiscing over past looks usually happens pre-summer, but, due to COVID-19 delays, the 2021 Met Gala is happening on Sept. 13th. The silver lining of waiting past May? Think of it as a blessing to help ease end-of-summer scaries. J. Lo is rumored to be in attendance alongside the usual gamut of A-listers this year, including hosts Timothee Chalamet, Naomi Osaka, Billie Eilish, and Amanda Gorman. The theme? In America: A Lexicon of Fashion — a broad subject that celebrates all things related to U.S. styles.
In anticipation of seeing what the star wears at fashion and beauty's biggest day of the year, here's a look back at Jennifer Lopez's best Met Gala hair moments.